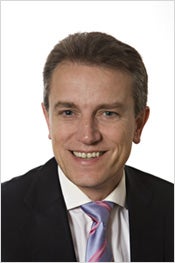 UK organic baby-food business Plum Baby is, quite literally, a baby brand. Founded in 2006, buy-out house Darwin Private Equity this year took control of the firm. In this month's just-food interview, Dean Best spoke with Plum Baby chief executive Paul Kaye about how he wants to see the company grow.
Within a minute of speaking to the new chief executive of UK organic baby-food maker Plum Baby, it is clear he wants to nurture the business.
Paul Kaye is a former executive of some of the UK's largest food manufacturers but he sees being in charge of Plum Baby, a company just four years old and with sales of GBP15m, as offering him "a greater sense of fulfilment".
Kaye has worked for the likes of Dairy Crest, Northern Foods and Mars Inc but seems to be relishing working in – and leading – a smaller organisation.
"You get to a point in your career and you've worked in big businesses and you can be a small cog in a big machine. Even at senior levels, you are looking for a greater sense of fulfilment. When I saw Plum Baby and I spoke to Darwin who wanted to invest in it, we saw the opportunity," Kaye says. "From my perspective, the opportunity is to really drive something and create a legacy in terms of growing a small business and achieving something significant with what is at the moment a small business with huge potential."
Plum Baby, founded in 2006, was snapped up by Darwin Private Equity earlier this year for GBP10m. The company had attracted investment from venture capital trusts within a year of its inception but now Darwin, which also owns sports nutrition business Maximuscle, is its sole owner.
The debate around the benefits or likewise of private-equity ownership is well-known but Kaye is not someone who subscribes to the argument that private equity can be negative for a business.
"The principles of a good business are the same, regardless of the ownership structure. It's all about putting the right strategy in place, having the right people to excute that strategy and doing the right things by your customers and consumers," Kaye says. "That doesn't matter whether you are a private company, a public company, a family company or whatever. Whatever the ownership structure, I don't see why that would change your approach to building a great business."
Paul Kaye – Plum Baby chief executive
Kaye helped conduct due diligence on Plum Baby with Darwin and believes that having a private-equity owner can only benefit the baby-food maker.
"They help us with the speed of decision making. If we need to make a call on significant investment, we need to move pretty quickly. We don't have to go through a whole range of committess or laborious meetings. We just get on with it," he insists.
One of Kaye's first tasks will be to build distribution. When the takeover of Plum Baby was announced in June, Darwin told just-food that expanding the business' presence in the UK was a priority. Kaye agrees.
"Distribution is going to be a key part of our growth platform. There is an opportunity to broaden and deepen our distribution across the trade and become a ubiquitous brand," he says.
Plum Baby has 4-5% of the wet baby-food category in the UK and faces some fierce competitors, not least in the shape of Heinz and Danone-owned Cow & Gate. The marketing might of such companies means fledgling businesses like Plum Baby could struggle to get their voice heard. For Kaye, such competition means the company has to use different strategies.
"We have to be faster, we have to be more nimble, we have to be more innovative. That's how Plum established itself in the first place," Kaye says. "I do believe we are faster-moving than those guys and I do believe we have a better proposition than the Heinz and the Cow & Gate's of this world. I do think there's a place for us in what is a competitive marketplace. We have got a right to be there. We are not complacent. We know that we could get crushed by these big guys if we don't do what we do best, which is being innovative and being closer to consumers and customers."
Most of the UK organic sector has been, if not crushed, than dented by the downturn. Sales of organic food fell by almost 13% during 2009, according to data from The Soil Association, although the same figures showed that sales of organic baby food jumped by nearly 21%.
Looking at the whole sector, Kaye says there has been "no real clarity of message" to convince people should buy organic. "Consumers have got confused and when they get confused they walk away," he insists.
However, Kaye says consumers of organic baby-food are "very engaged". A new mum, Kaye says, is "very concerned about doing what is absolutely the best for their baby" and, he adds, "organic is a proxy for the best and for being safe".
The organic food sector has withstood the downturn with greater success in key European markets. Sales in Germany were flat in 2009, a creditable performance given the way consumer confidence across Europe was affected by the recession. In France, meanwhile, sales jumped 18%.
Plum Baby has yet to make foray outside the UK but has conducted what Kaye characterises as "initial research" into some overseas markets. The company has appointed Nish Kankiwala as chairman to oversee strategic moves, including international expansion, although Kaye insists any launches outside the UK are likely to be at least more than two years away.
"It's unlikely to be the next 24 months. Beyond that, we're open. We're getting enquiries all the time from people abroad who are really interested and who see opprotunities for [the brand] in all sorts of places around the globe," Kaye says. "If an opportunity presented itself, I wouldnt rule it out. I don't want to tie myself down to say we are definitely going to be launching on a such a date as that's not going to be the case."
He adds: "We have done some initial research but I would reiterate it's more in the medium term. In the short term, we really see establishing a solid platform for Plum in the UK because we believe we've got something unique, that's relevant for Mums and we believe we can take business from those guys [the likes of Heinz and Cow & Gate] and have a broader platform for Plum."