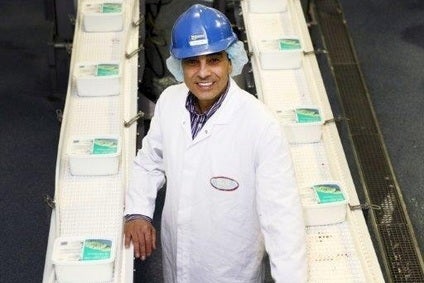 R&R Ice Cream is the second-largest ice cream manufacturer in Europe by sales, behind only Unilever. But the UK-based business's CEO, Ibrahim Najafi, promoted to the top job at the company 18 months ago, has his sights on expansion further afield.
"We would like to get this business on the road to becoming the second player on the global level," Najafi tells just-food at R&R's UK base in Leeming Bar, North Yorkshire.
And the company, which has nine plants across the UK and Europe, has already made a significant move towards that goal since Najafi became chief executive in the summer of 2013.
Last May, R&R snapped up Australian ice cream maker Peters Food Group. The deal, struck for an undisclosed sum, was the first acquisition for R&R outside Europe.
Najafi took the helm at R&R in July 2013 around the time of the company's sale to private-equity firm PAI Partners (a secondary buy-out, the previous owner being Oaktree Capital Management) was completed.
He joined the business in 1998 as operations manager at the Leeming Bar factory and rose through the ranks, joining the then Richmond Foods' board in 2000, becoming chief operating officer of R&R in 2007 (a year after Richmond merged with German ice-cream firm Roacdin) and then CEO of the company's European business in 2009.
When he became CEO, Najafi says one of his key priorities was to work on R&R becoming a global player – and the move for Peters within a year of his taking the top job is the company's first step to achieving that goal.
"I remember in 1998 when I joined this business and we had our first strategy session. We said our vision was to be number two in the UK to Unilever. By 2005, we had done so. After that, we said, 'Ok the UK consolidation is done more or less – bar one or two other opportunities' and then we looked to Europe. By 2013, we achieved that. We became second to Unilever in Europe as well. One of my priorities when I first took over was taking R&R global," he says.
Peters is among the largest players in Australia's ice cream sector, with brands including Drumstick, Connoisseur, Peters Original generating sales of A$269m in 2013. However, doing business in Australia is not easy; numerous manufacturers have publicly expressed how challenging the market is, with two retailers – Woolworths Ltd and Coles – accounting for 75% of grocery sales. Nevertheless, Najafi is quick to point to the opportunities for R&R in Australia.
"M&A is often about 'Can you sell more, can you buy better, can you take some cost out?' For me, this [acquisition] is about selling more. It's a market where there is always growth every year. The premium segment of that market is in growth and [Peters] is a 100% branded business," he says.
Najafi believes there will be an opportunity for R&R to introduce products it sells in Europe into Australia. "The sector there lends itself to premiumisation in a big way. There it's about the cones and the sticks and the tubs but they haven't seen desserts. In France, we are so big in those beautiful desserts that consumers are prepared to pay so much a premium for. It really lends itself to Australia and we will launch a lot of these products over the next couple of years."
R&R is a business with three planks – its own brands, manufacturing ice cream under licence for brands like Cadbury and supplying private-label lines – and Najafi acknowledges the Peters deal could also allow the company to build its business with retailers in Australia. "Why not? Our business is always about both. We already do some private-label business in Australia – Aldi is one of our customers there," he reveals.
But the move for Peters could also have an impact beyond Australia's borders. A number of North American and European businesses have invested in Australia with a view to using the market as a platform to expand into Asia.
R&R is still weighing up how best to serve markets in Asia. An obvious initial step, Najafi says, would be to export from the Peters business in Australia, although he says R&R could even ship ice cream from Europe to China. "We are a cost leader. We are able to make a product in Poland, Italy, Germany or even the UK and send it all the way to China and make it work," Najafi claims. He reveals the company is in "very early stage" discussions with "one or two" retailers in China.
Najafi also indicates R&R could – at some point – look to have a physical presence in Asia but cautions that is some way off.
"There's a lot of work to be done before you can say 'China is a fantastic opportunity, let's just go and buy a business and start a factory.' It's important to get all this right," he says. "As you go to these emerging markets, the markets are less mature, the infrastructure is not there, it's all about buying products on impulse, so you've got to get all that right and ensure the cost to serve those channels is also right. I definitely believe it's going to feature at some stage – let's say Asia, rather than China – but all these boxes need to be ticked before we make a move."
Najafi acknowledges the move to expand outside Europe was in part led by a desire to diversify a business based in the slow-growth region. However, he insists R&R is still looking at possible deals in Europe. "We're always in discussions and dialogue to find where opportunities are. Maybe the focus is more on emerging markets but definitely Europe still plays a massive part for us. M&A is part of that as well."
However, he is coy about whether R&R could announce another acquisition in Europe or elsewhere in 2015. "We've had a year of change of ownership, a new focus within the company in terms of growing certain parts of the business, repositioning Cadbury in the UK and pushing [Cadbury owner] Mondelez International in Europe further," Najafi says. "That's the main priority but M&A is definitely still a big part for us. There could be something. We're working on it whether it comes in 2015 or not I don't know." He refuses to hint at where R&R is looking. "Really I can't. Not at this moment in time," Najafi adds.
What is clearer is R&R's bid to use M&A – alongside organic growth – to help it increase the proportion of its turnover generated by brands. At present, private-label generating 57% of the company's approximately EUR900m (US$1.02bn) in annual sales, with brands – both licenced and R&R's own portfolio – accounting for the rest. Najafi wants to see both parts of the business making up half the company's turnover.
And, if R&R is to achieve Najafi's goal of being the world's number two ice cream manufacturer, the company will have to, he admits, see its turnover "in the billions".
The most recent financial figures the privately-owned R&R published were for 2013. A filing with Companies House showed group turnover that year was EUR680.6m and to that now needs to be added sales from Peters in Australia. R&R made a net loss of EUR41.9m but that was largely down to EUR53.1m in exceptional charges, amortisation and non-cash interest, such as costs from factory closures in the UK, France and Germany. The filing said adjusted EBITDA was up 9% at EUR92m in 2013.
Najafi says R&R, which has made nine acquisitions since 2007, will continue to look to deals to meet its global ambition.
"M&A is part of our DNA, I always say. That's not going to change. That's our strategy," he says. "We work very hard, we keep our cost under control and we keep bringing new NPD to deliver more value to generate more cash to go shopping and look at opportunities elsewhere in the world. M&A definitely will play part of that."
Click here for part two of the interview with Najafi in which he discusses R&R's business in the UK.