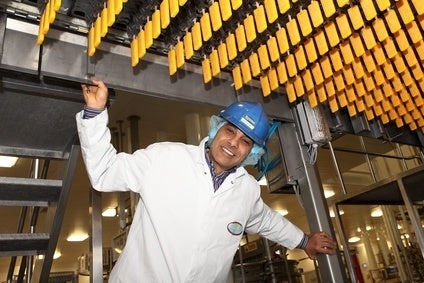 R&R Ice Cream is firmly an international business, its 2014 acquisition of Australia's Peters Food Group opening up another continent for the company and adding its tenth plant.
However, R&R's base and three of its factories are in the UK. Moreover, in 2013, prior to the acquisition of Peters, the UK accounted for over a third of R&R's EUR680.8m (US$769.5m) revenue and just shy of 40% of its adjusted EBITDA, which stood at EUR91.8m. Even after the Peters deal last autumn, the UK remains significant for the business.
The most recent publicly-available financial results for the privately-owned R&R are for 2013, a year in which the company said it saw"significant change" for its UK business.
Its turnover in the UK rose 7% to GBP160.6m (US$245.6m), helped by a warm summer and sales from Fredericks Dairies, which the company acquired that July for GBP49m.
However, operating profit from R&R's UK arm dropped 22.2% to GBP17.1m, with net profit sliding 28% to GBP11.3m. R&R booked GBP4m in exceptional charges, the bulk of which came from the closure of its factory in Leeds as it sought efficiency gains. The company also reported fees from the Fredericks deal and from its move to increase its 25% stake in frozen yoghurt business Yoomoo to 93%. 2013 was also the year in which R&R got a new private-equity owner, PAI Partners, which bought the business from Oaktree Capital Management. That deal led to share-based payment arrangements to employees.
Nevertheless, even after stripping out all these costs, R&R's underlying earnings in the UK fell in 2013. R&R said its adjusted EBITDA in the UK was down 4.2% to GBP27.5m, in part due to the impact of increasing dairy costs. However, R&R said its domestic business generated "a healthy level of profitability"
In recent quarters, R&R's sales to the UK's major supermarkets and to convenience stores have come under pressure.
The retail landscape is constantly changing. We've never had years [where] the likes of Tesco, Sainsbury's and Morrisons [have] all come under pressure," R&R CEO Ibrahim Najafi tells just-food in an interview at the company's base in Leeming Bar, North Yorkshire.
Najafi, who has worked for R&R and its forerunner companies since 1998, became the group's chief executive in July 2013 and says one of his key tasks upon taking the helm was looking at "how we were going to manage the discounter channel" in the UK. The likes of Aldi and Lidl have succeeded in taking market share from the country's larger supermarket chains but Najafi insists R&R's operations in markets like France and Germany meant the company was able to adapt in the UK and it has seen its sales with the discounters increase.
"We're well positioned to work for everybody. The idea is about us getting the retailers to understand it's about getting the category to work for both. Having so much exposure in Europe in the discounters and knowing exactly how it works there," he says.
Najafi stops short of saying the UK's Big Four – Tesco, Asda, Sainsbury's and Morrisons – have asked R&R for advice on how to combat the rise of the discounters but says companies like the ice cream maker can provide their customers with knowledge of their price-focused competitors.
"If the [major] retailers go and compete head on on price only, it's very difficult. It's all about the breadth and range of the offer that the big retailers can offer. That's what we bring to the equation. Certain products would work in a discounter but would not work in a retailer. The opposite is also true," he says.
In the face of the competition from Aldi and Lidl, the UK's four major food retailers have, in various ways, sought to emphasise the value they can offer shoppers, with some sharpening their pricing pencils. Asked what impact those moves have had on R&R's margin mix, Najafi is keen to turn the subject to how the company can bring value to its customers and to the consumers, through, he says, new products.
"Price is one thing but let's not forget the consumer is also interested innovation. That's what is key about the food category but particularly in ice cream, which is all about excitement," he says. "If all I am going to give them every day is just vanilla, with a bit of nut and ripple, it's okay for a month or two but they want something new or exciting. Of course, you are going to need to give the consumer value but you are going to have to give them excitement as well."
Since the start of the year, R&R has launched a series of products in the UK through its Mondelez and Nestle licences, including taking confectionery lines Cadbury Marvellous Creations, Cadbury Caramel and Rowntrees Randoms into the ice cream category. These products follow R&R's relaunch of a Cadbury Dairy Milk stick ice cream in the UK last spring. Najafi insists R&R's product development with its licence partners can help set it apart from its competition – and add value to its business, rather than simply chase volumes.
"We've grabbed hold of the Cadbury brand – the chocolate brand – and we've taken it in ice cream to a different level. Look at our products. They are not me-toos. We didn't just want to bring a Magnum copy. We brought a Cadbury Dairy Milk and it's got something special about it. In terms of price we are not going to follow, even with a premium to certain of Unilever's products," he says. "You've got to get the balance right. We don't want to sit down and play in the volume game. At the end of the day, we need to deliver value, value for our shareholders and in order to invest in the category. Some years we are going to pull the margin lever. We need to give [consumers] innovation and we are going to charge for it."
When R&R moved for Fredericks in 2013, then CEO James Lambert told just-food the deal – which gave the company the licence to Cadbury-branded ice creams – would make the business a "real alternative" to Unilever in the UK. Wall's, Magnum and Ben & Jerry's owner Unilever is, of course, the largest player in the sector and Najafi says R&R's ability to react quickly in areas such as innovation can help it compete with its larger rival, no matter how big the company grows itself.
"No matter how big we become we must still move at the speed of a speedboat. We can become an oil tanker but we must still keep that capability of being able to really move quickly and respond to market-changing conditions and consumer habits. Flexibility is key. We can't lose that flexibility and we promote it internally all the time. It's our USP and our customers can see that," he says.
One issue on which R&R may have to find itself reacting quickly is health. In 2014, health campaigners increasingly turned their scrutiny on sugar and ice cream is one of the more obvious products to find itself in the spotlight. At the fringes of the category, smaller ice cream companies claiming to focus more on health are emerging, such as protein-packed brands like the UK's Wheyhey and Ireland's Fitfuel.
"Sugar is not a big evil. It depends how you consume it. It goes back to lifestyles," Najafi says. But is R&R feeling under pressure to devote more resources to developing healthier products? Najafi says the company has R&D personnel considering ways to make its ice cream healthier but insists the group's range can meet the demands of different consumers, pointing to the fibre content of Yoomoo frozen yoghurt and to low-calorie Nestle brand The Skinny Cow.
"We are making ice cream. It's all about indulgence. It is comfort food. As long as we can show the consumer they are getting good value for money and they understand exactly what they are buying, that's okay really for me and – at the same time – giving consumers a range, giving them options."
In the first part of the interview, Najafi tells just-food R&R wants to see brands account for half its sales, up from 43%, and would use M&A to achieve that goal.
Would R&R, which has invested in categories like frozen yoghurt, look to enter fledgling segments like protein-enriched ice cream, organically or via M&A?
"I wouldn't say never," Najafi says. "Health plays a key role and we need to be aware of changing consumer habits. In terms of our offering we need to make sure it always needs to be there," he says. "The way consumers shop is always changing. Everybody can say they have a strategy but strategies can change and that's why every six months we sit down and see how the outside world has changed and what we need to do about it."
However, he adds: "Ice cream is all about enjoyment. It's like people saying we are going to make chocolate with less sugar; you need to be mindful of it but at the same time offer them that treat when they want it. Ice cream is no different. You see yoghurt and you may see probiotic and some functional products. Where is it going to go and how much of a role is it going to play in the overall growth of the category? I think it will be very limited."