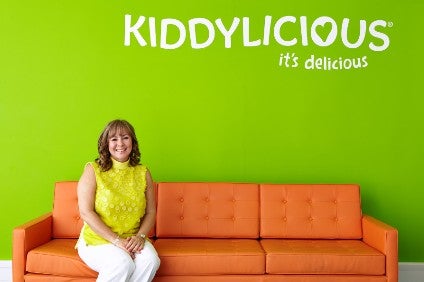 The Kids Food Co., a UK business marketing baby- and toddler-focused food under the Kiddylicious brand, continues to grow rapidly. Dean Best caught up with founder and CEO Sally Preston and heard about the company's recent performance, its ambitious plans for growth at home (and abroad) and how she believes one rival is seeking to undermine the business.
"We had a phenomenal year last year," Sally Preston, the founder and CEO of UK firm The Kids Food Co., reflects.
And, in many ways, that description seems fair. The company behind the baby-food brand Kiddylicious saw its sales jump 89% (reaching GBP16m, or US$22m), consolidating, Preston says, its core snacks business as the second-largest brand in that category in the UK.
After, Preston adds, "powering past Heinz two years ago", The Kids Food Co. has its eyes on the top spot, filled at present by Organix. "We really have getting number one snacking in the UK in our sights in the very foreseeable future," Preston insists.
Set up by former Marks and Spencer food technologist Preston in 2009, The Kids Food Co. has, after an abandoned foray into frozen, grown to become one of the major players in young kids' snacking in the UK and started to carve out positions in selected markets internationally.
At home, the rise of The Kids Food Co. and Kiddylicious has, Preston says, stirred the competition.
Last month, Organix, which claims to have a "no junk promise" and "a commitment to making healthier snacks" embarked on a campaign with TV presenter Cherry Healey "to investigate what's hiding in some of the baby finger foods and toddler snacks marketed for little ones".
A series of three videos were posted on YouTube as part of the campaign (which can be viewed here) and, while Kiddylicious is not specifically mentioned, nationwide media coverage in the UK did highlight the levels of salt in products sold under the brand.
The Kids Food Co. said the highlighted products had been reformulated and supermarkets were listing old information but, with Kiddylicious in a part of the market where shoppers (if not the actual consumers) can be particularly discerning, the coverage has represented a potential problem for the fast-growing business.
One of the products brought to attention in media reports was Veggie Straws, a product launched two years ago and described by Preston as having seen a "phenomenal rate of sale".
Reflecting on the recent media attention, Preston says: "Veggie Straws does have a small amount of salt in it. Now, some of our competitors get a little bit excited about this, saying, 'How very dare you put salt into the baby food category?' The amount of salt is tiny but, more importantly than any other reason, it's there for a reason. It's functional. It's making the product puff and therefore be appropriate for small children. If it had no salt in it, it would choke the children and that's clearly not a good plan."
Preston argues it is "amazing how you can spin stories on health and nutrition" and continues: "We've been under quite a lot of questioning that actually doesn't stand up to scrutiny. When people say 'Oh, it's absolutely outrageous that the top two selling SKUs – Veggie Straws has got 0.1 of a gram of salt in it. That is the recommended amount and is there for functional reasons. That's why we're winning because we're not tying ourselves up in silly little rules. We say it needs to be safe, fit for purpose, tasty, portion-controlled. And you know what? Mothers and fathers love it."

With shoppers overall taking more interest in what they eat, is The Kids Food Co. seeing greater scrutiny from parents on what they are buying for their children? Given the potential pressure on sales rival marketing campaigns could have on a brand like Kiddylicious, Preston gives an interesting answer.
"I think they trust the brands, to be honest," Preston says. "The main topic of communication is allergens. They want to understand what it genuinely wheat-free, dairy-free, egg-free, lactose-free. They're not talking about calories, they're not talking about fat and sugar, because they trust the brands to label things really clearly, and I think they trust the brands. We haven't noticed at all an increase in communication because, if the retailer has listed you and you are a credible brand, that actually that is a given."

Trust is vital for all food but gaining and retaining the trust of cautious parents is one of the most difficult tasks in the food industry, especially in a market like baby foods and toddler snacking, which has seen a proliferation of new products enter the fixture.
Preston claims the Kiddylicious brand accounted for "74% of the entire growth" in the category in the UK last year, both by expanding the distribution of its existing range and through the launch of products like the allergen-free Oaty Bars line.
Amid the flurry of baby-snacking products being launched in the UK this year, The Kids Food Co. is rolling out Kiddylicious Cheesy Stars baked snacks. Preston says the company has teamed up with The Make-A-Wish Foundation, a charity for children for life-threatening illnesses, and GBP0.06 from every sale of a bag of the new snacks will go towards the charity. She says the tie-up is an example of "how we're growing up as a brand" but could also help attract the attention of shoppers in an ever-more competitive market.
"You go down the fixture and it's bewildering and you could go 'Oh, that looks interesting.' Cheesy Stars haven't launched yet, I could be wrong, but intuitively that feels like the next thing for us to be doing to be giving something back to disadvantaged children."
This year will also see The Kids Food Co. look to build the presence of Kiddylicious outside the UK, an effort that started in 2015. Preston says sales from its 25 markets outside the UK account for 20% of the company's revenue, with the business describing Australia, China and Norway as "strategic markets", countries where the business as a specific distributor and targets more than GBP1m within an agreed timeframe.
Two major initiatives this year involve different parts of the planet, Preston explains. ""We've just done a massive deal with Walmart and we're just about to launch into Central America, five countries – Costa Rica, Nicaragua, Honduras, Guatemala and El Salvador – directly working with Walmart. We're cutting out the distributor, so that's interesting. Infant, toddler snacking is in a very early stage. There isn't much there," Preston reveals. "And next month we launch a brand new range into South Africa into the Clicks supermarket chain."
Preston is sanguine about the prospect of Brexit, confident there are plenty of opportunities in markets further afield, notably China, where The Kids Food Co. has recently struck a deal with Alibaba to host a store on its Tmall platform. The move adds to the presence of Kiddylicious products in mum-and-baby stores and "high-end supermarkets" in China, Preston says. Talks with Alibaba rival JD.com are also set to be held.
"China remains a very, very big focus for us," Preston says. "China for us is a powerhouse. They love the products. They love the whole portion control. They love it's a Western brand."
By 2021, Preston sees The Kids Food Co.'s overall annual sales more than trebling to GBP53m, with markets outside the UK accounting for the majority of revenue. "It doesn't mean the UK's not still growing," she adds. "It's just there are many more mouths around the world. But the UK will continue to grow. And it's a very fast-growing category in the UK. It's 14% year-on-year growth in the baby snacking category."
This year in the UK, a priority for The Kids Food Co. is navigating a revamp of the baby-snacking fixture at Tesco, the country's largest grocer. In recent years, Tesco has sought to rationalise the amount of SKUs sold across its store but Preston says the retailer has yet to work on baby snacks. "There's some great opportunities to get Tesco powering away again, which we're looking forward to," she insists. Another area of focus will be to grow Little Bistro, a range of ambient meals The Kids Food Co. launched last year, in a move to broaden its portfolio of products.
In the UK's other sales channels, The Kids Food Co. has secured listings with coffee-chain Costa, while Preston says the company will look to improve its position with Amazon. She describes the online behemoth as "a very profitable and fast-growing channel for us" and adds she sees The Kids Food Co.'s online work in China benefiting its business in the channel in its domestic market. "We can learn so much from China on online selling and online platforms and we will bring that back to the UK."
With The Kids Food Co. profitable – its net profit was GBP1.2m was 2017, while Preston says it made an EBITDA margin of 13% – as well as fast-growing, it may be on the radar of larger trade players or private-equity firms looking for their next asset.
Preston is the majority shareholder of The Kids Food Co., with the firm's staff having shares in the business. "Obviously, every year won't be as fantastic as last year was but I think it's really important that people can benefit from the upside," she asserts.
"We're getting knocks on the door but, at the moment, whilst we're all enjoying this, there's no reason to change it at the moment."