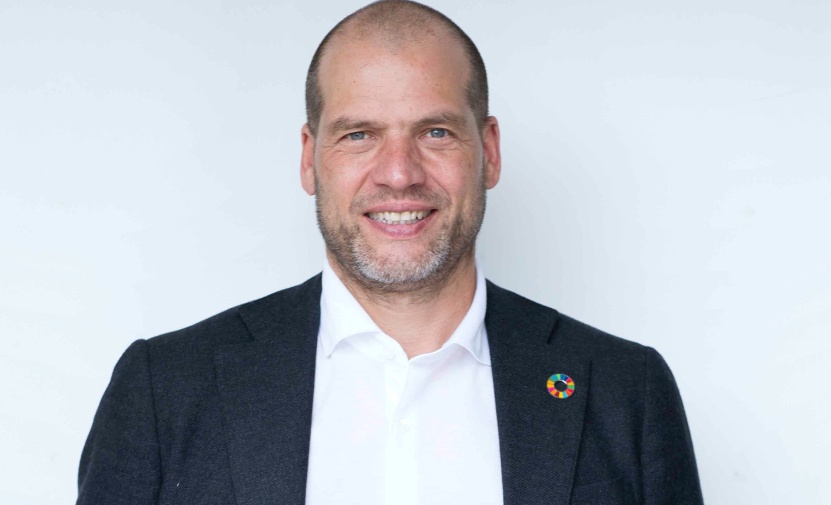 A year old, acquisitive meat-free supplier The Livekindly Collective has announced more funding. Dean Best speaks to bullish CEO Kees Kruythoff about the group's growth plans.
The forecasts on how global demand for alternative protein is set to grow continue to flood in – and continue to predict the market for replacements for meat, seafood eggs and dairy will expand rapidly.
Last week, Blue Horizon Ventures, a venture-capital fund that's made a series of investments in alternative protein, and management consultants Boston Consulting Group released a study in which they predicted the market "could reach at least $290bn by 2035". They added: "Based on our analysis, by 2035, every tenth portion of meat, eggs and dairy eaten around the globe will be alternative."
There will be – and are – those who are sceptical about such forecasts, especially when they're made by investors in the sector.
But those doing business in the emerging world of alternative protein remain bullish about the prospects for growth. One such individual is Kees Kruythoff, the former Unilever veteran who is chairman and chief executive of The Livekindly Collective, the acquisitive plant-based meat supplier that's home to brands including LikeMeat and Oumph.
"The plant-based market is a very attractive market because it's sizeable, growing fast, it's profitable and it's purposeful, especially, and purposeful is what makes it unique," Kruythoff says.
The Dutchman, who spent more than two decades at Unilever before joining The Livekindly Collective upon its formation last year, is talking to just-food on Zoom from the offices of major European airline KLM, which is one of the manufacturer's newest customers. "This weekend was the first flight with KLM business class having our brands and products. That was great and we talked about what else we can do so," he explains.
The interview comes a matter of hours after The Livekindly Collective announced a new round of investment, backing that means the business has raised the small matter of US$535m in its first year. "It is the biggest fundraiser ever in the global food business industry in 12 months," Kruythoff says. "When you have an attractive market, an innovative model and a best-in-class team, then money shifts."
He is quick to talk up the "quality" of The Livekindly Collective's investors. The most recent round was led by The Rise Fund, an "impact" investor that's part of private-equity firm TPG, and which counts among its founders Canadian billionaire Jeff Skoll and U2 frontman Bono. Existing investors in The Livekindly Collective, including Rabobank and S2G Ventures, the US venture-capital firm that was an early backer of Beyond Meat, also took part.
"The quality of that investor base is absolutely fantastic. It's all mission-aligned, it's all for the long term and that gives us the opportunity to truly build from start-up to scale-up to a global multinational making plant-based living the new norm," Kruythoff says.
Earlier this month, data released by The Good Food Institute (GFI) – the US-based non-profit that promotes plant-based alternatives to meat, dairy and eggs, as well as cultivated meat – said a record amount of money was invested in alternative-protein businesses globally in 2020, hitting $3.1bn, more than treble the level seen a year earlier. "What the finance community is starting to really understand is that performance and purpose are one and the same thing," Kruythoff suggests.
The latest tranche of cash to be put behind The Livekindly Collective will go towards what Kruythoff describes as the "three pillars" of the business' growth strategy – accelerating expansion in existing markets, breaking into new territories and further M&A.
"The first pillar is accelerating the growth in the areas where we are and basically are leading," he says, citing the UK – where the business acquired the No Meat brand earlier this year – LikeMeat's domestic market of Germany and Oumph's home turf of Sweden as examples.
It's been clear in recent weeks the US is a key target market for the business, with The Livekindly Collective announcing the launch of LikeMeat and another brand, South Africa-based Fry's Family Food Co., into Sprouts Farmers Market, a supermarket chain classified in the country as one of its largest "natural and organic" grocers.
"We have manufacturing capabilities there, we have our IT infrastructure there, the whole system in the US is ready for scale, which we will get, quarter by quarter, more and more, into this year," Kruythoff says. He touts the potential for the poultry-focused LikeMeat brand in the country. "LikeMeat is uniquely positioned in the US. It's a blue ocean. Everybody is focused on burger," he says. "And you know what's unique about it? It's a double-pivot because we are not only moving from animal to plant but it is 100% kitchen-recognisable natural ingredients. It's very important because consumers not only want animal to plant, but they also want nutrition."
While cutting meat consumption and turning instead to plant-based protein is broadly seen as beneficial to human health, not every plant-based product is immune from questions about their nutritional credentials. There is growing attention being placed on, for example, the amount of salt in products sold as alternatives to meat, or on the types of ingredients used in what some see as heavily-processed products.
"We are in the early development of the industry. We are like the iPhone 2 going to iPhone 12, so many steps to go"
Kruythoff agrees the emerging industry is facing questions about the make-up of some of its products but adds: "The first thing to realise is that we are in the early development of the industry. We are like the iPhone 2 going to iPhone 12, so many steps to go." With regard to the products offered by The Livekindly Collective, he points to the business' tie-up with US ingredients supplier Puris Holdings, announced last month, to work on creating what the companies say will be "cleaner products to consumers worldwide".
"We go all the way upstream with our partnership with Puris Holdings, where we are, with yellow pea, developing a better quality of yield of protein and so all that sits with our passion to be able to increase to the next generations even better protein and a more nutritious product," Kruythoff asserts.
The US is one of two, new "priority" markets for The Livekindly Collective. The other is China. The world's largest consumer of pork is seeing its own market for plant-based meat rapidly develop. It's still small but a number of domestic players have emerged – again backed by investors – and multinationals ranging from Cargill to Nestlé are looking for a piece of the action. They look set to be joined by The Livekindly Collective.
"In the second half of this year, we will go into China," Kruythoff says. Like in the US, The Livekindly Collective will team up with a local co-manufacturer and look to launch more than one brand into the market.
China might also be a market where The Livekindly Collective looks to pursue M&A, which has been a key part of its growth so far. Whether more acquisitions will come in 2021, either within or outside China, Kruythoff is coy. "Could be," he says. "For acquisitions, it's always a dance. For every willing seller, you need to have a willing buyer – and the other way around, it needs to fit. We have a very clear vision of where are our brand need-states in this market and whether brands fit. All these elements are part of that equation."
There are, he continues, other factors at play, including the characteristics of a particular market. Kruythoff uses China as an example. "The channels – on one side, there is obviously foodservice and retail but also e-commerce is part of that and in China, specifically, it's all about social selling networks you're a part of. That's an important part."
While, overall, in many countries, the markets for plant-based meat are buoyant (a recent report by the EU-funded Smart Protein project based on Nielsen data showed double-digit growth in a number of major European countries), some market watchers have pointed to pockets of slowing interest. In January, industry analysts at Mintel said Covid-19 had proven "a temporary setback for the flexitarian movement" in the UK, claiming the proportion of adults limiting and not eating meat "dropping back significantly" in 2020.
Kruythoff is sanguine about the overall, longer-term trend. "Of course, there's ups and downs but the big, big picture is really upwards and basically an accelerator," he insists.
"I am always amazed by how global this trend is"
A growing market has attracted a plethora of companies, causing market participants to predict a shake-out of brands at some stage. Kruythoff insists he doesn't like the word shake-out, somewhat surprisingly explaining he doesn't regard other brands in the market as rivals. "I don't think that's the point. Everybody who plays in this industry helps to develop the market and that's really important, so we don't see any of these brands as our competitors at all. We all see them as part of the bigger movement, creating what really needs to be done."
He accepts "every market has natural phases of development and evolution" but adds: "I am always amazed by how global this trend is. We are blessed with the next generation of people, of kids, who really understand that we have to change. They are the driving force of making plant-based living the new norm and, because of that, it accelerates, and then you get the next generation of market development."
Kruythoff refuses to be drawn on The Livekindly Collective's sales and profits – "It's so good to be a private company," he quips, with a laugh – but says the business will continue to see underlying growth in sales this year, leaving the impact of any new acquisitions to one side.
And he agrees that, as The Livekindly Collective continues to grow, the business needs to build the scale necessary to tackle one of the potential drags on growth all plant-based manufacturers face – the difference in price between their products and conventional meat.
"We're launching in the US a plant-based chicken with a 30% price premium versus organic chicken, so, whilst it's still not comparative, it's a price premium that is definitely significantly lower than many previous products," he says.
"What you hint to – i.e. affordable, better-quality protein for all – is definitely part of it. Once you start by saying 'we want to make plant-based living the new norm by inspiring people to live kindly for humanity, for our home – which is the planet – and those who share it with you', the consequence is that you need to have [the products available] for all. That is very clear.
"At the end of the end, we are changing the total value chain and we need to cut out the middleman – and this time it's the chicken. It's as simple as that and, therefore, once you get scale, fundamentally, this is a more efficient way of quality of protein, and ultimately it will be more cost-competitive."
As thoughts turn to scale, an obvious question: what is the exit plan for The Livekindly Collective's investors? "We will look at all of our strategic options," Kruythoff says. "This is the discussion we always will have. There's benefits of being private, there's benefits of being public and we could do it with an IPO or with a SPAC [special purpose acquisition company] and so we will keep all these options open, obviously, with our investors. The best thing is they are super, super supportive and they are, in the long-term, excited to be part of the collective, as we say."