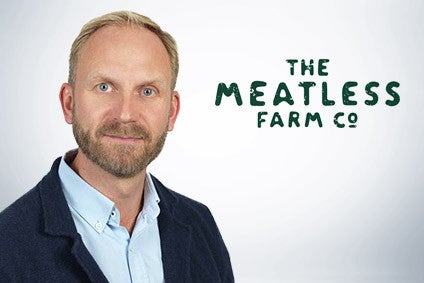 UK start-up The Meatless Farm Co. just made its supermarket debut in 640 Sainsbury's stores. Simon Harvey speaks to its founder, Danish entrepreneur Morten Toft Bech.
Partly inspired by his wife's cravings for quick and easy-to-prepare home-cooked vegetarian meals such as lasagne and bolognaise, Morten Toft Bech set out to develop plant-based alternatives to mince and burgers in 2015. And, with external investment in hand to add to his own cash outlay, The Meatless Farm Co. of Leeds, West Yorkshire, is already attracting interest from further afield after its official mid-October launch.
just-food: What started your interest in plant-based food and brought you to set up the company?
Morten Toft Bech: I looked at what was going on with climate change and the eco-system in general, and I got quite interested in what is now a big public debate – we need to eat less meat, the planet needs it and the world probably need its too. So that's how the idea started [his wife's cravings] and I contacted a research lab in the UK, who we've worked with for quite a long time because it was more difficult than we originally thought to create the product, [but] today we are here.
just-food: What sort of difficulties did you encounter?
Morten Toft Bech: I hadn't realised how difficult it was to create a product which was versatile, so I saw what was happening in the US with competitors like Impossible Foods and Beyond Meat, who were making quite a bit of noise even a few years ago about their burgers, and I thought for me, and the European market, I saw more of an opportunity in mince meat.
I was fiddling with the idea for a while and exactly how I wanted to approach this area. In 2017, the company got set up and I took some external money. I had funded it myself until then. We are looking to do further rounds of external funding but at the moment we are well funded. Perhaps in the spring we may look at taking in a serious funding round but it's undecided at this point.
[But] I realised it was a lot harder to make fresh mince than it was to do a fresh burger because the burger you fry … whereas the mince has to be cooked … and then you add tomato which adds acidity, and then the whole thing falls apart and becomes a porridge-like substance. These are the typical things when you are trying to develop a new product. You think it's going to take a few months. It was well over a year-and-a-half where we got to the point that it's ready to be launched.
We are pushing forward now and realising that the potential is huge. The feedback we are getting is really good, and we think there's potentially an opportunity that is bigger than we initially thought.
just-food: Outside of the UK, what markets are you looking at?
Morten Toft Bech: We want to expand our reach out of the UK now and launch internationally. After we launched in October we've had a lot of requests from markets we didn't even think of and people have been calling us from Australia and Saudi Arabia. We will be at the Paris [SIAL trade exhibition this week] and introducing our company to the world. Otherwise, we have normal expansion plans, looking at countries like Germany, France and Spain where the new product introductions are high and the market potential is high as well. It's about land grab and getting out there and making our headway. We are quite focused on a quick roll-out into Europe.
just-food: What about other retailers and channels?
Morten Toft Bech: We have a distribution deal with Sainsbury's across 640 supermarkets; it's an exclusive deal we have with them but only for a period of time. We want to keep our options open to talk to other retailers. We've spoken to all of them and basically what we have is a commitment from the other home retailers in the UK, but Sainsbury's have been quite insisting on exclusivity in return for special brand support. Casual dining is another area we are looking at.
"There's little competition specifically doing what we are doing, focusing on family favourites"
We don't have specific sales figures but the order intake is quite good from the little data we have because we've only been trading for a week-and-a-half with Sainsbury's. It's been overwhelmingly positive so far, but we also know we have a unique position at the moment as there's little competition specifically doing what we are doing, focusing on family favourites so to speak.
just-food: Do you plan to stretch beyond mince and burgers, or is that too far ahead?
Morten Toft Bech: No, I think that's a good question. We have plans but it is an emerging category, things have happened quite fast. I think that we as a company, and my vision, is to not be good at everything. I just want to be really good at a few things and keep a relatively tight range, so we keep developing our mince, our R&D is continuing with our R&D partners, and we constantly want to improve that. But there are other obvious categories that are interesting as well so we are looking at that. We will soon have some announcements on another couple of products that we are close to finishing in the lab.
just-food: Do you have an internal R&D department?
Morten Toft Bech: Well, we work two ways. We started out with RSSL [Reading Scientific Services Ltd] on the Reading University campus. They are one of the well-known food labs I approached in the beginning. They had the right team to help me kick this off. Subsequently, we've expanded and taken on some NPD people ourselves in terms of working closely with our developer.
just-food: What are the main components of the product's make-up?
Morten Toft Bech: Amino acids, vitamins, minerals and proteins, consisting of soy, pea and brown rice proteins, beetroot fibres and carrot fibres for colour. It's all natural things and 100% gluten-free.
We are not trying to convince anyone that you shouldn't eat meat. We are just saying if you want to reduce your meat intake, why not try ours, you might like it. We want to simply put good tasting products on the table that are not animal-based.
just-food: How do you see the meat-free market panning out in the UK? Do you think there's enough demand to support the multiple entrants coming into the category?
Morten Toft Bech: Yes, is the short answer. Since the report came out from the IPCC for saving the world by reducing our meat intake by 93%, demand for meat is now starting to grow out of proportion with what the environment can take. The food industry in general in the UK needs more options for people to shift over away from meat and into other products. I think there's a lot of room for a lot of interesting products coming on.
just-food: Are you targeting any particular revenues in your first year of trading?
Morten Toft Bech: No, just as high as possible [laughing], surprisingly. We are backed with external money for growth and for promotions and things, we are not focusing on the bottom line, it's a growth strategy and we will be looking at as much sales as possible, and in as many channels as possible. The opportunity is there and we are going to try and grab it.
just-food: What are your thoughts on Brexit?
Morten Toft Bech: A huge unknown. We are a UK-based business, we are going to set up manufacturing for the UK market and then deal with the complications from there. For our expansion, we will be setting up a factory in Europe and doing it that way. What we will do is keep Leeds as our HQ but we will have factories in different places in Europe for international markets, and then keep our Nottingham manufacturing for supplying the UK.
We have ten people in our office in Leeds but are hiring quite rapidly and have two or three new people coming on in November.