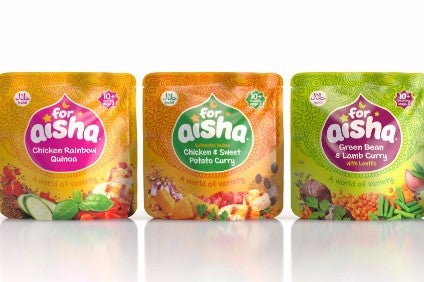 It is approaching two years since UK halal baby food business For Aisha was taken out of administration by investors that included founder and managing director Mark Salter. After building a business that has secured listings with most of the UK's largest retailers, Salter is looking to continue growth at home with moves into new segments and is aiming to build on some fledgling positions internationally. Dean Best reports.
In the autumn of 2015, UK-based halal baby food business For Aisha announced it had been bought out of administration.
Founder, managing director and majority shareholder Mark Salter, who set up For Aisha in 2014, bought the business, registered on Companies House as Cooking For Aisha, with the help of a minority investor named Manish Dhamecha. The company has grown to sell its products in most of the UK's largest grocers and is now looking to the next stage of growth through product development at home and international expansion.
There are few sectors more difficult to launch a business than food and the market is littered with companies that start and fail in a short space of time. However, Salter says the decision to move For Aisha into administration just a year after he established the company should not be viewed as a sign the business was under pressure.
"It was never struggling, it was always solvent," the 42-year-old, who has retained a majority stake in the business, tells just-food. "It was a very unusual administration, almost a positive one. My old investors wanted to buy the business, I wanted to buy the business, there was another party that wanted to buy the business, so it was an awful six weeks while we went through a bidding process. Normally, businesses go into administration because they're going to let people down. That definitely wasn't the case. It was just more a change of ownership but because we couldn't agree on who was going to buy it, we had to sell it at arm's length through an administrator. None of us really wanted to sell our shares, so we decided mutually that was the best way to do it."
For Aisha is a business that has focused on selling halal baby food in pouches. Asked for the company's annual sales, Salter says it "sold a million pouches last year [and] roughly a million pouches equate to a million pounds, so that would be our turnover, or run-rate. We're about there, which is a nice number, but it doesn't scratch the surface of where it could be".
Salter's ambitions for the company have been supported by its first appearance at the IFE trade show, which took place in London in March. He says the company "must have had a meeting for four days every five minutes", with "the "majority" with potential international customers.
For Aisha already does business in 19 markets outside the UK, business Salter describes as "really small amounts because they're just floating relationships". With the company coming up to two years since emerging from administration and with a solid UK business in place, it is now gearing up for more considered international expansion. It has, for example, appointed an agent in France – Sutralis – to drive its business in France and is signing distributors in north Africa and the UAE.
The company recently had a trial listing with French retailer Casino and has tasked Sutralis to get feedback on the test and to pitch to other "major supermarket chains" in the country. Salter lists a series of reasons for targeting that market. "France has got seven million Muslims and halal food is twice the size of organic over there, it's just huge," he reflects. "France is the big one for us because it's close to home, and our products are made there anyway. It kind of makes sense in every way. UAE is a fairly obvious one because of the affluence and also because we are the world's biggest halal baby food company coming from Europe. North Africa is an opportunity. That's a newer market for us, I suppose."
The fall in the value of sterling since the UK voted to leave the EU has prompted some industry watchers to urge the country's food companies to look to build or expand their presence in overseas markets. Salter says For Aisha's new focus on export markets is more to do with his priorities since the company came out of administration, rather than being sparked by movements in exchange rates.
"My firm belief is you have to build your core business at home first before you can really credibly start to sell it abroad. Ideally, we'd have done more exporting a year ago but we were just so focused on the UK and getting that right. It's more of a coincidence in timing than anything else," he says.
That said, while the decline in sterling could be said to, on paper, make UK exports more competitive, it has made the cost of a raft of imported raw materials more expensive and For Aisha has not been immune to pressure on its costs.
"The packaging is quite specialist for baby food and it all does come from Europe. It's a four-layer aluminium pouch which keeps it fresh for a year. That is massively increased," Salter reflects. "And then all the raw ingredients, pretty much, although meat's not too bad because we make sure that's all sourced from the UK."
Surveying the UK baby food market, Salter says there is "no other halal baby food brand out there" and insists For Aisha "hasn't really got any competitors as such". However, he says the company, despite facing pressure on margins, has not moved to put up its prices, suggesting that, even though it has no direct rivals, its status as one of the newer brands in the market means it does not yet have the leverage to attempt to pass on the increases in costs.
"We're five pence more and that was the retailers' choice. We are quite fortunate really, not to have to get into pricing discussions with people," Salter says. "But what I can say though is we are under tremendous margin pressure because of Brexit. I mean, tremendous. We haven't passed on a penny of that. We've lost about 19% off our bottom line, just purely because of the value of the pound has dropped. We have to hold our nerve and see what happens with the exchange rate and import duties and things like that, but hopefully things can get better.
"It would be lovely but I don't think we are in a position to [up prices]. We are still the new brand to-market at the end of the day, so I think we'll try and leave that kind of thing, see what happens with the market leaders and what they do."
With talks between the UK and the EU on the country's departure from the bloc on the horizon – even if the prospective start date of 19 June is now uncertain after last week's General Election results – many in the industry are nervously waiting how the negotiations will pan out and what form a post-Brexit trade deal could take. Asked what he would like to see from the discussions, Salter says: "I'd like some security around import duty for essential items. I think baby food's an essential item because it's a zero-rated product VAT-wise and it'd be reassuring to know the deal that's done is not going to mean that we've got import duties on essential items. I dread to think what might happen if we start getting import duties on essential items like baby food. That would be really worrying."
However, away from watching exchange rates or ruminating about the possible outcome of the talks on Brexit, For Aisha is working on a series of initiatives to try to continue its growth. And, as well as looking to build overseas, the company is in the middle of a number of domestic projects.
Salter says For Aisha was approached at IFE by a snacks company – he would not divulge its identity, other than saying "it's a major brand, who also licences other brands" – to work together on producing and marketing a "healthy kids snack".
Chilled is set to be another new category for the business, with another unnamed manufacturer approaching For Aisha to licence the baby food firm's brand.
"Both of these are currently in development for 2018 launch. Both are at the same stage at the moment, where we are planning the ranges, recipes and unique ingredients," Salter says. "Our brand has certainly got the potential to expand into other children's food areas, so whether that be chilled or frozen or snacks."
Before then, For Aisha is launching a range of stage-three baby food trays in the UK at Asda stores next month. The company is also lining up the launch of stage-four baby food for the autumn.
"There's so much going on," Salter says, although he is reluctant to give a sales forecast for the business. "We sort of do our own forecasts for our core business that we've got now, but like I said, with all that NPD and different markets, it's really really difficult to put any meaningful figure on that. So we'd be making them up really," he says. "We could say 'we're going to do X amount of snacks and X amount of chilled' and whatever but there's no way we could really know that, in all honesty. Or which retailers in France we might win, and how business in the Middle East might be Because they're all such massive, massive wins."