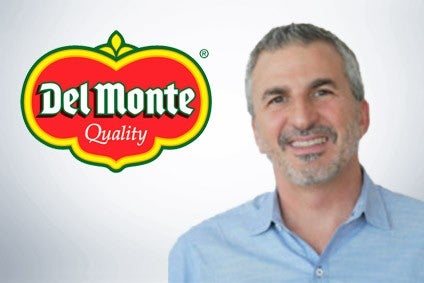 Del Monte Foods' innovation chief, Mario DiFalco, talks to just-food's Dean Best about the "transformation" in how the US group develops new products.
With the best part of a decade spent in senior roles at Del Monte Foods, Mario DiFalco is worth listening to as, days before Christmas, he reflects on the US company's work in 2019 – and how those efforts underlined the changes the business has put in place in recent years.
"2019 has been a monumental year for us. We've launched an unprecedented amount of innovation; as we sometimes say, with a capital I – so, a lot of new platforms," DiFalco tells just-food from his office in California. "There was a lot of hard work that got us into a lot of new spaces. I think that alone was it was a huge accomplishment."
As ever with NPD, no-one can be sure how many of those new products will become long-running parts of the Del Monte Foods portfolio but there is no question the company has moved to reshape its portfolio in recent quarters, with, for example, the launch of Veggieful, a sub-brand featuring, for example, frozen vegetable-and-cheese snack bites.
Or, targeting another part of the store, the development of chilled products such as the Del Monte Fruit Crunch Parfait, expanding the company's presence in perimeter aisles. Or, in Del Monte's shelf-stable heartland, the rolling out of Bubble Fruit, a snack on the popping boba trend.
"Getting into all these new segments and expanding others in the same year is a big undertaking. It's been a big year for us," DiFalco says.
DiFalco, Del Monte Foods' senior director of innovation and new ventures since 2010, admits expanding the company's portfolio in areas such as frozen and chilled has presented issues to work through for a business steeped in market segments like canned food.
"Expanding beyond our strengths in the categories we've been in has been honestly really challenging," DiFalco reflects. "We expected it to be. Looking back a year, we got relationships with many more buyers and category directors and the challenges we've had there were more getting up to speed. And then internal challenges, just part of doing something this big has been getting all that manufacturing and supply chain together and up to Del Monte quality to deliver in these new areas."
Del Monte Foods has leant on third-party manufacturers for its forays into new market segments, while, alongside those dealings, the company has made some changes to its own manufacturing footprint. In August, Del Monte Foods' parent, Del Monte Pacific, the Singapore- and Philippines-listed company that has been its owner since 2014, announced plans to close two factories in the US and sell two others in a bid to "to remain competitive in a rapidly changing marketplace".
"Without a doubt, we've made some tough decisions this year," DiFalco says. "I think we made those decisions to help where we're going and how we support what is still a major component of our business. What we have today is the foundation and that does help fuel and fund getting into new spaces with innovation."
For a business that's home to brands with a legacy going back decades, innovation is critical in its bid to keeping those products relevant to today's consumer. To maintain relevancy, food companies need to find the right balance of getting their brands to tap into emerging consumer trends while holding on to some of the attributes that had driven their success in years gone by. It's a difficult task.
"Newer consumers use the product today in the legacy format but they're also engaging with it in new ways and with our new products. For instance, we've launched this Veggieful sub-brand, with our bites and our veggie and grain bowls – and we've got a host of new platforms coming. It's just a reminder we're making it really convenient and easy to love your veggies because we're making them delicious and offering them in convenient foods that they eat today."
Asked what prompted Del Monte Foods to embark on a year of "unprecedented" innovation, DiFalco points to the ongoing changes in the way consumers eat food – and convenience is central to the company's thinking.
"There's more on-demand snacking, more on-demand purchases; you can click two buttons and have ingredients, finished meals, groceries to your door. So how do we better play in this broader accessibility environment we're in? That's certainly driven it, as well as participating in the ever-changing ways folks consume snacks and prepare meals, meal prep, meal assembly," DiFalco explains.
"In the past, we've done a great job more in meals and in a more narrow occasion range. What we a few years ago said was we need to expand that. I think there's ten different snack and meal occasions during the day. How do we better play throughout the day, offering solutions that are really good for you, but also convenient, however convenient is interpreted?
"Snacks are replacing meals – and they're no longer mindless calories. People are seeking positive nutrition. We said for years we've got the wind at our back. That's what we do – fruits and veggies. How do we make them in forms and formats that are going to be both good for you but also good tasting? That's been what we've been working on.
DiFalco also points to an internal factor. "New senior leadership is so critical in making sure innovation is going to work and we have that support all the way up to our senior leadership here at Del Monte Foods but also our owners and board," he says. Greg Longstreet, Del Monte Foods' CEO and Gene Allen, the company's CFO, joined the business in 2017. Bibie Wu, the group's chief marketing officer, was hired a year later from US home-care and beauty business Henkel.
DiFalco says those relatively recent management appointments helped support changes Del Monte was starting to make in the way it developed new products.
"I hate to say it because we've all been hearing about how companies need to be agile for a long time but, about three years ago, we really implemented that on the innovation side. We're now more that way as a company and, again, that comes from senior leadership down supporting that," DiFalco says.
"As it relates specifically to my world, we've gone from what I like to characterise as a large-batch kind of innovation process to a very iterative, lean, start-up approach, so less of the big, costly, long, early research projects turned into more iterative, consumer-feedback loops. We're not only getting consumer but customer feedback early on in our process."
DiFalco may be reluctant to use the word 'agile' for fear of it being seen as something of a buzzword but there is no doubt companies right across the consumer packaged goods industry are trying to be more flexible in how they innovate and get new products to market more quickly.
Del Monte Foods doesn't use formal concepts like the two-week sprints that are part of the Agile product-development methodology but DiFalco says the company has shaken up the way it innovates and, as a result, is launching products faster.
"In the old, old days, you'd never even start working on a product until you've concept tested to death"
"In the old, old days, you'd never even start working on a product until you've concept tested to death, until you pass the metrics. Now we're bringing the product, early prototypes or MVPs into the early design stage so that we are getting reaction [from consumers]," he says.
"Eighteen months ago, we were in development of a breakfast snack. We were talking about getting into an earlier daypart with our fruit snacking. Call it mid-July: we had to pivot and had to drastically change the product concept – but we needed to be out having line reviews with customers in two, two-and-a-half months. The team accelerated their agile approach by iterating quickly, getting out to consumers, quick and dirty tests, coming back, tweaking. By the end of September, we were finished, had approval for launch, out at our national sales meeting early October and in line reviews soon thereafter. It was a really quick – and the product's done really well. It's just a testament to that approach. In the old days, we would have just said: 'Okay, maybe next year, let's get back to the drawing board.'"
Having co-manufacturers in Del Monte Foods' production network "has been super-important for us to move quickly", DiFalco adds. However, while the group has also worked with other businesses in areas such as "pipeline planning, new ways of thinking", the executive says the company has stopped short of following its peers in setting up in-house investment arms or incubators to help its innovation process.
"I'm not aware of any plans. I will say we have made certainly a conscious decision to create the innovation ourselves versus purchasing it. That's been our strategy. Like I said, with all the work, especially in the last few years, with new senior leadership but also just the new approach, has allowed us to be much more successful and go wider with the resources we have."
The phrase 'new ventures' in DiFalco's job title "could include things like M&A" but he says there is "nothing that I'm aware of from an M&A standpoint" on the horizon at the company, focusing his comments instead on in-house innovation. "We're kind of keeping the pedal to the metal and expanding, making sure we build a presence in these new areas and a bigger breadth of offerings."
Asked if the rate of innovation in 2020 will match that seen in 2019, DiFalco says he would have to check the total number of items planned for launch but adds: "How would I characterise it? I think just extending what we've already done. You may see some areas that will double in their presence and others where you see some strong line extensions in certain areas more so than others."
Even if a year of consolidating and building on 2019's efforts is on the cards, DiFalco can reflect on the changes that have taken place in the way Del Monte Foods develops products and in the shape of its portfolio. Approaching the start of his 11th year at the company, DiFalco says there has been "a transformation of innovation" at the group since he started at the business.
"We used to have an innovation process for a US$20bn company and we weren't that company: risk aversion, all those kind of things, small steps," he says. "Coming into a new company, once we were over our first couple years, we created our long-term vision for the collective company with our parent company, and that's when the wheels really started to turn. Three years ago, the big change for us was going to a more agile approach and having these cross-functional core teams under insights and R&D and my innovation marketeers.
"Then I think holistically how it's changed for Del Monte is innovation at the forefront of what we're doing. That was not the case before the last few years. That's really been the monumental shift. We've got to act in a different way. The old way doesn't work any more."
For just-food's interviews with senior industry executives, visit this dedicated page.