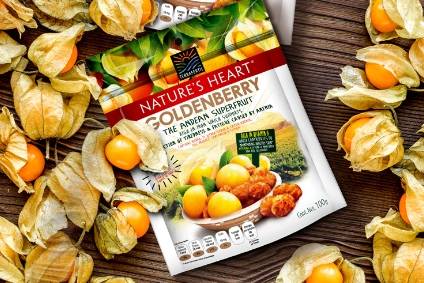 After a deal finalised in August, Nestlé owns a majority stake in Latin American organic and plant-based business Terrafertil. Dean Best spoke to both companies to ask what lies ahead.
Nestlé has been active in the M&A arena since CEO Mark Schneider took the helm at the world's largest food maker in early 2017.
The world's largest food maker has invested in or bought outright up-and-coming businesses and has also not been averse to signing off on larger deals, for example paying $7.1bn for a licensing deal with Starbucks earlier this year.
One particularly interesting move came in February, with the Swiss giant snapping up a majority stake in a food manufacturer in Latin America.
For an undisclosed sum, Nestlé became the majority shareholder in Terrafertil, a company selling organic and plant-based foods.
Ecuador-based Terrafertil, set up in 2005, markets products under the Nature's Heart brand. The Nature's Heart range includes plant-based beverages, snacks for at-home and on-the-go consumption, trail mixes and soft drinks.
Outside Ecuador, Terrafertil sells products in six other markets, including Mexico, the UK and – from last year – the US. The company employs 400 people and has four factories in Ecuador, Mexico, Colombia and Chile.
"From a Nestlé perspective, there is a clear interest in going where our consumers are going and the trend towards plant-based protein and plant-based foods, towards healthy snacking, is growing in Latin America," Maxence de Royer, the vice president for strategy and business development at Nestlé's Mexican arm and the executive leading the integration of Terrafertil into the company, tells just-food.
"It gives us access to fast-growing categories in which we have a very limited presence like plant-based beverages, [as well as] entering categories such as trail mixes where we were also not present."
The markets for such products aren't as advanced in Latin America as they are further north in the US and Canada, nor across the Atlantic in Europe, with demand unsurprisingly driven by more affluent consumers.
Nestlé does not provide details on Terrafertil's annual sales, nor on the growth rate of its new asset, although de Royer says the business is "growing very rapidly" and he expects it to continue to do so.
He insists there is room for the categories in which Terrafertil does business to see further growth – and for the company to capitalise on the expected rise in demand. "In the region, these trends towards plant-based foods, superfoods, healthy snacking are clearly not fads. It is here for the long term. These categories in Latin America are lowly-penetrated but there is a huge opportunity to drive penetration. And there is a huge opportunity to be the first in grasping that opportunity."
De Royer, who has worked for Nestlé since 2010 in strategy roles at the company's HQ and then in Mexico, points to another reason for the group's decision to invest in Terrafertil – and it speaks to many of the similar moves made by Big Food in recent quarters.
"This is more of a soft element: we see in companies like Terrafertil a great agility. It has been founded by brothers who are very nimble, fast to react, very flexible. And we wanted to learn a little bit from that type of company," de Royer says. "We can learn from the company in driving proactive innovation processes."
De Royer was joined on the call by David Bermeo, one of the three brothers who set up Terrafertil more than a decade ago. He echoes de Royer's optimism about the prospects for the healthy-snacks and plant-based drinks markets in Latin America, saying those areas of the industry have "seen tremendous growth". It was that demand – and also with an eye on growth further afield – that proved central to why Bermeo and his brothers decided to accept investment from Nestlé.
"Nestlé was one of a few companies that have a global reach that was able to really add value to what we were looking for, which is take Terrafertil to the next level," Bermeo says.
However, as well as being able to use what Bermeo describes as Nestlé's "distribution capabilities and strength", the Terrafertil co-founder insists the behemoth's "attitude" towards his business was also factor in the transaction.
"They have allowed us to remain an independently-run company. They have shown a lot of respect for the way we have done business since we started," Bermeo says. "We can leverage all the good things Nestlé has as the largest food-and-beverage company in the world – the technologies they have, the human resource they have – but it also allows us to maintain our entrepreneurial spirit. We are trying to find that spark where we can take advantage of both worlds."
Finding a spark between buyer (or majority shareholder) and new asset – as well as not putting out the spark that allowed a fledgling business to carve out a foothold in the market in the first place – are (or should be) top priorities of the parties to a deal as they move forward.
How does Nestlé plan to integrate Terrafertil into its wider operations but retain the attributes of the business that gave it some early success?
"We want to leave the company in a stand-alone mode," de Royer says. "We recognise the management's quality, the team's quality and we don't want to hurt its ability and flexibility. Having said that, you may wonder what the role of an integration officer is in the company that is stand-alone. We like to put it this way: we want to give them the good collateral of Nestlé. We want to help them wherever it makes sense – and we have identified very clearly where we can help them in terms of top-line and bottom-line synergies."
De Royer points to what he calls "three main topics" – innovation, distribution and efficiency. "We want to make sure they get access to our R&D capability globally. The second is route-to-market. Nestlé, wherever it makes sense, will help them in expanding distribution. And the third is efficiency. We have a very strong footprint in the region in terms of manufacturing capability, they have their factories as well and we will see whatever can be done to have efficiency," de Royer explains. "These are our three main strategic levers and the work from a Nestlé perspective, while maintaining Terrafertil's autonomy, is making the bridge between the two companies to make sure the identified synergies are realised."
A board of directors has been established, which will discuss what Bermeo calls "broader strategic issues", with the brothers that set up Terrafertil remaining in charge of day-to-day operations.
Bermeo insists he welcomes the fact a board of directors is in place. "It is actually something that, as entrepreneurs, we welcome. The board of directors will meet quarterly and will discuss where we take the company, what geographies and categories we focus on. This is very good because Nestlé brings a lot of knowledge and experience into the business. The day-to-day operation of the business remains on my brothers and me as founders. We do answer to a board of directors but we, on a day-to-day, remain as an independent operation."
De Royer adds: "Maintaining its autonomy, helping them wherever it makes sense, having a structure of governance in place through the board: these are all the elements that should allow Nestlé to not destroy the culture."
The mention of considerations of geography and category leads the conversation to where and what Nestlé and Terrafertil will focus on in 2019.
"Healthy snacking and healthy beverages … will continue to be our core categories and where we plan to put the bulk of our efforts," Bermeo says.
On geography, both men insist the companies will focus on the seven markets in which Terrafertil already does business. "There is still so much to do in our existing markets. Our priority is to grow there," de Royer says. "We will carefully consider any such expansion."
However, both are more open about what they see as the prospects for one of the ingredients central to a number of products in the Nature's Heart range – the goldenberry, a fruit native to Brazil but which is grown in the high altitudes and the warm climate of Ecuador and Colombia. De Royer and Bermeo talk up the health attributes of consuming the goldenberry and see opportunities for the companies as they work in tandem.
"There is one thing we specifically want to push and that is the goldenberry," de Royer says.
Bermeo concedes the goldenberry is better known in countries where it is cultivated – like Ecuador and Colombia – than further afield but he insists there are health benefits from eating the fruit that will appeal to consumers across markets.
"The most important challenge on the goldenberry is getting the fruit to be more known. It has tremendous health properties from antioxidants, from fibre. It's a really naturally healthy fruit. By promoting goldenberries and by using goldenberries in the portfolio of Nature's Heart and of Nestlé itself, we achieve a double benefit," Bermeo says. "We've been promoting goldenberries in the UK and we've seen good and healthy growth. The UK also [has] Nestlé's main … technology centre for confectionery, so we are also hoping to together work on some projects of mixing the health of chocolate and the health of goldenberries."
While there are signs, then, Nestlé could be active on product development, what does the Terrafertil deal mean for the group's M&A strategy? Could more deals in Latin America be in the offing?
De Royer is guarded, though he says: "Now we have a fantastic platform. We continue looking at opportunities. Our priority obviously is to grow and make sure Terrafertil works. Should anything arise that's clearly complementary, we will look at it. For the time being, our focus is on making Terrafertil a success."