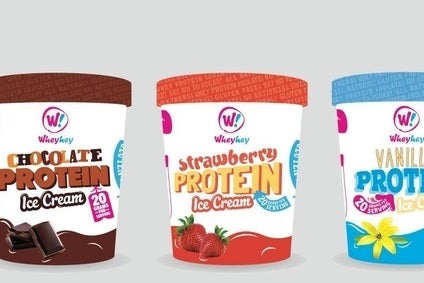 Wheyhey, a fledgling UK-based high-protein ice cream brand, has had a rollercoaster three years, entering administration in 2012 before fresh investment enabled the business to start again. It is now riding the wave of rising consumer interest in protein. Co-founder Damien Kennedy declines to comment on the reasons for Wheyhey's administration but outlines the company's development, his belief high-protein will be a mainstream category and his desire for the firm to follow in the footsteps of Red Bull and Innocent.
just-food: Protein has become a key trend in the food industry, with interest intenstifying amid the heightened scrutiny on sugar. What for you has driven the interest in protein? And which consumer groups are who seeing that from?
Kennedy: When we launched, we targeted the low-hanging fruit, the people who were 18 to 40, who go to the gym, live a pretty healthy lifestyle and treat themselves every once in a while. We've got our freezers in gyms and health clubs. Sugar is a hot topic across mass and mainstream media and luckily for us we've got that core group of followers that understand nutrition, love that it's high-protein and sugar-free and they're proselytising about our ingredients to a new market. We're also competing in Whole Foods Market against other brands that claim to be healthy – in inverted commas – and, as people are becoming more aware and educated, they're choosing Wheyhey as opposed to another brand.
just-food: Are you seeing, if not wholesale changes in your demographic, demand from those who are perhaps becoming more interested in health but not as fanatically as your core consumers?
Kennedy: Absolutely. We're getting mums that taste in sampling sessions at Whole Foods or Holland and Barratt and they're buying it for their husbands or kids to look after their sugar content. It really is opening up a demographic.
just-food: That's one of the questions you must face. The conventional product is high in fat and sugar, one could question whether protein ice cream is the same?
Kennedy: In the gym market, they're saying: 'Fantastic, high protein, 22g of whey protein isolate.' In Whole Foods Market, they're saying: 'High protein, that's cool, I know protein's good for me that's in the press. But it's sugar-free as well, I know I need to cut my sugar.' Those two factors open up the market very quickly for us.
just-food: What marketing do you have to do to convince consumers they could actually enjoy this ice cream and not worry about sugar?
Kennedy: With athletes, we've got freezers in a lot of Premiership football and rugby clubs. The nutritionists and sport science teams called to ask to get it in for the athletes when they looked at the ingredients. In terms of others, the only marketing spend we have really is sampling and social media, building that word of mouth. People could say: 'If it's this good for me, there's no way it can taste good. If they are saying it's high in protein and sugar-free, this must taste terribly' but we've videoed people's reaction tasting the ice cream and they are blown away.
just-food How is it priced?
Kennedy: For a 150ml pot, it's GBP2.50 as opposed to, for argument's sake, a Haagen-Dazs, which is about the GBP2 mark for a 100ml. It's on the premium end of the market but not too far out of bounds. We compare it to a regular, high protein bar, which would be around the GBP2.50 – GBP3.00 mark.
just-food: Do you have any nearer competitors than the indulgent ice creams? Or, in your minds, is your competitive set snack bars?
Kennedy: We don't have a direct competitor in the frozen category. We are going after the frozen yoghurt companies, who are essentially still pushing 1980s science, in terms of fat and calories. We're going after those even for personal reasons. Both of my parents have type 2 diabetes developed due to their diet. I went home one weekend and my mum was eating a frozen yoghurt because she was told it was fat-free, low-calorie, good for you. It is absolutely horrific, ramming 40g of sugar into your mouth.
In terms of the protein bars, we work closely with most of the big protein brands in the UK and Europe because we're bringing new people into the protein market. Somebody that has never had a protein powder before that might be scared of the taste might try a protein ice cream that is sugar free and marketed in a more friendly way. They might then progress into protein bars and protein shakes.
just-food: Why haven't there been other protein-enriched ice creams to hit the market?
Kennedy: Getting it produced commercially is incredibly difficult. We were told by nearly every manufacturer in the UK that it can't be done – and the same with some of the big guys in Europe. It was a process of about 16 months to get it produced commercially and taste well.
Also some of the bigger players in the market are so far behind in what they are promoting to people as health. They're still talking about calorie pledges and fat content. We need to cut sugar as much possible and increase people's protein.
just-food: What do you make of the bigger packaged food companies, seeing grocery sales under pressure, looking at protein and launching products into the space?
Kennedy: We've seen what Kellogg has done with Special K. They've slapped protein onto their product and they have more protein in it. It's great. These big companies are spending money on marketing and educating people around the term protein being a beneficial ingredient. That's the kind of money we don't have to spend on marketing so we are piggybacking on what they are doing.
The way we are building our business – one consumer at a time, educating people about the benefits of protein and reducing sugar – we know our ingredients are better than other ingredients in terms of the space we're in. We're looking at six to seven years time when high-protein products are mainstream in the UK. Wheyhey is going to be the number one brand in that category.
just-food: Do you have concerns about the larger players' NPD potentially muddying the water and confusing consumers?
Kennedy: There is a fear companies could try and make a quick buck and consumers then say: 'Here we go again. Here's the next trend.' The only thing about protein and the sugar issue now is there is 20 years of science behind it. And it's not a trend, it's a lifestyle. It is a fear that a big company will just try and jump on this and use cheap ingredients to make a quick buck but I'm just hoping the market as a whole will be on our side and educate people.
just-food: How would that mainstream category look in six or seven years?
Kennedy: I imagine there will be an aisle in the supermarket for health and wellness and a full offering of sugar-free, natural, high-protein treats and foods right down that aisle because I think more and more consumers are going to be aware of those ingredients.
just-food: Have you had any discussions with the UK's Big Four grocers or is the category too niche at present?
Kennedy: We have had conversations. I just think for us we want to build our brand carefully. Our brand is too young to get involved in the promotional activity that the Big Four expect. Our brand is strong enough to grow volume through our current channels. We're getting our distribution and winning market share from mainstream ice cream companies – we're launching on Virgin Atlantic, Odeon cinemas and Compass Group in the coming months.
With increasing awareness among the public of the benefits of protein and of reducing sugar we feel its only a matter of time before the Big Four make health and wellness a priority.
just-food: What are your annual sales now?
Kennedy: We will do next year – 2014/15 – about GBP2.5m.
just-food: Do you have sales targets you can disclose?
Kennedy: We would like to mimic the likes of Innocent Drinks, Red Bull, Vita Coco and Vitaminwater. Those are the types of brands we are tracking.
just-food: Where do you stand internationally?
Kennedy: In February, we launched across the six GCC countries. In September, we launched in Sweden, Finland and Denmark. We get calls from all over the world on a distribution basis. It's finding the right partner that is the key.
just-food: Is your export strategy targeted or more reactive?
Kennedy: Scandinavia we targeted because of the governments' initiatives on changing people's recommended daily allowances [of protein]. The Middle East was a huge opportunity with a massive player and that was quite reactive.
just-food: What about the US?
Kennedy: We've had visits from some of the bigger retailers in the US but that's a whole new kettle of fish. It's humongous. It's probably too early for us right now but I'm sure we'd be taking a British brand to America.
just-food: So how do you see the prospects for the category as a whole? Could protein become a fad?
Kennedy: It's going mainstream. There's a perfect storm for our products and our ingredients. Protein in the US is mainstream. You go anywhere you've got high-protein products. You go into a restaurant in California and you're picking your meal by food group. That's going to happen in the UK – whether the supermarkets or big food companies like it or not. Demand for that type of eating is going to be a necessity, driven by brands like us.
The interview with Kennedy forms part of just-food's latest management briefing, which analyses the rise of protein and discusses the prospects for one of the hottest trends in the food industry.