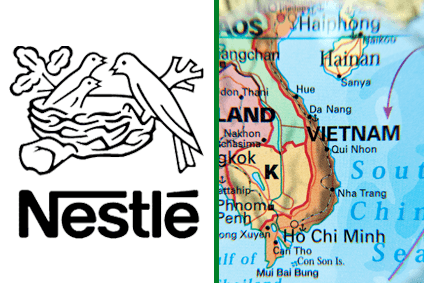 Vietnam is an up-and-coming emerging market that is gaining increasing attention as international companies seek out fresh avenues of growth. Nestle first established an office in the country in 1912. In the 1990s the company took its presence in Vietnam to the next level with the establishment of a local subsidiary. Today, the firm is focused on accelerating growth in the market. Katy Askew spoke to Rashid Aleem Qureshi, MD of Nestle Vietnam, to find out more about the group's plans in the country.
Nestle has had a presence in Vietnam for more than than a hundred years, having established its first office in the country in 1912. But it was around twenty years ago that the company began to significantly step up its activities in the market, first with the establishment of a joint venture company, La Vie Co, in 1992 and then the launch of local subsidiary Nestle Vietnam in 1995. Since then, the company has come a long way, regional MD Rashid Aleem Qureshi tells just-food.
"Our first factory in Dong Nai Industrial Zone came into operation in 1998. Today we have five factories which employ approximately 2,000 employees nationwide. The total investment has increased 18 times from US$25m to $450m."
It would seem that increased investment has paid off: "Nestle Vietnam has been achieving strong double digit growth year on year. We expect to continue to accelerate the growth rate in the years to come."
According to Qureshi, a number of "key factors" are contributing to Nestle's success in Vietnam.
"Vietnam is a developing country with growing population and purchasing power," he says. Nestle has been able to leverage this thanks to its "strong commitment in Vietnam".
"The increasing investment over years, especially in production capability has helped us to meet the growing demand of consumers, both for local consumption and for export," Qureshi comments.
Nestle also benefits from a number of "strong" brands in the market, including Milo, Cerelac, Nan, La Vie and Maggi. "Our brands continue to achieve good growth over years and [will] remain key brands of Nestle Vietnam in the years to come," he predicts.
Nestle operates accross a number of categories in Vietnam, including confectionery, seasonings and infant formula.
The company has offered a confectionery range in the country since 2008 and products include KitKat, Milo Choco Bar, Nestle Crunch Wafer and Fox's Candy.
Qureshi believes that this category will offer Nestle significant growth potential in the years to come as Vietnamese consumption patterns develop.
"In the past Vietnamese consumers purchased chocolate confectionery as a gift on special occasions such as birthday, anniversary and Lunar New Year holidays…. Chocolate confectionery has become more and more popular among Vietnamese consumers. The increasing average household income, together with the influence of Western culture on consumers' lifestyles, created a good opportunity for the strong growth of chocolate confectionery in Vietnam."
Nestle's Maggi brand is focused on the sauces and seasonings sector in Vietnam, which is valued by Eurominotor International at $801.9m.
Qureshi says that the company is currently focused on growing market share in this area and has no plans to extend the brands into categories such as instant noodles – as it has elsewhere in the world. "Maggi participates in Vietnam with Maggi soya sauce, Maggi oyster sauce, Maggi granulated bouillon. Maggi has leading position in premium segment of soya sauce, in oyster sauce and in veggie segment of granulated bouillon. Currently our focus remains in growing our strong base in sauces and seasonings."
Meanwhile, Nestle Vietnam is also witnessing "good" growth in the expanding infant nutrition category, Qureshi continues. The company offers a range of products that meet different price points to appeal to a broad cross-section of Vietnamese society, he continues.
"Nestle's infant nutrition business in Vietnam experiences good growth in the past few years. The brands that are available in Vietnam include Nan, Lactogen [and] Cerelac. We offer products in different segments such as super premium, premium and mainstream that serve the consumers at different income levels. All products are imported from Europe and Asian countries like Philippines and Malaysia."
As with Nestle's global infant nutrition operations, health and wellness remains key: "For infants whose mothers cannot breastfeed them, infant formula is a vital product and it is the only suitable breast-milk substitute recognised by the WHO. It is our strong commitment to market those products in strict compliance with the WHO Code as implemented by national governments everywhere in the world."
Through its Vietnamese brands, Nestle has developed products that meet the nutritional requirements of the country's population and the company works with the Vietnamese government to advance its nutrition agenda.
"Nestle is actively working to improve the health status of Vietnamese through our nutritional education programs as well as our product portfolio which is qualified our internal strict criteria such as 60/40+ – 60/40 is the taste preference by consumers in blind test and plus is an assessment of nutritional foundation and nutritional competitive advantage," Qureshi explains.
"We also work hands in hands with National Institute of Nutrition in government campaign to fight against micro nutrient deficiency with our Maggi granulated bouillon, Milo by enriching iron which is one of four key deficiencies. In parallel with fortifying our products with iron we conducted thousands of road shows to educate rural consumers on nutrition and healthy diets."
Nestle rolled out its healthy kids programme in Vietnam in 2012 to help combat malnutrition in children aged six to 12, Qureshi continues. "The school-based programme, which focuses on education, aims to raise awareness about good nutritional practices and the importance of a healthy lifestyle. Our aim is to improve nutritional knowledge and eating habits, as well as encourage greater physical activity among children which will result in a healthier future.
"This is how we establish a competitive advantage and demonstrate Nestle's commitment to address health issues in Vietnam."
While Vietnam is "an attractive country to invest in", it is also undergoing a "transformation process" that has resulted in a number of significant operational challenges, Qureshi says. In particular he stresses: "We are facing key challenges in areas of infrastructure [and] changing law system."
Added to this can be an economic slowdown and a highly competitive environment. "We are facing fierce competition from both international and domestic players," the executive reveals. "In a developing country like Vietnam – and especially in [the] recent situation of economy slow-down – price pressure in the short term is a challenge for most companies. However in key urban [zones] like Ha Noi and Ho Chi Minh City for premium / super premium segments the brand value is still key driver to win."
While traditional trade is currently ascendant, Nestle is benefiting from the "rapid" development of modern organised retail. The company is working to extend its reach in the retail space, with a particular focus on expanding in rural areas.
"Nestle products are distributed nationwide through our distribution system of many Nestle Distributor Partners as well as our direct coverage sales force. Rural is our focus to grow our base in the years to come."