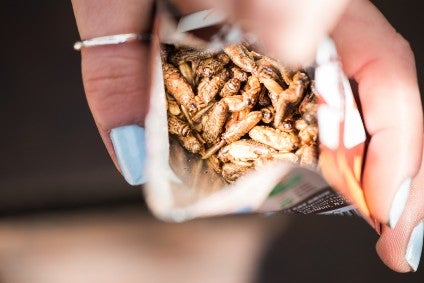 UK edible insect supplier Eat Grub won listings for its roasted crickets snacks at Sainsbury's last year and is lining up further deals with other customers this year. Simon Harvey speaks with co-founder Shami Radia as the London-based start-up seeks another round of external investment.
School friends Shami Radia and Neil Whippey co-founded Eat Grub in 2014 as a part-time pop-up restaurant concept before launching into the insect-based food business two years later.
Headquartered in London, Eat Grub uses an outside manufacturer to produce its insect range, consisting of roasted crickets – listed in Sainsbury's last year and now carried in 250 of their stores – energy protein bars and powders, as well as raw ingredients made from grasshoppers, mealworms and buffalo worms.
just-food: Edible insects are still very unusual products.
Shami Radia: I guess definitely for the UK but it's such a common food source all over the world. Eighty percent of the world's nations have insects as part of their diets, two billion people worldwide everyday, so it does seem strange to people in the UK and the West. Our only reference is things like I'm A Celebrity Get Me Out of Here's Bush Tucker Trials, which obviously isn't a great illustrator of insects. It's hard to argue against the nutritional and sustainability facts. It's making the first step, and trying them, and realising that actually they taste really good.
just-food: Why did you think there is such rising interest in insect-based foods?
"We are not advocating people should eat insects for breakfast, lunch and dinner"
Shami Radia: It's two-fold: growing demand for protein, and crickets and all insects in general, in terms of their protein content they are second to none. Crickets, for example, can contain up to 70% protein. Compare that to chicken or beef, which is 20% to 30%. That's a massive difference. At a time when people are becoming more nutritionally aware, insects are a really interesting food source. Secondly, it's the environmental concerns, the way we are currently consuming protein in formal traditional livestock. People are aware the way we currently eat, intensive farming is unsustainable. Plant-based proteins offer a really strong alternative, but so do insects, which require just a fraction of the land, water and feed compared to traditional means. I think it's the only protein source that can be reared on a mass scale in a vertical system. I don't think the timing could be better really.
just-food: Are you a vegetarian yourself?
Shami Radia: No. I still eat meat but I'm very sure I try and make sure it's sourced from a responsible place. We are not saying everyone should become vegan or vegetarian or just eat insects, we are just saying people are becoming more conscious of the decisions they make. We are not advocating people should eat insects for breakfast, lunch and dinner. We are not saying people should stop eating meat altogether. That's not our ethos. I mean, I don't do that myself so we would not preach that ourselves.
just-food: When did the whole idea first materialise and how did you go about setting up the company?
Shami Radia: We actually launched in 2014 by testing pop-up restaurants. We've got a really good chef, Seb Holmes, who we met a few years ago. From there we started developing ideas to launch products. The easiest was the ingredients. We would buy the raw ingredients and package it. At this point, we hadn't gone full-time. Neil and I were still working in our day jobs and doing this on the side. It was only really in 2016 that we kick-started a campaign for our energy and protein bars and went full-time, and we were listed in Ocado and Planet Organic, and we really decided to take the plunge at that point.
The idea first came about from when I used to be a marketing manager at the charity WaterAid and I did a lot of travelling as part of my job. I tried all sorts of different foods. In Malawi, I tried termites for the first time and I thought they tasted really good. We are starting to export into other European countries – we are due to launch in a supermarket in Holland this year [Radia would not disclose the chain], we are in Finland and we are going to be in Germany.
just-food: What is Neil's background?
Shami Radia: Neil worked in TV, mostly on cooking shows, but he came in from a different angle because he suffers from Crohn's disease, which means you have to make sure you're eating a balanced diet and need to be nutritionally aware.
just-food: Have you got other listings planned with UK supermarkets apart from Sainsbury's?
Shami Radia: We are speaking to a couple of big multiples at the moment. We had been speaking to them before Sainsbury's but they are waiting to see some data. So far the data is really strong. We've planned for another big multiple to come on by the end of the year and we are confident it will happen.
just-food: How did your relationship with Sainsbury's begin?
Shami Radia: We approached them. We originally pitched the idea of our energy bars because we thought that's an easier product to get people trying and it was an easier entry point. To be honest, the meeting didn't go that well with the energy bars and, as a side, we mentioned we had roasted crickets. A few months later we got an e-mail saying Sainsbury's were interested in stocking our roasted range – that came as a bit of a surprise. If we want this to become mainstream and mass market we have to get those big retailers on-board. It was a bold step for them but they are really happy with the rate of sale and also the PR that came off the back of it.
just-food: What's the take-up been like with Sainsbury's and have you had any feedback from their customers?
Shami Radia: We've been inundated with requests for more stores; we are in 250 local stores and getting asked on Twitter and Facebook: when are you going to be in our local store? We hope to roll out in more stores over the next couple of months.
just-food: Have you had to expand your facilities and take on more workers since the Sainsbury's listing?
"We've got some big plans on expansion and scale and potentially big contracts in Europe"
Shami Radia: In terms of production we have had to scale massively. We've had to make sure the manufacturer we are working with is able to do the scaling. We are very lucky that we've got a great manufacturer of the roasted crickets and we are fundraising at the moment to help us expand the team and make sure we've got the capital for production, and most importantly, to invest in marketing, whether it's retail support or brand awareness. It's a small team of four people but we are hoping to expand the team by two or three this year.
just-food: Did you have to get any initial fundraising when you started out?
Shami Radia: We launched on GBP20,000 (US$25,700). The pop-ups were profitable and, from that, we started developing products. In January 2017, we closed a seed round of GBP250,000 from angel investors – a group of private investors – and that got us to where we are now with the rebrand. And a lot of them have followed on in this round and we are looking to raise GBP500,000, and that's going to be a mix of angels. Potentially, we'll be crowdfunding later this quarter. We are hoping to close the new investment by the end of March. We've got some big plans on expansion and scale and potentially big contracts in Europe. It's an exciting big year for us.
just-food: Have you had any approaches from people looking to take a stake in Eat Grub?
Shami Radia: Yes. We are constantly having conversations. We've got a good list of people who are interested and we've got a couple of big food companies that we are speaking to. The potential market size is massive in Europe. When it comes to new products there are lots of different avenues we can take and income streams.
just-food: How do you see the size of the UK market developing?
Shami Radia: The market size is quite large at the moment. I think probably the GBP50-75m mark in Europe, and it's just going to keep growing because there so many applications as a sustainable protein source and there are so many different types of products. It's growing exponentially year on year.
just-food: Can you reveal any details on your sales and whether you have any targets?
Shami Radia: I'd rather not to be honest. I feel like we are at a stage now where we need to be commercially careful. Year-on-year they are doubling. Every year we are doubling our revenue. It's very positive.
just-food: How do you see yourself being able to fend off competitors? What is going to be your unique characteristic to make sure you're going to retain market share?
Shami Radia: I think the most important thing is to continue to build a strong brand. We want to be the go-to brand for insect-based products. We've got some great investors behind us who are supporting our growth, and also we've got a really good manufacturer who we can scale with, which is easier said than done, especially with the ingredient we are using. Insects are an allergen (similar to shellfish), so you really need good partners that buy into what you are doing in order to create specific processes or areas to manufacture the insects and crickets themselves. There's always going to be a risk and, in some ways, we embrace competition because we still need to raise that awareness, and the more brands there are you are going to have more people eating insects. Our challenge is to get as many people as possible eating insects and realising they taste good. As long as we stay ahead of the competition by investing in the marketing, making sure we've got a strong brand.
just-food: Being insects and the fact it's such a unique and unusual category, where does your product development go from here?
Shami Radia: I'm not going to mention any specific ideas we are having but the scope is huge. Essentially, it can be put into a powdered form and it can be turned into anything from pasta to ready-made drinks. It's about what we feel would be the easiest products for people to introduce to their daily diets. When we originally did the roasted snacks, we didn't feel that it was going to be a supermarket product for a while, we saw it as a bar snack, selling into a lot of pubs and bars, and it was a little bit of a surprise that Sainsbury's went for those. But actually it makes a lot of sense because people are always looking for different snacks. Even from the simple point of view with doing more flavours in roasted crickets the opportunities are endless.
just-food: From where do you source your ingredients?
Shami Radia: When we first started there was actually only one farm [in the Netherlands], and they had one price and it was quite expensive. The majority of what we buy is from Europe because ideally we would keep it as local as possible. But there are farms in France and Holland; we import a little bit from Canada. There are farms all over the world and it's bringing the price down, which it needs to because the farming industry is in its infancy and it's all quite manual, which means the price is quite high but there are farms now investing in automation. Insects should be a cheap source of protein. It will be eventually, but at the moment it's not.