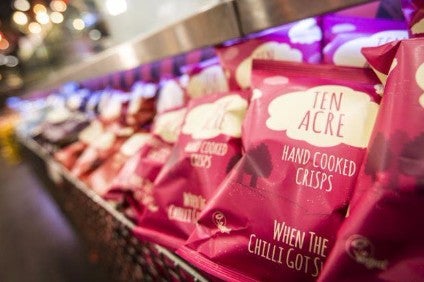 In January, Fairfields Farm Produce snapped up UK crisp brand Ten Acre from local peer Yumsh Snacks, adding another fledgling asset to its portfolio. Three months later, Fairfields appointed seasoned snacks executive Richard Glennan as its new managing director. Dean Best caught up with Glennan to discuss how he plans to grow the legacy Fairfields business and its new brand.
The savoury snacks industry is home to huge, global brands but, with more consumers snacking more often and with heightened concerns over sugar-centric products, the sector is also home to thousands of smaller, up-and-coming businesses looking for their own piece of the action.
Looking at the industry by geography, there is no doubt the UK has one of the most dynamic savoury snacks market – and one of the most competitive.
Below the likes of PepsiCo's Walkers, Intersnack's McCoy's, Hula Hoops (and now Tyrrells) and Kellogg's Pringles, there are dozens of smaller brands trying to gain listings through an emphasis on what they see as ingredients and quality.
Twelve years ago, husband and wife Robert and Laura Strathern, two farmers and potato suppliers in Essex in eastern England, launched crisp brand Fairfields Farm. The snacks side of their business, with the Fairfields Farm brand at its centre but now with other products such as the innovative, microwaveable crisp line Heat & Eat, has secured regional listings in the UK and exports to around 20 markets.
Even so, after having carved out a foothold in the UK's savoury snacks sector and some international markets Fairfields Farm Produce has, in recent quarters, started to look for brands to add to its portfolio.
How well do you really know your competitors?
Access the most comprehensive Company Profiles on the market, powered by GlobalData. Save hours of research. Gain competitive edge.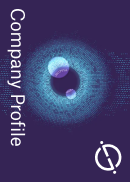 Company Profile – free sample
Thank you!
Your download email will arrive shortly
Not ready to buy yet? Download a free sample
We are confident about the unique quality of our Company Profiles. However, we want you to make the most beneficial decision for your business, so we offer a free sample that you can download by submitting the below form
By GlobalData
Last autumn, the company kicked off discussions with Yumsh Snacks, a UK firm based in the city of Manchester in north-west England and owner of Ten Acre, a brand similar to Fairfields Farm crisps in its presence in the market, with selected listings in the UK and a growing presence overseas.
Yumsh was having Ten Acre manufactured in Ireland, from where it was shipping into the UK and other export markets. The talks with Fairfields Farm Produce were over a possible production deal in Essex but the discussions culminated with the Stratherns acquiring Ten Acre.
The deal was announced in late January, with Robert Strathern describing the acquisition as "an exciting step" for Fairfields Farm Produce. "Ten Acre has the same values as Fairfields, so we felt they were a good fit. Plus, their experience and rapid growth in export, opens-up opportunities for us," he said at the time.
In April, the Stratherns made another significant announcement, naming Richard Glennan as Fairfields Farm Produce's new managing director.
Glennan is a notable name in the UK savoury snacks market, having sold his family-owned business, the UK vegetable-crisp maker Glennans, to Tyrrells in 2012, while his links with Fairfields Farm Produce date back to 2006, with Glennans doing the first production for the Fairfields Farm crisp brand.
Speaking to just-food in the weeks after his appointment at Fairfields Farm Produce, Glennan said the company was "very excited" about having the "well-positioned and well-respected" Ten Acre in its portfolio.
And work on the new asset has started in earnest. Fairfields Farm Produce has already reduced the number of SKUs in the Ten Acre portfolio and is now weighing up how best to grow it and its namesake brand, principally in international markets, where margins can be better than in the UK, Glennan says.
"We're getting to grips with the relationships we've got, with the distribution in certain markets, understanding what are the snacking habits, looking at what the price points are," he explains. "Export is huge for us. I do believe if you've got a really good-quality product, with great provenance with some unique attributes and you work with the right distributor – whether it's into fine food or multiple retail – then everybody can benefit from these credentials and everybody can hopefully make a little bit of money."
The two brands have a similar presence internationally, selling into around 20 markets, and Glennan says the geographic overlap is limited. "There is some cross-over, some synergies, but, in other areas, it's just new markets. That was part of the excitement as well," he insists.
However, Glennan argues that, even where the brands are both already present in the same country, there are could be opportunities to market both to different customers.
He cites China – a market where the local outlets of UK coffee-shop chain Costa has replaced Tyrrells with Fairfields Farm – as an example of where the two new stablemates could prosper.
"In China, there is also interest from other coffee chains where the Ten Acre brand could sit," Glennan says. "When we've started to really look into it, we could see in some of the larger markets where we both had a presence that the bringing together of the two brands could offer our team in those markets that extra level of security. They can close down pieces of business where one brand wouldn't want to be seen in different high-street coffee chains."
Asked about the relative pricing position of the Fairfields Farm and Ten Acre brands in the company's snacks range, Glennan said both brands are "premium" with their "vegan, vegetarian and free-from credentials". However, he adds: "It tends to be because of the kosher credentials that are also on Ten Acre that that seems to carry a premium. Ten Acre is premium-plus if you like and Fairfields will sit slightly blow that. That tends to be the structure of it."
Nevertheless, for all Glennan's optimism about the prospects for the two brands internationally, it will be imperative for a company the size of Fairfields Farm Produce to be selective about where they put their investment. Exporting is, of course, an expensive business for an SME.
The company is in the middle of evaluating its new export strategy for the two brands but, asked which countries the business could prioritise in the next 12 months, Glennan says: "If I was to look at one market, probably the Middle and the Far East, not near Europe. It's an easier market for UK manufacturers to develop."
However, Glennan underlines it is competition domestically from other UK-based crisp suppliers that makes developing on export markets imperative for Fairfields Farm Produce.
It is said only one in five UK food companies export but supplying international markets has become relatively more attractive since the country's vote to leave the EU hit the value of sterling.
And asked what will be central to trying to grow Fairfields Farm Produce over the next three years, Glennan immediately points to export markets and the greater potential for better margins outside the UK but not just, he argues, due to the movement in exchange rates.
"The markets we're uncovering in export, there's still the desire to take English, premium products and there's an opportunity to sell them at a price where everybody can make a little bit of money. It's because of the pound but also because they've not gone down the route we have over the last four or five years. These export markets are still premium."
However, there are, Glennan insists, still opportunities for Fairfields Farm Produce to grow its domestic business. Glennan cites the launch last year of Heat & Eat, a crisp product that is microwaved and eaten warm for what he calls "that just-cooked taste". The company has secured a national listing with Tesco for Heat & Eat, which is sold in around 500 of the retail giant's stores.
"We're looking at [the] convenience [channel] with Spar and The East of England Co-operative Society. We've got a listing in McColl's. There's lots we can do with this," Glennan says.
He adds: "The whole point of this is adding value to a markets that over the years has been gradually eroded through intense promotion. I had a meeting with our Tesco buyer and he said 86% of everything they sell is often at discount. It's like a beast that's been created. People don't buy a bag of crisps at GBP2 (US$2.65) any more; they'll wait and buy it at GBP1.
"When it comes to a 150g bag of potato crisps, there's very little you can do to justify a premium for that bag over a bag of Tyrrells or Kettle or anybody else's. If you're adding an element of theatre, an element of preparation, there's an opportunity there for you to add value."
For an SME in a competitive sector, there is no doubting Fairfields Farm Produce's desire to try to grab those opportunities.