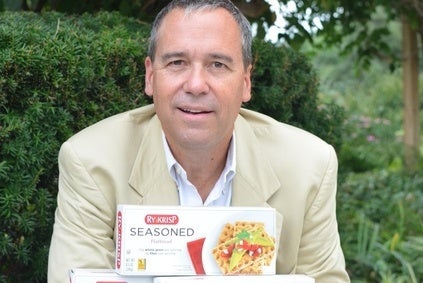 Offloaded by ConAgra Foods this year, US crisp bread maker RyKrisp is starting again under new ownership. Ted Leavitt, a former Pillsbury executive, snapped up RyKrisp and is heading a business looking to prove a brand that fell out of favour at one of the giants of the sector can thrive. Dean Best spoke to Leavitt about his plans.
A brand over 100 years old, RyKrisp crisp bread is a product looking for a new lease of life.
RyKrisp Inc is a business owned by ex-Pillsbury executive Ted Leavitt, who snapped up the rights to the brand from ConAgra Foods earlier this year.
Leavitt, who since his days at Pillsbury has spent over a decade working in the UK, including for DIY retailer Kingfisher and wine retailer Wine Rack, says he has acquired a brand that "atrophied" at ConAgra but one he believes can regain a foothold in a category housing significant brands including Wasa, Kavli and Finn Crisp. Adjacent to crisp bread is crackers, dominated by Mondelez International's Triscuit.
"People didn't dislike RyKrisp," Leavitt tells just-food. "It wasn't the formulation change, the size change or that people lost the taste for rye. If you put no sales or marketing into it, you're going to lose a bit of distribution.
"It's perfect student food, a food on-the-run and I think as popular with young people as it is with not-so-young people. In that regard I'm sort of surprised that someone would let go a brand that, if I were to put a box on the table pretty much anywhere, it wouldn't take five minutes for somebody to walk up to me and say 'I know that.'"
Leavitt says he and his fellow investors could not agree terms with ConAgra on the group's plant that was manufacturing RyKrisp. Distinctive Foods, a co-packer based in Wheeling, Illinois, is set to make the crackers, with Leavitt saying RyKrisp is "targeting to get back in the market in the late autumn or beginning of the new year".
After 16 years away from the US food sector, the acquisition of a century-old brand facing stiff competition represents a gamble for Leavitt. However, he insists the changes in consumer habits, the new demands of some shoppers and the feedback he claims to already have on why they "love" RyKrisp and on when and how they eat it – garnered rapidly through the rise of social media, not possible in 1999 – gives him confidence.
"Our product is incredibly simple. If you take our basic product, its ingredients are whole rye and salt. Our most popular item, which is the seasoned item, which has got whole rye, core bran, a dusting of sunflower oil, salt and caraway. It's a very natural product," he says.
"I'm back in the food industry now and the change is startling. Social media gives you the opportunity to connect with people in an affordable way that you never could. That doesn't forgive anyone the requirement to execute excellently. One of the quirks I've learnt is the fact it's the perfect outdoor complement. I got a lot of comments who go on hiking and camping trips with RyKrisp and they miss that. I've been thinking about the brand's personality and it's moving more towards food that nourishes the body and soul. It's not just about the food itself but it's the experience that goes around it: a bit of nostalgia, a bit of a perfect accompaniment in the outdoors. It's a range of things and that gives me a lot of hope for the brand and the business."
Leavitt's retail strategy is to secure listings at regional physical chains in areas where demand is strongest – Minneapolis, Portland and southern California – while building a presence on Amazon to serve national demand for RyKrisp. Placing RyKrisp on Amazon, he says, will help give the business "the insight and data" to build a case for listings with some of the major chains in the US.
"We are strongest in the upper Midwest and along the West Coast but I probably talk to two people a day [across the US] that are customers. For us to reach those people from day one, a channel like Amazon is preferable. Amazon has become more important in grocery distribution. Plus the customer's not turned off by that.
"Our priorities would be: number one, online national; number two is regional focus and execution across three or four markets; step three is extension and partnership to larger chains. In terms of mass, high-volume distribution, it will take time."
"The steps Amazon is making in the grocery sector means suppliers are having to pay increasing attention to the retailer, although some find the online giant could offer an interesting channel to market. Do manufacturers need to adopt different strategies, work differently, with Amazon than, say, with a Walmart, Kroger or Safeway?
"I'm approaching it with an open mind," Leavitt says. "I'm learning myself. What I have learned from people that have dealt with Amazon is that Amazon is an incredibly strong channel for them. Now it's not all the food categories but it's important to them and has worked well for both parties.
"I think most [suppliers] are trying it. That doesn't mean that everybody executes it at a perfect level. It also depends on your consumers. Is your consumer savvy and interested in buying that way? What's fascinated me is that the core audience for us is 50+ for natural reasons, people that had been faithful growing up, but I'm impressed at how savvy these folks are and totally comfortable with the concept of getting the product online as a starting point, even though they give me the specifics of where they'd like it."
Leavitt insists RyKrisp's "core" demographic will be important to his plans – "rule number one with consumer businesses is don't lose your old customers while you're extending your reach" – but he says he will look to target other groups.
"Our target – we've already seen this from the data we've got off Facebook, Twitter and the website – would include Gen X and millennials. The product has a long shelf life, good taste and it's optimal as a substrate for toppings, so it's good student food as well. That's what we expect to widen and make our audience younger, not with a different appeal but talking to those people."
Much of the marketing will, as with many a challenger brand (and that is what RyKrisp now is, despite its age), be through social media, which has broken down some of the barriers to entry in the US food sector. RyKrisp is not trying to set out from a standing start – it already has a demographic keen to see the brand return to the market – but the technological changes that have buffeted some of the larger players in the US market could give it a helping hand in the face of tough competitors.
Does Leavitt, whose career has involved time working in M&A, have an interest in adding more brands to the RyKrisp business? Other brands that are perhaps out of favour at larger food companies facing investor pressure in this new 3G Capital-shaped environment?
"I'm a reformed M&A guy," Leavitt says. "My 110% focus is on making RyKrisp a success. It has been mentioned… probably a more likely outcome is we'd like to see what else we could do from this base around RyKrisp. what we would like to do is do a great job, build RyKrisp back to where it should be and nature will take its course back to there. I've worked 30+ years, the reason why I got into my own business in the first place back in 1997 was I said I wanted to chase my own dreams not someone else's dreams. My dream here is to reconnect RyKrisp with its fans. That would make for a nice business."