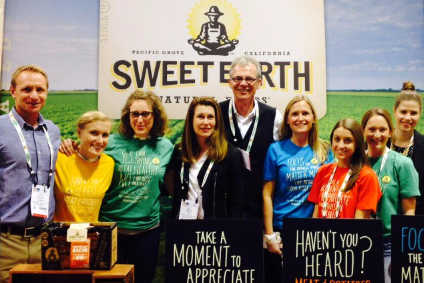 Sweet Earth Natural Foods has built a following among a core base of millennial consumers that has enabled the US vegetarian food company to double its sales every year since Brian and Kelly Swette took ownership of the brand in 2012. Katy Askew caught up with the husband-and-wife team to find out more.
Sweet Earth Natural Foods is a company on the up. Since Brian and Kelly Swette took over the then regional trademark Sweet Earth Foods four years ago, the US business has more than doubled sales each year.
"We basically got started in 2012… Our first year we did US$1.7m, we did US$5m-plus the second, we did US$11m last year and we expect to double it again this year," Mr Swette says, confirming the group is "hopeful" of hitting sales of around US$22m in 2016.
The husband-and-wife team bought the brand trademark from Caren Hicks, who ran Sweet Earth as a local fresh-food company, supplying markets and grocery stores in northern California with vegan and vegetarian soups, sandwiches and desserts.
As a fledgling vegetarian business, Sweet Earth Natural Foods is a far cry from Mr Swette's corporate CPG background. He previously served as an executive with Procter and Gamble and PepsiCo, before becoming COO at eBay and then chairman of Burger King alongside "some investment work". In 2012 he bought the vegetarian food company with his wife. Mrs Swette – now Sweet Earth Natural Foods' CEO – also hails from a corporate background having trained as an engineer, worked as sales and marketing director for the Pepsi brand and then global VP of marketing at Calvin Klein.
"We purchased [Sweet Earth] with the vision of trying to create a mainstream plant-based company," Mr Swette explains. "We both had interests in sustainability and with Kelly's love of food and nutrition we decided to try to do something in this area. We are a mission-driven company. We understand that our mission is only as good as our commercial success so we are intent on leading the charge to build a successful company."
The business originally launched in the natural channel but with conventional retailers reacting to changes in consumer demand in the US, Sweet Earth has picked up listings with the likes of Target, Wal-Mart and Kroger.
"We believe our food should be accessible," Mrs Swette says. "We seek out and are selling our foods to places like Target. We even have some distribution in Wal-Mart, where we are able to get really good pricing and open up this healthier, flavour-forward food to a broader audience. We are grateful for all the distribution. We do particularly well in co-ops [and] we have a lot of natural distribution."
The Swettes believe retailers in the US are "lagging behind" growing consumer demand for natural and convenient vegetarian and vegan foods. However, Mr Swette says retailers have recognised the growing interest in the category and are looking to use brands such as Sweet Earth to build consumer loyalty.
The company's meat-free, ready-meal products span the fresh and frozen categories. Initially, the group focused on fresh. However, Mrs Swette says Sweet Earth's on-trend products offer the opportunity to breathe fresh life into the slower growth frozen sector.
"We were one of the first companies doing a fresh veggie burger whereas the bulk of the business is in frozen. We pushed towards fresh. But we felt [while] the frozen section may be a slow grower overall, it is not for the natural products. The products that are more interesting, flavourful, globally infused ideas, those products are growing quickly and our products are included with those. We do go after global flavour profiles with functional benefits that, most importantly, taste good, because if it doesn't taste good it doesn't sell," she says. "We are a fresh face in frozen. Retailers need to energise that category by bringing in new products and new brands. A lot of retailers focus on bringing in products but really what will build a following and brings in loyal consumers are brands. We have one of the few brands with Sweet Earth Natural Foods, so we do have an umbrella brand that crosses other categories, so they see it and they recognise it."
Mrs Swette describes Sweet Earth as an innovative meat-free company focused on the authenticity of its recipes. The convenience food maker last month launched a line of frozen entrees at the Natural Products Expo West trade show. The range takes inspiration from global cuisine and includes items such as Spanish paella and Moroccan tagine.
"It really will deliver that something new, something fresh in frozen, which retailers need," she insists. "That will help expand our brand, our user base, because it will be more than a hand-held [item such as Sweet Earth burritos]. It will offer a complete Sweet Earth story. We have breakfast, we have lunch, we have snacks and dinner."
"There is a story to each of these meals, it helps put food in context, particularly when it is a cultural meal from somewhere else. An example would be paella from Spain, it is a communal dish, it is served at festivals for sharing, it is a dish to share around the table. We also have a tagine, another communal family-style dish. We think food is personal and also communal because the choices you make about your food affect the community and the environment we live in. That sustainability aspect really influences what we choose to make."
Sustainability is an important aspect of Sweet Earth's "mission". Mrs Swette points to the impact meat production and consumption has in a number of areas. "Not only does [not using meat] reduce CO2, it [has] more efficient water usage. Meat or livestock is one of the major reasons for deforestation around the globe, manure lagoons are creating polluted waters. Meat is also associated with different types of cancers. So it's better for your health, it's better for the environment, and it's better for your soul because factory farming is cruel and not something that we as a society should support."
While consumers' desire for increased transparency from food companies is a factor in the changes seen across the food industry and in the rise of businesses like Sweet Earth Natural Foods, Mrs Swette insists it is important for consumers to have "options" that are appealing as conventional food products. "They have to taste equal or better than what you are trying to replace. They need to offer nutritional benefits. They need to up-sell, have that one extra thing to make you make that change. You do it because you think its the right thing to do for the environment, you do it because its the right thing to do for your health – but you make the change because the food is absolutely delicious and better than you can make at home."
Sweet Earth is therefore trying to appeal to more than just vegetarian or vegan consumers. "We have a millennial appeal because millennials are interested in global flavours, they are interested in sustainable food and that means more plant-based food," Mrs Swette says. "All of our food is flavour-forward and functional and that functionality comes from the fact that we use real ingredients, real vegetables, ancient grains and plant-based proteins. Consumers get fibre and essential nutrients along with the protein. It is really a complete option – that combination of high fibre high protein keeps you full, satisfied. I think historically that has been one of the problems with vegetarian food. People think it's too hard to make, and so offering it already prepared and convenient is a real plus."
Increased consumer interest has resulted in increased competition. Mrs Swette concedes Sweet Earth is coming up against some "very well funded competition". However, she believes the company continues to stand out in the sector thanks to its "broad portfolio of products" that are "best-in-class" due to a "different view about food" that, she claims, lends authenticity to the brand.
Sweet Earth does use proprietary proteins but also incorporates an "abundance of plant-based options that are real, available and familiar" in its recipes, Mrs Swette says. She insists that is important, as it allows Sweet Earth to stand apart from many of the other companies operating in the meat-free category.
"We don't make laboratory food and that is another thing that separates us from some of the people in the plant-based category. They are proud of their own laboratory positioning, we use real food. We use ingredients you can buy in the grocery store. If you had the time and the talent, you could make some of these… Gourmet everyday is really the road to the future. For frozen food to advance and do well you need products that are better than you can make at home, that are healthy but they have got to taste good."
Nevertheless, Mr Swette suggests in order to expedite Sweet Earth's ambition to bring more vegetarian food to more consumers in a competitive and consolidating market, the company will likely require further financial backing down the road. "Our number one goal is to advance the mission. How do you get there? There are so many different paths. I do think having support is helpful," he says.
Mrs Swette says: "You do need money to do that – and capability."
Her husband adds: "If our goal is to take vegetarian food mainstream we want to make it affordable, accessible and broad. We don't want to be niche. Our goal is not to be a niche brand. We have certainly taken two steps in terms of making it mainstream. We have a great set of investors that are supporting us right now. We are on our way. At some point, having some more help would be a great idea."