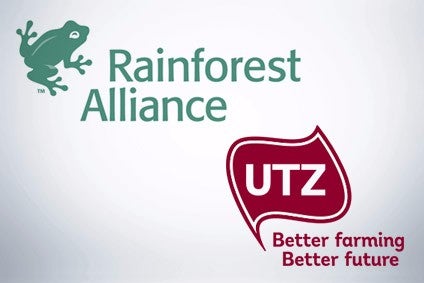 Earlier this month, ethical organisations the Rainforest Alliance and UTZ announced plans to merge, with the two bodies to operate a single certification standard. Han de Groot, UTZ executive director and designated CEO of the merged organisation, spoke with Ben Cooper about the combination and its implications for food companies.
How to scale up has been a preoccupying challenge for sustainability certification organisations for years, prompting much discussion and the launch of new concepts. An avenue as yet untried is consolidation but that changed this month when Rainforest Alliance and UTZ announced their intention to merge.
Ethical labelling programmes like UTZ, Rainforest Alliance, Fairtrade and the Marine Stewardship Council have arguably exceeded the volume expectations that might have been envisaged in their early years – in some cases two decades ago. However, as they have grown, all have faced the dilemma that external sustainability certification functions well as the top of a standards pyramid but faces significant practical and cost challenges when aspirations progress to the mass market.
UTZ executive director Han de Groot, who is to head up the merged organisation, points to that strong record of organic growth but believes consolidation and convergence will help in the critical challenge of making higher standards "the norm".
"We need to scale up," de Groot tells just-food. "Actually, we are scaling up. For many consecutive years, the growth is quite impressive in the sectors where we work but still it's not enough. We believe that consolidation and working together is not only good for its intrinsic benefits, like bringing more efficiency to the programmes and more benefit to farmers, but it's also an investment in future scaling up, because I think with a simpler, unified standards landscape, we have a better chance of making sustainability the norm. We believe this is a significant move and a step forward in the standards landscape, and we are very excited to bring more impact and scale to the sectors in which we work."
While the first priority of organisations like UTZ and Rainforest will be to provide more help to more farmers, de Groot emphasises the benefits for food companies. "I think it's great news for companies because it will help them to generate a bigger impact on a larger scale and reduce confusion."
The announcement last November by Mondelez International it would be ceasing to use the Fairtrade mark on its chocolate speaks in part to the importance of scaling up for sustainability certification bodies. While there were other considerations in play, and Mondelez will continue to work in partnership with Fairtrade, it no longer considers certification and the use of an independent certifier's logo to be the best way forward as it seeks to make its cocoa supply chain more sustainable.
Crucially, de Groot, stresses the merger will increase efficiency and reduce the costs of certification for participating food companies. "It will certainly bring more efficiency to the system. If you can do one audit rather than two, that saves you costs; if you can comply with one standard rather than two, it's more efficient."
Indeed, he emphasises further that efficiency gains for the two organisations themselves are not a particularly important feature of the merger. Rather, the key objective relates to what it means for participating companies and farmers.
"The efficiency gains are for the sector, because there the most gains can be met, both for farmers as well as the industry, not because our bills will be significantly lower because they are small anyway."
While de Groot has been appointed to head up the new organisation, he stresses it is not a takeover by UTZ. His appointment was decided by both boards, he points out, describing the move as "a very well-balanced merger of two equal parties".
There will obviously be some changes at the two organisations and some details are already known. For instance, it has been decided the enlarged body will be called Rainforest Alliance. Also, the head offices of both UTZ and Rainforest Alliance, in Amsterdam and New York respectively, will be retained, giving the new organisation useful geographical reach when it comes to dealing with multinational food companies on both sides of the Atlantic. The merger is not expected to result in "any significant redundancies" but de Groot says the integration process may result in some changing roles for personnel.
The two systems are to continue working as they are for the coming 18 months, with the merged organisation due to launch its unified standard early in 2019. During that period, de Groot says it will be undergoing an "intensive consultation" with partners, including food companies.
To an extent, that consultation process has already begun. The company alerted certain major partners about its plans around two months ago. The objective, de Groot explains, was "to provoke a reaction and to get their inputs and their insights", and the reaction was "largely very positive".
Some companies have been asking already for a number of years can you help us by being closer together
Perhaps underlining how important the merger may be in equipping the organisation to meet the demands of major food companies, de Groot adds: "Some companies have been asking already for a number of years can you help us by being closer together, can you create more synergies, can you reduce confusion in the market. So, we were not very surprised that all of these companies, and stakeholders, also farmers' organisations for instance, reacted very positively."
De Groot says a prevailing theme in the reactions from stakeholders during the past two months has been the two organisations should retain their various strengths.
That guiding principle suggests strongly when the new label is launched it will bear the name Rainforest Alliance, though de Groot says the decision has not yet been made, and this will form part of the consultation. He believes this moment represents a "golden opportunity" to consult widely with its stakeholders that should not be missed.
That it has chosen already to call the new organisation the Rainforest Alliance suggests this is considered to be the stronger brand of the two. De Groot concedes among consumers Rainforest Alliance has "very good recognition and more recognition, if you like, than UTZ".
However, he points to UTZ's strong consumer profile in European markets such as the Netherlands, Germany, Sweden and Switzerland. Most interestingly perhaps, in the context of retaining and building strong links with big food companies, he emphasises UTZ's success and expertise in a business-to-business context.
"Although the UTZ label is maybe less well-known amongst consumers, it does have a very strong reputation in the business to business market. I think our professional and business-like approach is very much appreciated by the partners we work with. I think we've proven to be able to bring sustainable practice to scale; in the coffee and the cocoa sector we are the largest globally."
The inference here is Rainforest Alliance has the stronger brand name on which to build greater market presence, and UTZ has the prowess at building links with industry that will be needed to facilitate that expansion.
Determined not to be drawn on the future name on the label, de Groot says: "The best I can say is that we will work towards one label and, secondly, we will build on what we have. And if I knew exactly what was going to happen I would miss the opportunity to have a good stakeholder input on this."
The picture de Groot outlines for the merged organisation speaks not only to an enlarged entity, building on complementary strengths, but also an expanding and broadening role in the sustainability arena. He points to the broader sector-wide work both organisations are already undertaking, working with a broad range of stakeholders on issues such as climate change, productivity and gender.
However, there is also a strong sense the merger is intended to underpin sustainability certification specifically. The decision by Mondelez last year suggests companies may begin to see certification and the use of an independently verified sustainability kite mark on-pack as surplus to requirements.
However, de Groot says certification is "a very important core to making sectors more sustainable" though he concedes certification alone may not be sufficient. He welcomes company programmes and stresses the benefits of convergence around agreed sustainability standards, but adds: "We need independent parties to contribute to verification against those standards."
By joining forces, UTZ and Rainforest Alliance are seeking to ensure they remain relevant and, hopefully, indispensable partners to food companies. Equally, they are hoping their merger will create an on-pack brand their corporate partners will also find indispensable.