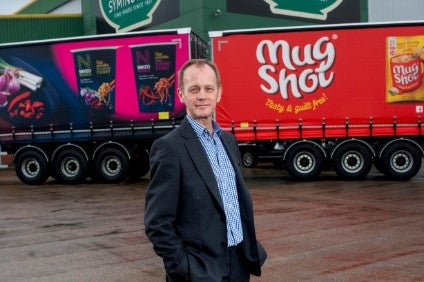 Symington's, the UK-based branded and own-label manufacturer, is emerging from a difficult period with a new management team and a strategy for growth. Dean Best met with CEO John Power to hear how the company got back on a path to growth and where he sees the business heading.
It is early days but UK food manufacturer Symington's appears to be back on-track.
Symington's returned to the black in its most recent financial year and, while the company's sales dipped, it saw its top line grow by almost 6% in the second half of the year, contributing to a 12-month period it described as a "significant turnaround" for the group.
The owner of brands including Mug Shot pasta, Naked Noodle and Ilumi free-from ready meals is now six months into its current fiscal period and expects to see its top and bottom lines grow when the year is out in late August.
If so, the private-equity-backed Symington's can rightly point to a recovery, which will be a vindication of the work the business has undertaken since the autumn of 2016 when it promoted COO John Power to the position of CEO.
The former Associated British Foods executive – Power spent nine years at the UK-based business after 27 years in the British Army – joined Symington's in February 2016 but, within eight months, he had succeeded David Salkeld in the manufacturer's hot seat.
Speaking to just-food in his office at Symington's HQ just outside the English city of Leeds, Power refuses to be drawn on the reasons for the departure of Salkeld, who spent nine years at the helm. However, Power is open about the shape of the business he joined and then commanded.
"We lost our way a bit I think," he says. "We got too complex. We were focusing on some areas and some product sectors more than others without understanding why. We didn't really have an overarching strategy of where to play and then how to win in those areas. Our costs were ballooning and our sales were plummeting and so it was clear something had to be done."
Power says he and his management team – including those he hired such as former ABF colleague Matt Lee as chief commercial officer and ex-Northern Foods executive Clare Urmston as CFO – got to work on looking at the company's cost base, with factories consolidated and product range rationalised, as well as backing a select batch of products including Mug Shot and Naked Noodle.
"The year we've just reported was a year of two halves. A first half of getting cost out and then using some of that money to invest. In the second half of the year, that brand-building started to pay off. While overall for the whole year sales were down about 2.7%, in H2 they were up 5.8%," Power says, calling out the 18% year-on-year growth in sales of Mug Shot and the near-doubling in sales of Naked Noodle. "This new financial year, which started September, we're growing about 5% year-on-year, which is great."
Symington's is investing further behind its brands, with cash also now being spent on pushing the Ainsley Harriott and Aunt Bessie's products it markets under licence, as well as on Ilumi, which Power calls the company's "incubator brand" and which it acquired when it bought fellow UK manufacturer Tanfield Foods in 2014.
Brands account for around 60% of the group's turnover, with the company also supplying a range of own-label products to UK retailers including Asda, Marks and Spencer, Aldi and Lidl. Power says the growth he expects to see from brands means the mix of turnover could change to a 65:35 ratio but he insists Symington's believes there are benefits in being a branded and private-label manufacturer.
"The industry is changing," he says. "Sainsbury's have 34,000 products. Aldi have got 3,000 – and yet they're growing year-on-year. As the multiples rationalise their SKUs, the trick is to be the company they want to work with because you've got great brands and you do own-label really well. You use one to win the other and vice versa, all underpinned by great service levels, great-tasting products and fantastic quality.
"Anyone who says they're not doing own label, it's just daft because it's growing. And if all you've got is your brand and when the multiples go from three brands down to two yours is squeezed out, then you've got nothing with that customer. They're looking for people to partner with who are going to do brand and own label. That's certainly our approach."
Looking ahead, Power explains Symington's has developed a commercial strategy it is now in the process of launching, through which the company is exploring other growth avenues – building its presence in the UK's buoyant convenience and online channels, as well as in export markets.
"Two years ago, we were targeting independent retailers, which can swallow up a whole load of resources and get nowhere," Power says of the UK's convenience market. "There's a whole load of convenience stores to do with members of the 'Big Four – Tesco Express, Sainsbury's Local. We're not in any of those hardly, so there's a massive opportunity. We're expecting some nice wins with the supermarkets."
The work Symington's plans to put in to improve its presence in the UK's online channel is at an earlier stage of development. Power says the strategy has three stands – how to enhance the standing of the company's brands on the websites of the country's major grocers; how to best market its brands through social media; and working with pure-play retailers like Ocado and Amazon.
Markets outside the UK, meanwhile, accounted for 7% of the annual revenue of Symington's in its last financial year. Symington's does business in Australia where it sells products including Mug Shot, as well as distributing products including snack lines for The Kids Food Co. under the UK children-focused firm's Kiddylicious brand.
The presence of Symington's in Australia is smaller than it was two years ago – when it sold the rights to sauce brands including Chicken Tonight to Simplot – but it is growing Down Under. Symington's also sells into Europe, for example seeing its exports – off a small base – to Ireland jump more than 80% last year. "Based on that model, we're now in active conversations with the US, India and China," Power says.
The Symington's CEO acknowledges the fall in the value of sterling since the UK voted to leave the EU has "certainly grown the overseas appetite" for buying products from the country "because it's more affordable". He also attests to the pressure the weakening of sterling has put on the cost of some of the company's raw materials. On the prospect of Brexit, Power seems sanguine.
"I think we're in a good position because we don't have a massive seasonality of labour," he says. "We're not worried about labour, it's helping us on exports, it has hit us on the import cost of ingredients and some packaging – we've had to get even more efficient in trying to offset some of those costs and we've had to absorb some of those costs as well. Net net, the export potential should dwarf any input costs but who knows," Power says.
On the prospect of any negative impact on UK consumer confidence when the country finally leaves the bloc, Power adds: "People eat whether the economy's failing. Look at 2008, people still ate and in fact they ate more at home than they did in restaurants. If you're in the food business, you're going to be alright. That's my strong sense."
Just as the UK will exit the EU at some stage, so will the majority shareholder in Symington's, the UK-based investment fund Intermediate Capital Group, from the manufacturer. Power, who also owns a stake in Symington's, appears equally relaxed about the next change of ownership at the company.
"I've been clear with the executive team that we've got to focus on what's right for Symington's for the next five years. That's our job. In some stage in that five years, I expect ICG will exit and a new investor will come along – whether that's a financial backer or a trade buyer," Power says. "If we do everything that's right for the business, it'd be right for them as well and make us attractive."
For all the positive signs coming out of Symington's in recent months – and the prospect of more growth in the company's current financial year – Power knows there is work to be done but says the further expansion he expects to see will add value to the business.
"ICG will go whenever they go and a new investor will come in when they go, but doing that in a couple of years time when you've got three years on the back of significant growth, with more growth coming, that's clearly going to be really, really valuable," he asserts.
"We don't want to sell now because we're growing really nicely and we're going to continue growing [but] Symington's is an attractive option. Let's say you're an international [business] looking into the UK. There's where the exchange rate is – and it's probably going to stay like that for a few years. Also, while there's some big players like Premier, the Unilevers and there's loads of small organisations; if you want somewhere in the middle, a sizeable chunk to really get into Britain, around the GBP150m (US$206.3m) sales mark, there's Symington's and not many others."