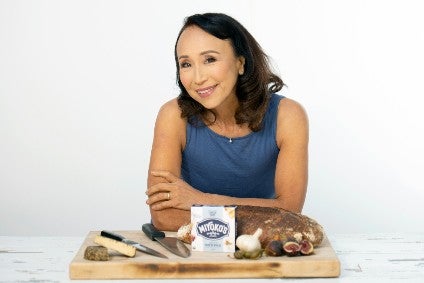 The philosophy behind Miyoko's Kitchen is to take the traditional dairy industry by storm, offering a plant-based, organic alternative to almost every mainstream dairy product on the market. Simon Harvey speaks with founder Miyoko Schinner as the US-based business moves outside its home market for the first time and seeks to expand into the foodservice sector.
With 30 years hands-on experience in the food industry, and a number of books under her belt, Miyoko Schinner founded the enterprise bearing her own name in 2014 after becoming vegan, but in doing so realised she missed consuming cheese so much that she set about creating her own dairy-free company – Miyoko's Kitchen based in Petaluma, California.
While Miyoko's Kitchen started out primarily as a manufacturer of plant-based vegan cheeses made from cashew nuts, the company has since branched out into butter and cream cheese, and even has its eyes on the ice cream category at some point in the future.
just-food: Why vegan cheese and not other vegetarian products?
Miyoko Schinner: We don't define ourselves as a vegan cheese company. We are revolutionising dairy products by making them from plants instead of cows. There are a lot of other players in the plant space but I think the thing that people have the hardest time giving up is cheese. So we thought this was a really important area to get into and every good plant burger needs some plant-based cheese to put on top of it.
Speciality cheeses are increasing in popularity but there's still a limited market compared to the kind of cheese you are going to slap onto a sandwich. So our next route was to come up with plant-based products that we consider to be select; not quite premium, not quite everyday, but somewhere in the middle, and we introduced our European style vegan butter – the first product on the market that's made by taking cashew milk, inoculating the dairy cultures to turn it into something like butter milk, and then to churn that with a neutral flavoured coconut oil to create a butter that people say reminds them of the butter they grew up with, not the butter of today.
just-food: What is your existing product line-up?
Miyoko Schinner: We have 19 different SKUs. We are in about 10,000 stores across the country: Whole Foods, Sprouts, Target, Publix, Kroger and Trader Joe's. She says the company is not listed with Amazon or any other online retailers as it has its own e-commerce channel. We have been talking to Amazon for quite a while but we have been debating whether that is the right channel for us.
We started out doing cheese wheels of about six-and-a-half to eight ounces, or about 250 grams. They are high-end premium cheeses demanding a good price. So we are competing with the best of the best, whether it's Brie or high-end blue cheese. The reason we rolled out a premium line was to show the world that so-called vegan cheese doesn't have to taste like plastic. It can be very, very high end and we can borrow from traditional cheese making techniques such as culturally monitoring the PH, brining, ageing etc. – age-old techniques that we can apply with a combination of modern innovation and food science to plant-based milk instead of dairy milk.
We introduced mozzarella and then a line of cream cheeses, and what we call pub cheeses. The high-end cheeses that we came out with initially were designed for the wine drinker, but we then came out with a line of cheddar-based pub cheeses for the beer drinker. It's definitely a lower-end market, what we call everyday affordable, but still very tasty and a notch above other products out there.
just-food: What other products do you have in the pipeline?
Miyoko Schinner: All of our products are cashew-based and this year we are introducing a line of cheese in three flavours made out of potatoes and legumes. They are wholefoods based, certified organic and these products will have a very nice nutritional profile. We are taking potatoes and legumes and making a kind of milk out of it and inoculating it with dairy cultures to create cheese. We are also working on things like sour cream, snacking cheeses…potentially, we will be doing ice cream. Anything that might involve dairy products we are going to do a plant dairy version of it.
just-food: Are you only marketing in the US or are you looking to export?
Miyoko Schinner: We just got into Canada and we are in conversations with Asia, several Latin American countries and possibly Europe. In Canada, we are launching very slowly and in a small way, so we are just launching in a couple of small chains. We are trying to figure out what the best channel strategy is. We are growing at a lightning-fast pace; last year we grew almost 200% in sales and we have so much demand in the United States that before we start exporting big time we first want to make sure we can serve the US.
just-food: What challenges did you face in setting up and getting your product out there?
"We are not ready to sell until we are at least at $150m"
Miyoko Schinner: The hardest thing has been keeping up with the demand. We have a very large, passionate cult following. The biggest issue has been how to scale this type of product. So we started out very small. I didn't initially have a business plan but wanted to see the proof of concept, whereby I'm going to make this cheese, sell it on e-commerce and see if there's any demand. When we first went live on e-commerce in September 2014 we had 50,000 dollars in orders over our first weekend. That's when I realised, 'oh my god, this business has legs', and within a few months we were in distribution in northern California where we are located, and within a year we realised we were going to outgrow our 2,000 square-foot facility very quickly, so we had to find a new location.
We moved into our 30,000 square-foot new facility, which is surrounded by dairy farms, in December 2017. We started out with one production line, and then two, and we are in the process of completing a third.
just-food: How did that fit then with other traditional diary farmers in the area? Did you have any opposition?
Miyoko Schinner: We actually have. We've had some people come out and tell us what we are doing is wrong. But we are one of the fastest-growing businesses in the area. We have created 100 new jobs. Business is booming and we are going to grow at least another 150% this year. We are going to employ more people and we are outpacing the growth of dairy companies.
just-food: Are you only supplying retailers or foodservice accounts too?
Miyoko Schinner: We have a few but not a lot. Foodservice is something that we are going to be developing this year. So we target retailers first who can help us build our brand and get our name out there. And then the next step is foodservice.
just-food: What is your turnover?
Miyoko Schinner: I'm not sure I want to do that now but it's definitely in the tens of millions [of dollars]. I can't give you an exact amount. Right now in the United States we are the number three in revenue for plant-based cheese; the other two have been around significantly longer – Daiya Foods and Follow Your Heart – and they make a different product.
just-food: Did you finance the business with your own money or did you get outside investment?
Miyoko Schinner: I got outside investment. Initially, it was a small amount from friends and family. And Seth Tibbott – the founder of Turtle Island Foods and the Tofurky vegan alternative turkey brand – became a personal investor and then Evan Williams, the co-founder of Twitter invested. He is a vegan so I took some cheese to him and he ended up investing. But, at this point, we have private equity, venture capital behind us. We've raised about $25m to date.
just-food: Have you had people looking to take a stake in the business or approaches from big food manufacturers?
Miyoko Schinner: All the time. In fact, we are working currently in an accelerator with Nestlé where you don't have to commit to offering up a stake. We've had [approaches from big food companies] but we are not ready to sell until we are at least at $150m. We believe we are about three to five years off. And then we want to pick our partner very very carefully.
just-food: What's your strategy going forward, any targets in mind?
Miyoko Schinner: We definitely want to expand into foodservice. We also want to partner with brands such as Impossible and have that wonderful meat and cheese combination. We are also exploring a variety of plant-based substrates and raw materials. Our interest is really keeping the focus on organic and whole foods. We are really interested in harnessing fermentation to transform foods basic ingredients into foods that are recognisable to all. Our goal is to not be the alternative but to become the mainstream option in the dairy business and provide a superior alternative to every animal dairy version out there, healthier and more sustainable.