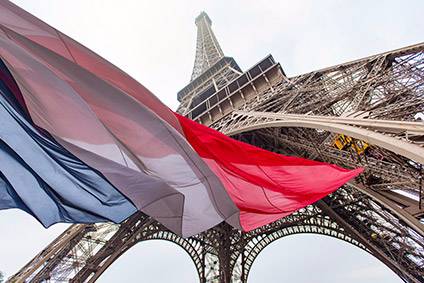 How are food companies operating in France, one of the European countries most affected by the Covid-19 outbreak, being impacted by the crisis? Sophie Kevany speaks to four companies about doing business during the outbreak and how they are trying to adapt.
Serge Le Bartz and Georges Galardon, chairmen of Eureden, a newly-created French agri-food business with a turnover of EUR3.1bn (US$3.35bn) that, in January, merged two French agri-food co-operatives, D'aucy and Triskalia.
Demand is very strong for all our supermarket products – particularly frozen and canned vegetables such as our Paysan Breton and D'aucy brands – ready-made meals, fresh and frozen, bacon and chicken, plus the supermarket own-brands that we produce.
Sales of supermarket products, by volume, are up about 20% to 40% across the board. In the first few days just before and after the lockdown was announced [17 March], the demand for frozen and canned vegetables was particularly strong.
Thanks to the size of our stocks, our production and packaging capacity, and our employees' commitment, we have not had any difficulty responding to that extra demand. We have conserved food products on pallets, already packed awaiting dispatch. Meanwhile, frozen products are kept in bulk awaiting packaging.
Eureden chairmen Serge Le Bartz (l) and Georges Galardon (r). Photo credit: Eureden
Our stocks will cover demand until the next harvest, or even, for some products, until early 2021. All our distributors' warehouses have buffer stock, too. We are talking about stocks of tens of thousands of tons for frozen vegetables and in hundreds of thousands of tons for canned vegetables. That means we can be sure we are not in any danger of running out in the near future.
On the supply side, we have crops in the ground and we are able to harvest as the produce comes into season. Vegetables grown by the cooperative's farmers are feeding production lines as we speak. For example, at the Gelagri site in Loudéac [north-western France] we are producing frozen spinach this week. Our farmers and all our teams are at work and ensuring continuity.
There is a clear shift in consumption trends away from the catering sector toward supermarkets but we are still providing food services to public outlets such as hospitals. For the most part, people are not eating more food, they are just eating at home instead of in restaurants.
To meet supermarket needs, some adaptations have been necessary, mainly in terms of products and packaging. For example, the size and format of poultry deliveries are being adapted to meet supermarket needs. For eggs that are redirected to supermarkets away from the foodservice sector, that involves some adjustments in terms of egg type and volume.
"For several years, the agri-food sector has been regularly criticised. Today, we're seen as saviours"
For several years now, we [the agri-food sector] have been regularly criticised and vilified by animal activists or for our use of plant protection products. But today, we are seen as saviours, almost as much as health workers, refilling empty supermarket shelves. That's a remarkable change for us.
Christian Gesta, a director at Alisa SARL, a producer of organic gluten-free cereals and flours (rice, quinoa, millet, maize, oats, buckwheat, sorghum) in south-west France.
Our sales have increased by approximately 15% since the start of the Covid-19 lockdown in France. People are cooking more at home and all the restaurants are closed. We were already growing at about 15% a year. In 2019, we had a turnover of EUR6.3m.
Almost all our raw materials come from France, although we also use fair trade quinoa from Bolivia. We were well stocked with grains before the lockdown, so for the moment we don't have any supply problems and we can fill almost all orders.
We have two outlets, a central distributor [B2B] and Biocoop [B2C], a French retail chain of organic food shops. This has helped to increase demand [during the lockdown], because people shop locally. They can't go too far from home and Biocoop stores are small neighbourhood shops.
Alisa director Christian Gesta. Photo credit: Alisa
The biggest fragility for us is any mechanical breakdown at the plant. We can fix small breakdowns, but a big one would be a problem. It could be difficult to get it fixed quickly. Human resources are another problem. We're a small company, with only 18 people in total. For social distancing, it works well. Anyone who can is working from home, and, on the production side, we are able to make sure there's a lot of space between people. We also have a lot of soap and gel and wipes for the machines.
Things are going to be complicated until the end of April, maybe longer. It's hard to know. I am not sure what will happen when the lockdown is over. It could be that people will do more home cooking and they will prioritise local food products.
Guillaume Fourdinier, the co-founder and CEO of Agricool, a Paris-based vertical farm company producing strawberries and green herbs.
To protect employee health we had to make some drastic choices. We decided to concentrate on two core activities. Right now, only the urban farm and a part of our R&D laboratory are operational. We've also implemented even stricter hygiene measures including a complete daily disinfection for staff.
To make life easier we are having employee lunches delivered and we are making sure everyone stays in touch and up-to-date. That includes more global team meetings, so that everyone gets the same information at the same time. We established some informal discussion channels so that staff can talk to each other and discuss different challenges, share jokes, information, photos and so on.
Guillaume Fourdinier, the co-founder and CEO of Agricool. Photo credit: Agricool
It's really an unprecedented situation so we are just trying to do our best. It's a very different routine but we are settling into the new rhythms.
"Production is very low now and current sales turnover is basically close to zero"
We normally produce about 1,000 strawberry punnets a week and about 6,000 herb and salad punnets. In terms of sales, the impact has been quite significant. Our online sales are still running but we had to take the decision to temporarily stop distributing products to physical stores because it was so difficult to minimise human contact. Production is very low now and current sales turnover is basically close to zero.
Because we are only focused on core activities, we have been able to make a modest social contribution for those who most need it now. Almost all our current production goes to the nurses in the APHP [Paris Public Hospitals] and the Resto du Coeur [a French food charity]. All the deliveries are contactless. Agricool strawberries won't change their lives, but they will bring them a little sweetness and support in these difficult times.
It's a bit too soon to tell if there might be any changes introduced now that we will keep after the lockdown ends. We do hope the Covid-19 crisis helps to reinforce our conviction that the world needs, more than ever, to build local and healthy food systems.
Antoine Pelletier, co-director at Maison Drans, an artisanal biscuit maker.
Our company is still very small. Turnover last year was EUR300,000, but that was double 2018. In 2020, we were aiming to double again. We have our own production lab and two branded biscuit shops with four full-time workers. We are still using the 1932 recipe developed by Pierre Drans. It's all very artisanal.
Since the lockdown, our staff are in what is called 'partial unemployment', so they get some state aid but still keep their jobs. We had to close the lab and the two shops we have in Sablé-sur-Sarthe. Starting this Friday [3 April], we will reopen just two mornings a week. We are allowed to, because we are a food shop. The French government is telling small businesses, if you are allowed to open then do so, at least a few hours a week.
Easter is coming so we already have all our chocolate in, and a good biscuit stock. We were lucky in terms of cashflow. All our major investment was in 2019, so we didn't spend too much this year. Basically as soon as we start to get orders we can get back to production. We don't really have a production line, there are separate tables, so there is enough room for social distancing between staff.
Antoine Pelletier (left) co-director at Maison Drans. Photo credit: Nicolas Boutruche
We can survive this if it does not last longer than three to four months. If it does last longer then we will ask our bank for a cashflow loan. The banks and the government have been building a "zero bankruptcy" Covid-19 plan in France. We have already been able to pause any existing loan repayments for six months.
The one thing we will take away from this crisis is that we can be less dogmatic about our choice of distribution channels. The only question should be: where do customers want to find French, handcrafted products made from 100% natural ingredients? It can be in a fine food store. But it could just as well be in an airport duty free, a 'regional products' section of a supermarket or new-version vending machine.
All those retailers are now looking for products like ours and the Covid-19 crisis will only accelerate this trend. They are opening their shelves to smaller companies. As long as we can increase our volumes without impacting our quality, that is our strategy for the coming years.