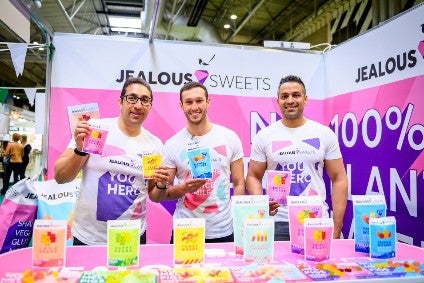 Jealous Sweets has set an aggressive target to more than double revenues over the next 12 months or so as the UK confectionery business enters new global markets and chases further retail listings. Simon Harvey speaks with co-founder Imran Merza on how the company aims to achieve that goal.
Jealous Sweets prefers to make the distinction between healthier and healthy to describe its brand identity, given confectionery tends to be consumed as a treat rather than for any well-being benefit.
Founded by Imran Merza and Taz Basunia in 2010, the former college mates were lured out of a career in finance to address a gap in the market for vegan-friendly candy, free of animal-based ingredients such as gelatin or any chemicals. This year the team hopes to reach revenues of GBP1.5m (US$1.8m) and more than double to GBP4m by the end of next year, having just launched in Hong Kong and Japan, with other destinations on the horizon.
While London-based Jealous Sweets started out under the oft-stigmatised vegan banner, supplying exclusive shops like Selfridges and Harvey Nichols with gifting products, the co-founders recently slanted their terminology more toward the on-trend plant-based category. The brand recently launched in Asda and is in talks with other major UK supermarkets.
just-food: You describe yourselves as a healthy confectionery brand?
Imran Merza: I would say healthier. Confectionery is never going to be healthy – I don't think it should be either. It's a treat and the way we see it it's just a healthier version of some of the stuff out there that is pretty bad for you. We've taken out all the dodgy chemicals and animal products. It's never going to be healthy and I don't think we want to be classified as healthy. It's just healthier.
How well do you really know your competitors?
Access the most comprehensive Company Profiles on the market, powered by GlobalData. Save hours of research. Gain competitive edge.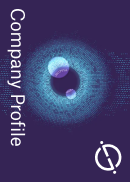 Company Profile – free sample
Thank you!
Your download email will arrive shortly
Not ready to buy yet? Download a free sample
We are confident about the unique quality of our Company Profiles. However, we want you to make the most beneficial decision for your business, so we offer a free sample that you can download by submitting the below form
By GlobalData
just-food: How do you classify your range?
Imran Merza: It's a plant-based confectionery company with no gelatin or melted pigs or sheep or anything like that in our sweets. We use natural ingredients. There's no gluten and we've also got a range of sugar-free sweets for people who want good tasting sweets but without the sugar.
just-food: What was the thinking behind setting up the company?
Imran Merza: I was dating someone who loved sweets – she was vegetarian and she didn't like chocolate – and at the start of our relationship I was trying to find sweets that she could eat. I thought I would try and find some sweets without the gelatin in them and I really struggled. I randomly stumbled across this report from the British Library and the confectionery market. It's so big, dominated by the big players like Mars, Mondelez, Cadbury, Haribo, and there wasn't any small companies around so I thought I'm going to quit my job in the City and I'm going to start a candy company.
just-food: Confectionery is a large market. How do you differentiate yourselves from the other players, both small and large?
Imran Merza: When we first started out, it was a vegetarian range, a gifting range. We started off selling in Selfridges, then we went into Harrods and Harvey Nichols, all the way along to Debenhams and John Lewis. One of the things we realised was people loved the sweets, loved the packaging but couldn't eat them every single day because it was a gift. They asked why they couldn't buy these in Tesco, Sainsbury's or Asda. Last summer, we decided to do a big pivot, move away from gifting and create a range of bags that could be sold in multiples, in grocers. It opens up more of the market and people can buy these sweets at a reasonable price.
just-food: Is your range purely vegan or do you cater to other consumers?
Imran Merza: We call them vegan but the reality is most people, when they try our sweets, because they are made with real ingredients – natural fruit juices and things like that – [think] they taste better than normal sweets. You don't have to be vegan to enjoy them. We are moving away from the vegan tag to plant-based. What we have noticed is people who are vegan and people who are not vegan, there's this massive rift between them. We thought if we create a plant-based moniker it would make it more holistic.
just-food: Is there a push to get into other supermarkets?
Imran Merza: Yes. After we launched [plant-based] six months ago we got approached by Asda. I was talking to Waitrose and Sainsbury's and Asda came along. I didn't think Asda would be interested in our range as it's quite premium but we had a good conversation and they [gave us] nationwide listings at checkouts for the sugar-free range. I think the next major listing shake-up is normally September, so hopefully we will get into another major grocer by September or October.
just-food: Can you talk about the recent assistance you got from Lloyds?
Imran Merza: We needed the factoring service to help us with cash flow. It makes it a bit easier when you get an invoice as you can actually distribute the cash pretty much straight away and then carry on growing. Especially with Brexit and things like that, we need to stockpile and have enough ready so that there are no hiccups.
just-food: So are you experiencing problems with Brexit?
Imran Merza: No, because we are mitigating all those risks by planning in advance and making sure we are stockpiled. We know how to import products into the UK, we have done that in the past, so we have all our relevant export/import codes and things like that. It's not something that we are scared of but it's about being prepared.
just-food: Are you importing base ingredients from Europe?
Imran Merza: Our sweets are actually made in France and then they are packed in the UK at our factory in Leicester. It's quite hard to find someone in the UK that can make vegan sweets. Most vegetarian or vegan sweets in the UK are made in Europe or around the world.
just-food: Have you had any approaches from external investors?
Imran Merza: Yes, especially now that we've launched into a major supermarket. There's a lot of interest. We are probably going to do a raise early next year. We have started conversations with various people but haven't really pushed it yet.
just-food: What are you turning over at the moment?
Imran Merza: By the end of this year we will be close to about GBP1.5m as we've launched into Hong Kong. We are just launching into Japan, the Middle East and parts of the Asia Pacific and North America and also we are looking to launch into Scandinavia. There's a lot going on and as a result of all those opportunities we are going to expand really fast.
We have a distributor that's just launched us into about 120 stores in Japan, we have just launched in 250 stores in Hong Kong, and the same thing is to happen in Singapore.
We are flying out to South Korea, then Taiwan, to start developing those. We are getting a little bit of interest from Australia. It's just making sure that we have got the right resources to be able to grow with the right people, distributors and partners because we don't want to make the wrong mistake and take the wrong partner on board and then have to unravel that.
just-food: Are you thinking of doing your own manufacturing further down the line?
Imran Merza: No. We got some advice from the guys at Innocent and they were like, look, to do sales and marketing and manufacturing it's very hard to do both. Pick one. There are companies out there that struggle to do both at the same time. We decided to find people who can make our sweets the way we want them to be made and then that's one kind of headache out the way.
just-food: Are you in other parts of Europe outside of the UK?
Imran Merza: When we first started out, we had France, Germany and Scandinavia. However, because we were predominately a gifting company we have to now try to change distributors and partners that we work with to people that can actually work with the supermarkets. We are working on that at the moment. And because of Brexit and stuff it's not as straight forward as it once was.
just-food: What do you see as the biggest challenges for the company in the confectionery space?
Imran Merza: If you look at the multiples, the people at the top are raving on about how plant-based and healthier and better-for-you products are what they want. But by the time it's filtered down to the buyers they don't have the inclination to make those changes because they are so worried about their P&L. So it's trying to get the right people who actually believe in it.
If you look at Sainsbury's, their plant-based, vegan or meat alternatives are huge. It's growing, you've got so much space there but then if you go into other parts like confectionery there are a lot of products with gelatin in. It's all very cheap and national brands. So it's like getting them to give you that opportunity to say 'Right ok, it's going to cost a bit more and we are willing to work with you to help you grow the brand.' Someone like Tesco, if you go and look at the confectionery aisle, everything is a GBP1, there's no trade up, there's no vegan, there's no plant-based stuff there, there's no gluten free. It's just all cheap, cheap, cheap. Buyers either don't understand or they are not interested.
just-food: You have a bit of an aggressive sales target. Is it just international expansion that's really going to get you there?
Imran Merza: There are a few deals we are working on that are confidential that will help us get over that. We will try and double [turnover] every year. I hope we can. We are also looking at other plant-based products that we can bring out, confectionery and snacking and things like that.
just-food: How would you sum up how you are going to reach the target?
Imran Merza: Through spending money on marketing and more listings, and the right partner to actually understand this space. For example, our distributor in Hong Kong is the exclusive distributor for Ella's Kitchen in Asia Pacific and he's grown that business over the last eight years. We got introduced to him, he really believes in the brand and he's really aggressively pushing out there as well. That and the whole plant-based movement and getting more and more listings and marketing. All of that combined will help us accelerate really fast.
In the US for example, talking to someone like Walmart, if you get someone like Walmart on board, your sales can go through the roof just like that as you are integrated into the whole system. So all of these factors make it a really exciting time for us.
just-food: It's been quite a big jump, going from finance to setting up your own company?
Imran Merza: Yes, it's been crazy. Food is such a competitive market. When you go into business if you knew how difficult and challenging it would be, you probably wouldn't do it. But then that naivety and that sort of drive and passion is what gets you going. If you are going to be a successful marketeer you need to be determined, persistent, have a dream and a passion toward what you are doing, and have a never-give-up attitude. We believe in what we are doing, we are not just doing it to make money. It's because we believe in Jealous Sweets as a brand, we believe in taking it global and we believe in challenging the big boys and that's what keeps us going. Going from banking, it's competitive in a different kind of way.