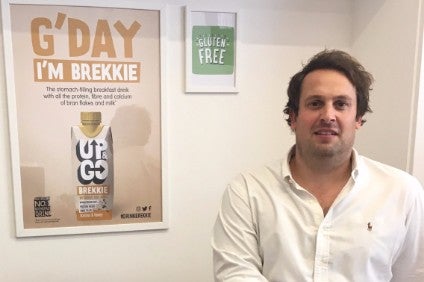 Life Health Foods UK, a venture part-owned by Australian major Sanitarium, is embarking on a new strategy that has M&A at its centre and could see the business broaden its breakfast-portfolio into other categories. Dean Best spoke to Chris Laidlaw, the ex-Diageo executive recently-appointed to take the helm at Life Health Foods UK about the venture's plans to be a European "house of foods".
Life Health Foods UK, the breakfast-focused business marketing Nutri-Brex cereals and Up & Go breakfast drinks in the country, has developed what it admits is an "ambitious" new strategy.
The company, a venture between Australian food major Sanitarium and Australian investment vehicle The Wingate Group, has set out a plan to develop from being a business centred on breakfast in the UK to becoming a European "house of brands" with a broader interest in healthy foods.
It is a bold move and to lead Life Health Foods UK into a new era the company has appointed ex-Diageo executive Chris Laidlaw as CEO.
"We see an amazing opportunity here, both in the UK and through Europe," Laidlaw, who has been a director at Life Health Foods UK since the autumn of 2015, tells just-food. "The food industry is in a really exciting time, in the sense consumers are looking for new and interesting brands to make waves and with the rise – especially in the health food sector of the market – of a lot of young, interesting, entrepreneurial brands that are really starting to take their right share of the market and share of voice. We just saw the opportunity, and we thought with a fresh start, it was the right opportunity to invest and go after it."
Laidlaw was the head of Diageo's Smirnoff vodka business in Europe before he took the reins at Life Health Foods UK. He succeeds James McMaster, the former Gü Puds and Ella's Kitchen executive who ran the venture for two years. Laidlaw praises McMaster's record at Life Health Foods UK but says the company's new strategy necessitates a different way of working.
"I think the view of the board would be, with the new strategy, it generally brings new people and change. My background leans heavily towards marketing, and towards innovation, so I think my skill set naturally fits quite nicely to kind of transforming this business from a kind of nice, neat, UK breakfast business that James had led and done an amazing job to get both the brands initially listed in the retailers, and growing nicely year-on-year. But, if we change that to the most exciting food and drink business in Europe, [it] kind of just takes a different approach."
In-house innovation will be part of Life Health Foods UK's bid to build that European house of brands. However, central to its ambitions is M&A, with funding ready from Sanitarium and Wingate. The venture has recently acquired Nosh, a UK maker of breakfast smoothies.
Laidlaw describes Nosh as "a really exciting business" that has had "some early success" under founder Geoff Read. The company has secured listings with The Co-op and Laidlaw says Life Health Foods UK will look to relaunch the brand in January.
"Nosh is a more premium breakfast drink, basically four ingredients – Greek yoghurt, fruit pieces, quinoa and oats. We think there's a big opportunity to continue to drive the breakfast drink category with a more premium offer," Laidlaw says. "If you think about the breakfast category, there's mainstream cereals and there's more premium cereals. As consumers continue to walk away from boxed bowls of breakfast in the morning, there is still going to be that desire from some consumers to have a more premium offer to kick-start their day. We kind of see that headroom in the [breakfast drinks] category. And I think [Nosh] will bring in a different consumer to the category, as well, compared to what, probably, the existing players do."
However, while Laidlaw says the acquisition of Nosh – for an undisclosed sum – "shows our commitment to breakfast on-the-go, and breakfast drinks specifically", Life Health Foods UK is interested in buying health-focused brands in other categories. Laidlaw says the business has been approached by companies interested in possible transactions.
"From an innovation perspective, you're going to see a lot more innovation from us across the health food space, both within our existing brands and new brands. And then we're going to market to find the hottest up-and-coming health food businesses, playing in categories that we think are going to explode over the next three to five years," Laidlaw says.
"We're really broad at the moment to see what's out there. We've got a core capability in breakfast and on-the-go snacking. The drinks category is always an interesting space with a lot going on there and then potentially some kind of broader health food offers, as well," Laidlaw tentatively explains. "We'll start to develop a hit list, including people we're keen on, and people that are keen on us, and then I think you'll see some stuff starting to come in over the next 12 months because we're looking to act fast."
Being based in the UK, Laidlaw perhaps naturally describes the country as the "start point" for the company as it assesses M&A opportunities but he insists the venture is interested in weighing up assets further afield.
"We can go quite wide across the net and across Europe to find those businesses," Laidlaw says. "Anything that pops up there that looks exciting, and we think it could scale back in this market and other markets through Europe, we would look at."
The ambitious strategy of Life Health Foods UK and its two Australian backers comes with M&A playing an ever-more important role in the growth strategies of packaged food companies, especially with some of the biggest names in the industry struggling for consistent top-line growth. There is no question for all Life Health Foods UK's ambitions – and the pockets of its parents – the company is likely to face stiff competition for assets.
However, Laidlaw, reflecting on the prospect of competing in the M&A arena with larger rivals, suggests Life Health Foods UK could offer a home for brands to thrive. "My thoughts on that are quite blunt. I've seen it before in other categories. Big businesses have big hands and struggle to deal with small things. It's sometimes not particularly exciting for a small business to be sold to a big business because they quickly lose their soul. Whereas I think what we have gives us a really unique position from an acquisition perspective. We're a small, nimble business – but we can play big knowing back home, in the mothership, if we need it we've got the money to play and the manufacturing and technology support in the back-end sorted out.
"That's what excited me to make the switch to the business. We're kind of a small, nimble, fast-paced entrepreneurial business that can act small, be small, but continue to challenge and shake up the food industry. We've got that back-end backing, versus your big business that will just kind of quickly suck it into their very big product range, which risks taking the magic out of the ideas."
Life Health Foods UK's plans for growth also include trying to build a presence for its two flagship brands – Up & Go and Nutri-Brex – in other markets. The company recently launched Up & Go in the Netherlands and has an eye on other pushing the brands into more countries in Europe, Laidlaw says. "Holland is a good test case for us. We're in 800 stores over there at the moment. I think it proves the need for consumers looking for a healthy breakfast on-the-go is kind of universal across Europe, so we'll chase that opportunity down."
In the UK, the venture's strategy for the two brands is, Laidlaw says, to continue to build on the listings secured already and to launch more products. "For both the brands it's pretty simple," he explains. "It's to continue to work with our existing customer base to maximise our distribution through those channels. It is primarily, I think you'll see some innovation from us on both brands. We've recently on Nutri-Brex launched 5 Ways Granola, as well as the Muesli Balls, which are starting to find their way into the market now."
Above all, though, Laidlaw wants to hit the ground running as Life Health Foods UK embarks on its new strategy.
"I think we can really make a dent in the food industry. But to do it, we're going to commit to working really fast, and in a really innovative manner."