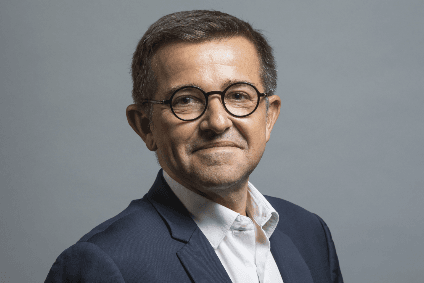 Bonduelle saw sales rise but profits fall in the 12 months to the end of June. Deputy CEO Grégory Sanson talks to just-food about the France-based vegetable supplier's performance and its outlook for the year ahead.
Away from the difficulties presented by Covid-19, Bonduelle, the international vegetable-products supplier, has also had to face adversity specific to the business in recent weeks.
In August, Jérôme Bonduelle, a member of the France-based group's management committee died in a road accident while riding his bike in the northern city of Lille.
"A huge loss for all of us, personally and for the company," Bonduelle deputy CEO Grégory Sanson says. "We are a family-owned company and, every time we lose one of our associates it does affect the entire company, especially in this case."
Mr Bonduelle was the cousin of group CEO Christophe Bonduelle and had worked for the business since 2002. Since last September, he had been general manager of what Bonduelle called "prospective and développement".
Sanson, who also joined Bonduelle in 2002, says the company has yet to decide whether to fill the vacant role. "He was managing the expert departments in terms of R&D, engineering and agronomy, which is critical for all the business units and he was also in charge of developing the business in new territories – geographical and in terms of technology and industry around plant-based food and opening new territories. That's also critical for our development. We will see how we either fill the position or reallocate the job to our existing management committee."
Speaking to just-food on Tuesday (29 September) after Bonduelle booked a rise in annual sales but a fall in profits, Sanson, one of three deputy CEOs at the company, describes the 12 months on which the group has just reported as "a challenging year". Revenues rose 2.8% to EUR2.85bn (US$3.34bn), up 1.4% on a like-for-like basis, but Bonduelle's "current operating income" was 12.1% lower at EUR108.7m and its net income down almost a quarter at EUR54.6m.
Sanson, who oversees finance and development at Bonduelle (alongside two other deputy CEOs who look after the company's operations in the Americas and in Europe, respectively), said the results under review – for the year to the end of June – felt only a "limited" impact from Covid-19 on its sales but saw "a significant impact in terms of profitability".
Bonduelle, like its peers across the packaged-food industry, ran up extra costs implementing social distancing in factories, buying protective equipment and paying staff bonuses to maintain production. "None of our employees have been affected within the production facilities by C19. They've been affected in their family environments and we are very cautious making sure that this will not spread within our facilities or offices. The impact has been limited, but that was a real challenge for us," Sanson says.
The group has three divisions, selling canned products, frozen foods and "fresh processed" lines, including packaged salads. On a like-for-like basis, annual sales of Bonduelle's canned food rose more than 9% to EUR1.12bn, with the division usurping the fresh-processed portfolio (down 6.3% at EUR1.05bn) as the company's largest by sales. Sales of Bonduelle's frozen foods rose 2.2% to EUR685m, helped by the rise in demand for at-home consumption that buoyed the frozen-food category in a number of markets. However, sales were held back by the near-closure of the foodservice market, which also weighed on the performance of its fresh-processed division.
The rising sales from Bonduelle's canned and frozen businesses helped offset the higher costs both faced to protect production staff but it was a different story for the company's fresh-foods' manufacturing and not only because of the lower sales from that division. "One of the important costs in this industry has also been social distancing, which leads to a lower productivity. In long-life – canned and frozen – it's more mechanised, so that was a part of the cost that we suffered from in this segment," Sanson explains.
just-food is speaking to the Bonduelle veteran with just two days left of the first quarter of the company's new financial year. Sanson says the group's first-quarter sales are set to fall year-on-year. "We are still suffering in the fresh segment," he discloses.
The pressure on Bonduelle's sales of fresh food has been seen more in the company's European markets than in the US, Sanson explains, even with the weight of the company's portfolio in the segment across the Atlantic being in on-the-go products. "Instead of buying bowls of salad and going to the office, in fact, people are buying it to eat at home – which is kind of at the office," Sanson says. "It's pretty different in Europe and especially because we have dedicated segments within our portfolio and dedicated sales in summertime to do with social experiences: you have barbecues, so you have the tabbouleh, you have carrots with dressings etc., etc. Due to the environment, people met each other less, probably leading to lower sales."
Bonduelle does not provide specific forecasts on its quarterly profitability but Sanson says the company is expecting to see stability in the opening quarter of its 2020/21 fiscal period compared to last year, with the margins the group generates on sales of canned products looking set to offset the pressure on sales of fresh foods. "The good trend we have in canned compensates for the lack of activity we have in fresh," Sanson notes.
For the year as a whole, Bonduelle has set objectives of sales growth on a like-for-like basis (Sanson says the company has guided to the market growth of 0-2%) and a current operating margin rate "substantially equivalent to last year".
"The question mark for the year is clearly foodservice," Sanson asserts. Some 20% of Bonduelle's annual revenues are made through foodservice and, at the moment, Sanson says, the company's sales are down 20%. "We do not see foodservice recovering this year," he reflects. "For us, the problem will not be totally solved because some restaurants will disappear in the meantime. There will be less clients than in the past. We are very cautious in our guidance due to this situation of foodservice. We think that, in June 2021, [foodservice sales] should be minus 10% compared to a normalised year."
While Bonduelle sells fresh foods to foodservice, Sanson points to the impact the problems the channel is having on the company's frozen business. "Half of the frozen [foods] we sell at Bonduelle is devoted to foodservice, which is slightly higher than the market because we are pretty strong in Europe and have a decent market share also in the US," he says. "That's what limited [frozen's] growth [last year]. It's a long-life business, which would benefit from the environment but the growth last year was limited to 2% due to the foodservice sector."
Like many of its peers, Bonduelle expects to continue see at-home demand at a higher-than-normal level, though not to the degree seen in the spring. "In March and April, we had panic buying, which will not be the case [again] – I hope – but we will still have robust growth. The growth in this market is about 1%. We expect between three and 5%. To what extent should it last? That's the question we have."
In part two of our interview, Sanson discusses what longer-term impacts Covid-19 could have on the business and on the group's M&A strategy.
document.write(");SurveyGizmo – insights that answer your biggest questions. Please take my survey now
.sg-survey{display:none; }