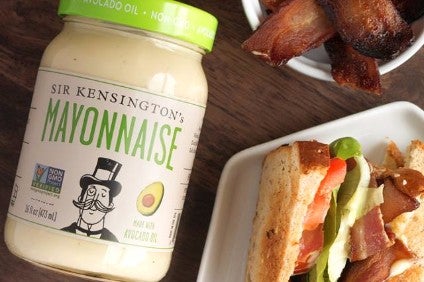 After shedding a series of food assets – and announcing earlier this month plans to quit spreads – Unilever's longer-term strategy for the sector is always the subject of debate within the industry. This week, however, the consumer goods giant has made what is for the business a rare move: adding to its foods division through M&A. The Hellmann's mayonnaise owner has bought fledgling US condiments maker Sir Kensington's. Dean Best caught up with Sir Kensington's co-founder Scott Norton to find out more.
just-food: Seven years after setting up Sir Kensington's, why sell now? And why to Unilever?
Scott Norton: A few months ago, before we met the team at Unilever, we weren't planning to sell the business. We had been planning to really grow it and run it independently. The more we got to know the team there, the more we realised Unilever was the ideal long-term home for the brand because they shared our values, a vision for what food in America could be and because they were going to enable and allow us to have the autonomy and the independence to maintain our culture and what makes us great as a company. The ability to maintain that independence and to really work with them and work with a bigger platform of resources to fulfil our mission is what ultimately helped us realise that this was the best next step.

They didn't approach us [with a takeover offer] out of the blue. We began really getting to know them as people, really just a friendly introduction. Then it was getting to know them over time, getting to better understand their strategy, getting them to better understand us, that it really developed into that kind of a relationship. We began to speak to them in November of last year, and then about three months ago is when things got more and more developed with them and more and more formal with them.
just-food: Had there been any other expressions of interest in Sir Kensington's from other parties?

Norton: We have over the years gotten a lot of interest in various forms. Some ambiguous strategics, saying, 'We want to get to know you.' Some people with more direct and blunt offers. Never before did we really seriously consider it because either the infrastructure wasn't there, it wasn't a cultural fit or maybe we didn't share a long-term vision for the brand. That's what we have found with our new partners here.
just-food: The price Unilever has paid has been reported to have been around US$140m. Is that accurate?

Norton: We're not releasing any details or information about the structure of the deal, so that's unfortunately something I can't comment on. I can't confirm or deny.

just-food: You said Unilever gives you a platform to further grow the business. How specifically do you see the new owners helping Sir Kensington's?

Norton: As an independent, a start-up, we're of course constrained by many things, by customer access, by access to retailers and just getting the attention as a small brand of the major retailers, who really are the gatekeepers to shelf space and are the gatekeepers to the customers and eaters that are walking to their doors. That alone is going to be a tremendous priority for us.

At the top of the list is really making sure our availability and distribution is accelerated but not in a way that changes fundamentally the strategy, or in a way that puts the brand at risk but a way that respects the relationships we've had with our existing trade partners and then makes sure we have the best and the right offering for these retailers as we grow.

Operationally, we're also as a business relatively sub-scale, when you consider some of the bigger players out there. Unilever have over 100 years of expertise making similar product lines, sourcing similar ingredients, similar manufacturing methods. The expertise that they're able to bring, from both a quality-control and an efficiency point of view will be extremely educational for us and enable us to build a product that maintains our product values and integrity but makes the product more attainable.

just-food: When we spoke about 18 months ago, you said the bulk of Sir Kensington's retail business in the US was made through natural and speciality stores. Since then, have you been looking to try to break into mainstream retail?

Norton: During that time we were really single-mindedly focused on the natural and specialty channel, which is where we've been able to emerge as a leader, though it's become clear that, as culture is shifting and food is shifting, and as we're growing in prowess, there is a much wider audience out there who's really excited about what we're doing. The last couple of months, I've been focusing a bit more on the right mainstream grocery retailers. For instance, we're now sold in Costco in the northern California region. We introduced our avocado mayonnaise there, which has been very strong and very well received. Other stores like that and launching in more locations in Kroger and similar retailers have been where our recent growth has been coming from.

just-food: Have you been in need of a greater resource pool to pay, say, some of the slotting fees necessary to get into some of the bigger retail chains in the US?

Norton: It's sort of TBD on exactly what those relationships and what those deals will look like. We've always been able to ensure that we are able to go on-shelf in a way that is sustainable, and that's one of the other reasons why we don't want to go too wide, is because the slotting can be an onerous toll. Again, with the resources Unilever could afford, the category portfolio management, all those things sum to a better position on-shelf there.

just-food: Were you seeing sales growth slow? Again, 18 months ago, you said you had seen sales double or triple every year. Had there been a more muted few quarters of growth and you looked to a company like Unilever for something of a boost?

Norton: Growth has continued to be very strong. The business has been growing at a very fast clip. It's actually accelerated in the last couple of months pretty significantly, and so it wasn't the prospects or the growth of the business was really something that prompted this. If anything, it was actually the opposite that probably sparked and spurred their interest.

just-food: Is there an international angle to this acquisition? You have some presence in markets like Canada and Japan. Do you see Unilever being able to help Sir Kensington's break into international markets?

Norton: Obviously, they have a global food business, and so I think that's very much part of the long-term vision but for now we've got so much more work to do here in the States, and so much more to focus on, that in a near-medium-term, we're not really looking towards an international expansion. That's something we'll continue to assess.

just-food: How will Sir Kensington's sit alongside a brand like Hellmann's?

Norton: They do speak to a different customer in some ways fundamentally – and I think in some ways they speak to the same customer. Being both mayonnaises, right, they are defined as competitors. However, being at a different price point, having a different flavour profile, a different distribution footprint and a different approach to product development, pack sizes, things like that, they do speak to a very different customer. From a category management and portfolio point of view, I think they're actually quite complementary.

just-food: Do you expect there to be any consumer push-back because Sir Kensington's is now owned by one of the entities often described as 'Big Food?'

Norton: There are ways these kind of partnerships and acquisitions can be done right and done wrong. Here's a case where our values really do overlap with Unilever. We will maintain that integrity. We've actually seen a huge amount of support, even today after making this announcement, of people recognising this is not about a big company degrading the products, or degrading the integrity of a small company. It's really just the opposite, in them recognising we have a winning strategy and adding a measured amount of fuel to the fire of our mission.

just-food: What roles will you and co-founder Mark Ramadan have with the business? Will you still be leading Sir Kensington's as a stand-alone subsidiary? How will the relationship work?

Norton: Mark and I will continue to run and lead the business with our team, which we will keep intact. We'll be able to keep our headquarters and run the business out of there. In terms of how we will interact I don't know if you've ever heard this expression 'How do porcupines mate?' The answer is 'Very carefully.' So we're going to make sure that we are measured on the relationships we have there and what we choose to call on them for. It's not going to be an immediate wholesale integration. We're going to take our time and understand what are the best ways that we can create value together, how do we prioritise those, and attack those with the limited bandwidth that we have.

just-food: What do you think Sir Kensington's can bring to Unilever?

Norton: I don't want to speak for them but I think we are a young company. Our culture is young and millennial, if not millennial, then millennial-minded. And the fact food culture has become part of mainstream culture in recent history, that, sort of, food-native approach, is something they may be interested in and may be able to learn from.

I also think we are risk-takers as individuals, as a team, as a company. Something like Fabanaise, there were a lot of risks attached to that. Even something like having the, dare I say it, audacity to challenge a monopolist in ketchup. Risk and reward are always, of course, balanced and always need to be measured, but especially in a landscape of food today where there is so much change, that audacity can go a long way and I think people respect it.
just-food: Strategically it's quite an interesting move from Unilever. They've made a number of disposals in the food category in recent years. For them to have made an acquisition in foods, excluding ice cream where they have done deals in recent years, somewhat came out of the blue.

Norton: I want to make sure that I don't speak for them but really as part of the Sustainable Living Plan, they are fully devoted to food, globally, as a category. I think they're moving deeper and deeper into good food, into better food and into real food. I know they have, over time, shed some of those brands that didn't fit with that strategy. What we represent very much does fit with their future vision and future strategy for the next generation of good food.