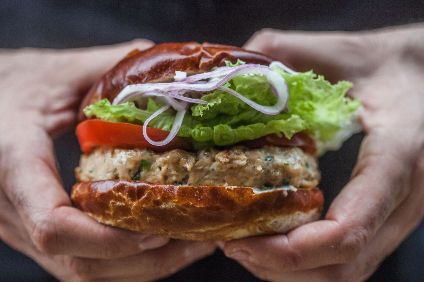 Until now the plant-based food phenomenon has centred on replacing meat and dairy products but New York's Good Catch is among the upstarts to have created vegan 'seafood'. One of its founders, Chad Sarno, tells Andy Coyne of the challenges it has faced and its hopes for the future.
Name – Good Catch
Location – New York, US
Product – Vegan, plant-based 'seafood'
Founded – 2017
just-food: You and your brother Derek are well-known vegan chefs in the US – behind the Wicked Healthy blog and cookbook – and self-confessed activists for the vegan cause. Is that why you were approached to get involved in this venture?
Chad Sarno: Yes, I've been an activist all my life and so has my brother. We want to create disruption. We were really close with investment firm New Crop Capital [one of the company's founders alongside the brothers and branding agency BeyondBrands] and that's how it came about. It is innovation and an important opportunity for Derek and myself.
just-food: What was your thinking when the idea was put to you?
Chad Sarno: We are close to a lot of plant-based protein and we were looking for white space. Fish is definitely a white space. It was an important opportunity and we started doing some research. A year-and-a-half to two years ago we started working on a formula. We wanted to create something that was gluten-free but that also met the requirements of fish and seafood.
just-food: I would imagine from the lack of products on the market this isn't an easy process.
"There were not many people doing it partly because it is really difficult to do"
Chad Sarno: No. The layers of protein in seafood are very different to chicken and beef so it was about coming up with a formula for that. There were not many people doing it partly because it is really difficult to do.
just-food: But you were convinced there was a demand for such a product?
Chad Sarno: We knew there was a market because of people with seafood allergies and also those who don't like the smell of it. Flexitarians are choosing these products so we were looking at that market too. And one of the things we heard through our network was people had been looking for a product like this because there had been instances of work-shaming.
just-food: You mean people moaning about the person at the next desk having smelly fish-based sandwiches?
Chad Sarno: Yes.
just-food: Just how difficult was it to get the product right?
Chad Sarno: Well we worked on the texture for over a year before getting into flavours. Tuna was the main focus for the launch and then we thought about crab. Salmon could be another target. When we started experimenting in the lab we couldn't get the texture right. It took time to get the thin layers of protein right.
just-food: The product you came up with – plans are for a range including fish-free tuna, burgers and crab-free cakes – is a six-legume blend (pea, soy, chick pea, lentil, fava and navy beans). When were you sure that you had cracked it?
Chad Sarno: From the first tastings at Expo West. From those first tastings in early 2017, people didn't have anything negative to say about it and everyone wanted to invest. We were then able to then fast-track the R&D process. But we've carried on working with it. We didn't solidify the formula until six months ago and then we were still doing final tweaks.
just-food: What was the next step?
Chad Sarno: We worked with our partners to get the product to market. BeyondBrands is very good at branding and so we had that dialled even before the formulation was solid. The brand looks like it has been around for a while and we were fortunate to get the name as well.
just-food: There has been so much noise around the product that's it's easy to forget it is still pre-launch. What's the plan?
"Foodservice, which will eventually be 50% to 60% of the business, will launch next February"
Chad Sarno: We are looking at the end of November or early December. We will sell the product via Thrive Market and FreshDirect, starting with three SKUs. And then into Whole Foods, our national retail launch partner. Foodservice, which will eventually be 50% to 60% of the business, will launch next February and then other retailers next spring. We will also launch a frozen line then. The initial products are shelf-stable while foodservice will be chilled.
just-food: Have you partnered with a manufacturer?
Chad Sarno: No, we are manufacturing it in our own facility in Ohio. We are starting to hire out there. We looked at using somebody else to do it but we thought it could be problematic on the IP side.
just-food: Your relationship with the likes of Whole Foods and Tesco (Chad is R&D chef for Whole Foods while Derek was the brains behind Tesco's Wicked Kitchen vegan meal range in the UK) allows you to have greater ambitions than many start-ups. Does that include exporting your products?
Chad Sarno: Yes, we are looking at the UK and the rest of Europe too.
just-food: You received Series A funding from a group of investors in August (German poultry heavyweight PHW Gruppe was part of a syndicate taking part in a US$8.7m funding round). What impact has that had?
Chad Sarno: It creates a hype and is a huge marketing plug for us. We are able to have a little bit more of a controlled projection. We are doing it very strategically.
just-food: Presumably you are expecting competition once others latch on to what you are up to?
Chad Sarno: We are first to market and while there will be copycats we have good partnerships and good relationships with Whole Foods and Tesco. So we are a couple of legs up. But we need to create a product range that keeps consumers coming back and that means staying on top of trends.
just-food: Talking of trends, do you think people are as concerned about eating fish as they are about meat?
Chad Sarno: Well, if you look at the oceans there is general awareness about large fish mercury levels as well as microplastics in seafood. Over the last couple of years, people have realised how much we have trashed our oceans. Tuna fishing is one of the most destructive industries in the world.
just-food: Why do you think 'Big Meat', such as your investor PHW Gruppe, is backing projects such as this.
Chad Sarno: It's about them meeting consumer demand. Diversifying protein is necessary for them to stay afloat.