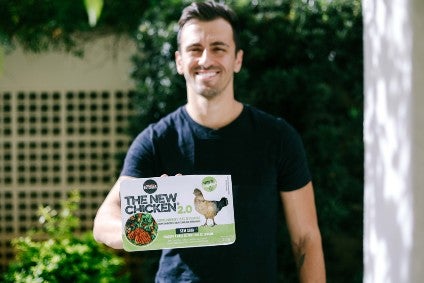 The New is a fledgling plant-based protein business in Brazil, one of the world's largest consumers of meat but where a market for alternatives is emerging. Dean Best speaks to co-founder Bruno Fonseca about financial backing The New has attracted from specialist investor Lever VC and his company's ambitions domestically and overseas.
just-food: How will the funding from Lever VC help your business?
Bruno Fonseca: A lot. Lever is a specialist in this industry, so, for us, it was a validation of what we've been doing for the last couple of years. Having a partner like Lever VC will help with our internationalisation plan. We are already in talks with distributors and partnerships in Europe and Asia. And, of course, we are using the cash to increase our marketing and sales team. We had a [fundraising] round before Lever VC and, with that money, we invested in an 80 tonnes-per-month capacity facility and built a lab to do R&D.
just-food: How much have you raised so far across the two rounds?
Bruno Fonseca: We are still running the Series A and we are not disclosing the value. The first round was with angel investors.
just-food: Tell me about your background and how The New came about.
Bruno Fonseca: I'm a mechanical engineer, I didn't come from the food industry. I used to work with diesel engines. We had a project to reduce the CO2 emissions of the engines. It was my first contact with the environment's needs and I said to myself 'okay this is what I want to devote my life to, to protect our planet.' I'm a triathlete, so I love to do sport in nature. When I saw that my job is destroying the planet and I could switch to another area, I decided to move from the engine industry to agribusiness.
I thought at that time that agro would be related to the nature and the origin of food but, here in Brazil, agro is about things like GMO. In 2013, I decided to became an entrepreneur. I founded my first company. It's called Eat Clean and produces products like nut butter and supplements like protein shakes. In 2017, I saw the extrusion process being used with food and thought if we can replicate the texture, the mouthfeel, the taste, all the experience of animal protein, using plants, it's pretty easy for people to switch their source of protein. I thought 'Okay, this is the future – but one condition. We have to do it in the healthiest way as possible.' Since day one of The New, we haven't used soy, gluten, any kind of allergens. Our protein is 100% pea protein.
just-food: When did The New launch its first product?
Bruno Fonseca: October 2019.
just-food: What's The New proposition?
Bruno Fonseca: In the plant-based meat category, we are the company here to replicate the taste of meat in the healthiest way. We are the first and the only food-tech producing it with no soy or gluten.
just-food: Plant-based meat is an emerging – but growing – category in Brazil. Are retail buyers starting to weigh up the difference between the types of products they could stock? And are consumers starting to think about the differences in the products' ingredient lists and recipes as well?
Bruno Fonseca: It's just begun. At first, it was all new and seen as all of the same category but now they are starting to see 'Okay, this is different because there's no soy, no gluten.' Or 'This is good because it's reduced sodium or saturated fat.' The consumers are beginning to understand the difference.
just-food: Brazil is one of the biggest meat consumers per capita globally. Describe a typical Brazilian consumer of plant-based meat.
Bruno Fonseca: It's a pretty good question because meat is part of our culture – and Brazil is a huge country. If you go to the south, in states like Santa Catarina, cities like Curitiba, meat is part of the culture because they are the states that farm the most animals. There we have a culture barrier we have to break. That's why our marketing and branding position is you don't have to stop eating meat. You just have to give the plants a chance. We are not attacking your family business. We are here to add – because the population globally is going to grow and we have to deliver enough food to everybody.
The majority of our customers are aged from 26 to 40, men and women pretty well-divided, and the class is A and B. Brazil is a pretty poor country. If you go to the north east, classes C or D people cannot afford plant-based [products]. They also cannot afford good animal meat. They eat sausages and not premium meat. Their meal is not very good in terms of nutrition. Our goal is to provide good quality and a very healthy plant-based option to all but, nowadays, our folks are only Class A and B.
just-food: Is the market big enough for you to build a sustainable business moving forward?
Bruno Fonseca: We aim to take a part of the animal market. If we look at the current plant-based market, it's not big enough but, when we see the population [growth] and the younger generations, they are pretty open to experience plant-based and they don't have the [meat] culture as strong as older generations. If you take a piece, a small piece of the animal industry, it's already huge.
just-food: What do you think about the competition from the likes of JBS and BRF, major meat processors that have launched products in this area? Does competing with companies of that size worry you?
Bruno Fonseca: No, not at all. At first, it worried me a lot when JBS announced their plant-based line but I think more people every day don't only buy a product, they buy why you are doing what you are doing. So how can you be the guy who creates the problem and who now develops a solution to the problem that you create? It makes no sense and, luckily for us, customers notice. So, although [meat companies] do have plant-based lines, sales for them are not very high. They do a favour to us because, as they have a lot of money to invest in marketing, they teach the population. At the end of the day, they are more likely to help us than compete with us.
just-food: What are The New's main domestic growth initiatives for 2021?
"We plan to launch new versions of all products, reducing sodium, reducing fat, and also improving taste"
Bruno Fonseca: We aim to keep up our innovation. We've just launched a cod fish. It's a pretty popular fish here in Brazil. Our product is the only cod fish that mimics the taste of the animal version. Next, we plan to launch new versions of all products, reducing sodium, reducing fat, and also improving taste. Our aim in R&D is to make our own products obsolete. We are always developing our products. Another example that's part of our plan is a salmon product. It's 10% cheaper than the animal version. Salmon here in Brazil is expensive. We want to break the pattern that plant-based is expensive. This is part of the strategy for people from class C to be able to afford our products.
just-food: Are you looking to lower prices? How would you look to do that? Greater scale in your production?
Bruno Fonseca: Definitely, it's a priority. We are also about to launch a nugget version. With this kind of product, we can have a very competitive price because of its formulation and, when you compare the nutrition facts between animal nuggets and our nuggets, we are way better than the animal version.
just-food: What proportion of the company's sales come from meat and seafood?
Bruno Fonseca: It's pretty well divided. We have cow, chicken and fish. It is around 30% each.
just-food: What are the company's annual sales?
Bruno Fonseca: We are on track to close this year at BRL10m (US$1.8m).
just-food: Is the business profitable?
Bruno Fonseca: We started profitable because we didn't have overheads. It was only me and a small team but, now that we are investing in people and team building, we are burning some cash to assemble a team, to keep up with innovation. We invest a lot in R&D and the sales force. We are starting to burn some cash in order to speed up the growth.
just-food: What are The New's plans outside Brazil?
Bruno Fonseca: We have just started conversations and negotiations. Part of our plan is to say 'Okay, Brazil is overseas known as a country that produces food – and also meat. The Amazon rainforest is also a global asset. So, why not a start-up from Brazil that doesn't use soy? We are part of the solution to preserve our rainforest. Be part of the change.' We would like to see by the end of this year our products on sale globally. We want to start with Europe and Asia. We are talking to partners in the Netherlands and the UK. We're talking to guys in Singapore. And, also here in Latin America, we are talking with our partner from Colombia.
just-food: Is The New more likely to launch first in markets that are closer to home like Colombia?
Bruno Fonseca: It depends on the partner. Before Lever VC, we were talking in Latin America because it's closer but some contacts in Lever VC's network are pretty excited, especially with our fish. That's why the conversations are so hot.
just-food: If you launch in Europe and Asia, you'll be looking for manufacturing partners to make the products locally?
Bruno Fonseca: Probably yes, because of the logistics costs. One euro is around BRL6. It's a good thing to export but the frozen logistics costs are crazy.
just-food: You're still in the middle of your Series A round. Do you think there'll be a need for Series B next year or in 2023?
Bruno Fonseca: It's a good question. My mindset is to ensure the business is healthy and with no necessity for another round of raising. I want to have the control to decide if we are going to Series B or not. If we decided to go for Series B, it would be because we want to speed up the growth of the company, not because we need to pay the bills.
just-food: What's your vision for the business in two to three years' time?
Bruno Fonseca: I definitely want to grow globally and be one of the leaders of the category. I want to be together with Beyond Meat and Impossible Foods the leaders of the movement.
just-food: Where do you see your sales in three years' time?
Bruno Fonseca: I want to get to 10x what we have in 2021.
just-food: What are the main challenges facing the business?
Bruno Fonseca: The main challenge is to keep building a team that is able and aligned with the vision to keep up with this kind of growth.
just-food: Would you look to partner with a larger player within the plant-based meat sector – or even with a meat processor interested in investing?
Bruno Fonseca: As long as we have control of the business and our communication. If we [partnered with] a slaughterhouse and they said 'You cannot say meat destroyed the country' or 'You cannot say plant-based is healthier', that's a problem. But, if we make a JV with a company that say 'Okay, we are here to help, use our operation, use our structure, our sales force, our logistics, our distribution centres' that makes sense. However, I think one of our best assets is the speed that we can innovate and launch products. If we are part of a huge company, I think we may be slow and we lose our biggest asset – the innovation and the kind of soul that a start-up has to have. We are here to make a difference. It's possible but it depends on the terms.