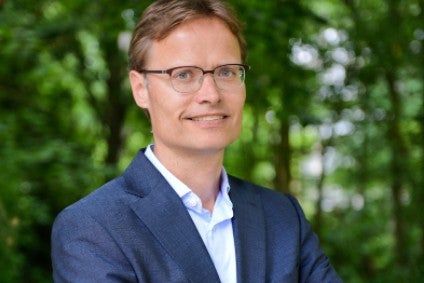 Plant & Bean is an ambitious co-manufacturing venture in plant-based meat that argues the growing industry needs to work harder on price and quality – and believes it can be a major player through plans for an international production network. Dean Best talks to Edwin Bark, the former Nestlé executive who's heading the UK-based business, to find out more.
When talking to those doing business in the plant-based meat sector, there's no shortage of statements of intent on how much a company plans to grow, or on the potential for the category to change how we eat and help solve some of the environmental issues facing the planet.
Plant & Bean, a UK-based co-manufacturer set up by local food manufacturer Brecks Foods and Thai group NR Instant Produce (NRF), is no exception.
The company, headed by former Nestlé executive Edwin Bark, was formed in 2019 when Brecks, which has been a manufacturer of plant-based meat product since 2000, took that part of its business and created a standalone venture, selling 25% to NRF in exchange for GBP9m (US$12.2m) of investment (the Thai firm plans to increase its stake in Plant & Bean to 50% this year).
Plant & Bean has recently opened its first factory, located in Boston in eastern England, a facility Bark says is the first of a number of new manufacturing sites the venture has lined up worldwide over the next couple of years.
"We want to be a global – and local – manufacturing platform," Bark tells just-food. "Our ambition is to build a platform in the coming two to three years which covers all regions. If we achieve that, it will be just fantastic and very meaningful for our customers, for our consumers, but also to achieve our mission as a company."
Bark became Plant & Bean's CEO last June, 21 months after his role at Nestlé heading the Swiss giant's plant-based meat business in Europe "became redundant" after the Garden Gourmet owner "decided to integrate it into a bigger structure", he says.
Meat alternatives is, Bark insists, "such a meaningful industry" and he maintained an interest in companies doing business in the area, with advisory roles at companies including cell-based meat start-up Future Meat and 3D-printed meat developer Redefine Meat, two fledgling firms in Israel.
Plant & Bean, with its new factory in Boston and with plans to set up other manufacturing sites in North America, Latin America and Asia, wants "to address two big topics", Bark explains – price and product – which he describes as "two big barriers from a consumer perspective".
"Plant-based meat is actually too expensive in comparison to animal meat to feed the family everyday with. The price gap in most key markets is really too big," Bark says. "What we aim to do is build scale to bring down the cost. We're currently raising funds to move to the US by the end of the year, followed by China and Thailand in 2022, and then Brazil 2023."
Bark says the second area of focus for Plant & Bean is to improve the "quality, texture and taste and nutrition" of plant-based meat to encourage consumers to eat it more often than "once a week as a compromise because it's good for the planet".
Plant-based meat and 1970s cars
At the heart of Plant & Bean's innovation strategy is what Bark touts as the company's "ecosystem for collaborative innovation", a "unique" network involving working with ingredient suppliers, as well as "top universities in Asia, Europe and the US", on flavours, recipes and product formats.
Bark offers an analogy between the plant-based meat presently available and products on offer in another industry 50 years ago. "The other day I had a conversation with our colleagues in the US and it came up that the plant-based food space is probably in the stage of development as the car industry was in the 70s," he asserts. "There are lots of small brands and most products aren't actually really good.
"When you look at it today, all [car] brands basically produce proper cars. You can't say it's bad quality. You see features in small cars in terms of safety and delights that you can find in the most luxurious cars and they all last for at least ten years. That's the stage of development we aim for. We want to be in a position where consumers just buy it with their eyes closed and trust it's a delicious and nutritious product. There's still a lot of work to be done."
As the number of consumers trying plant-based meat grows, so will the scrutiny of the ingredients used in the products, especially with the number of shoppers being interested in the links between their diet and their health increasing.
While reducing meat consumption and turning instead to plant-based protein is broadly seen as beneficial to human health, not every plant-based product is immune from questions about their nutritional credentials. There is growing attention being placed on, for example, the amount of salt in products sold as alternatives to meat, prompting a number of brands to revisit their recipes.
Bark says Plant & Bean offers customers "several products that are low in salt, low in fat", adding: "Those are the basics. It's not new. I wouldn't say that's a new direction. It's something we've done already for a few years now. It's true that there's a few brands that still have too high levels of fat and too high levels of salt but, generally speaking, I think it's fair to say that plant-based meat is a healthy option."
He reveals Plant & Bean has, alongside academia, started looking at whether certain ingredients can support potential health claims. Bark is coy about going into detail, insisting the research is at an early stage, but says it is an area the manufacturer is investigating.
"No, I don't think I want to disclose [the ingredients]," he says. "I have to be very clear on this. We're really in an exploration phase. It's not that we have solutions but, by talking to these medical schools and our development partners, there seems to be some very interesting ingredients we can we can work with. In the conversations, there's a lot of excitement actually."
For now, the Plant & Bean product portfolio focuses on products like burgers, cooked and raw formed products, as well as extruded lines. At the moment, the co-manufacturer's customer base is, Bark says, "close to 100% brands" (he won't disclose examples) because of limits on the new venture's capacity before the opening of the Boston site.
"We're actually currently in very advanced conversations with the main retailers in the UK and internationally to produce again for them," he says. "I think it's not so important what [the customer base] is today. We will expand our portfolio tremendously and our capability with our R&D team. The customer portfolio will likely be, I think, still predominantly brands, but with much more variety in retail, foodservice and direct-to-consumer. I think direct-to-consumer will be very much on the rise. We are already having conversations with a few of these direct-to-consumer business models but I'm convinced that this will really increase tremendously in the coming years."
Plant & Bean's plan to broaden its customer base is not based on any difference in margins by client type but more, Bark says, as a reaction to what consumers are buying. "We want to be where our consumers are," Bark insists. "I say 'our consumers'; ultimately they are the consumers of our customers but, in our way, we consider them our consumers because our mission is to repair the food system. The better we are able to attract consumers through third-party brands then, of course, the more impactful we will be."
Asked whether Plant & Bean is interested in developing its own brands, Bark says the venture does not have "the capabilities". He adds: "In order to build a brand you have to have the capability in-house and we don't have that, so I would say our priority's really to build scale through working with larger international brands and retailers, foodservice companies and direct-to-consumer business models. Our focus is really on building scale because that will help us bring down the cost but also help us innovate faster by using new sources of protein, new flavour systems or binding systems."
The quest to build scale is set to see Plant & Bean set up more manufacturing facilities, with a plan to have a site in the US by the end of the year. The company is in the middle of trying to raise more funds to put towards that project. "We're in good conversations. There's quite a lot of interest in this round so I'm quite optimistic that it will happen very soon," Bark says. "We're raising a significant amount of money, let's put it like this. We hope to close that round in the coming months."
The Plant & Bean development plan has factories in Asia earmarked for 2022 and another in Brazil a year later. Bark is confident in the thinking behind Plant & Bean's plans. "Interestingly enough, I spoke to a key customer of ours – which is an international food group – and they said 'Well, you know, 2023 in Brazil is too late. You have to start now. We can't wait until 2023 for Latin America,'" Bark says.
"What can you do? It's just another proof-point. They are clearly looking for a global partner, so they want to reduce complexity, which is not a consumer barrier but is a challenge for our customers who have international expansion ambitions, or are already operating internationally but have a complicated supply chain with too many different suppliers. I'm quite confident that our strategy to build this global and local manufacturing platform really works."
"It's not just daydreaming"
What that strategy could generate in sales is not something Bark is prepared to be drawn on directly, although he does give an indication of the thinking at the venture, based on forecasts in the wider industry about the growth the plant-based market could see.
"I'm afraid I'm not going to satisfy you with a concrete answer," he says. "But you can imagine if you have a global footprint, with multiple sites, that you're talking about a revenue level that has multiple hundreds of millions of dollars or pounds in revenue."
Bark says a benchmark could be his time at Nestlé where he said he "gave the team a dot on the horizon" to build with the Garden Gourmet brand a EUR1bn (US$1.22bn) brand. "I'm not sure but I think they're at EUR250m or so this year. It's really going fast and I think they will succeed," he says.
"These kind of numbers, they sound big but think of it: the meat industry is more than $1 trillion, right, $1.4trn, or so. The plant-based meat category as it is defined today is roughly $3bn. There's a lot of speculation, people saying it's going to be $10bn by 2030, or, $35bn, $85bn, $140bn by 2040. Big numbers and they all seem to be almost impossible when you look at where we are today. Then again, when you relate it to the size of the total meat consumption, it's not at all exaggerated."
He continues: "The challenge really is how are we going to build capacity to satisfy the consumer demand. In that perspective, yeah, I think the big number that we have put on our five-year plan looks like a big number. However, as one of our potential investors mentioned 'When you look at it from the bigger picture, it's still not very big.' The short answer is, we will be very substantial in five years from now and that is likely to happen, it's not just daydreaming, because with the funding we will get we will be able to build these facilities."
In the wake of the news about the site in Boston being announced, Plant & Bean has, Bark asserts, "had already so many brands, knocking on our door asking for capacity", as well as food companies not in the plant-based meat arena that want to enter the market but that don't have the assets. "It's going to accelerate very rapidly in the coming years."