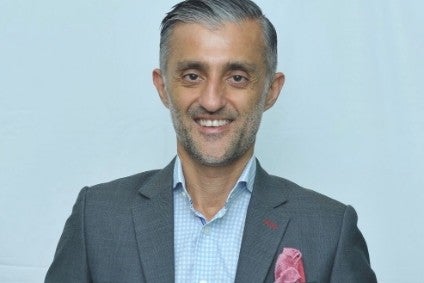 India is seeing similar changes to consumer habits as western countries. Private-equity firm DSG Consumer Partners has backed some up-and-coming food companies and founder Deepak Shahdadpuri talks to Dean Best about his deal-making and how he sees India's FMCG market developing.
The packaged food industries of North America, Europe and Australasia have for years been areas of focus for private-equity firms and investment funds – and their interest has intensified as rapid changes in consumer habits have shaken up the sector.
But what about in other markets? Deepak Shahdadpuri, a former EY and Bain & Co. executive, has been investing in Asia, primarily in India, for almost two decades.
In 2012, Shahdadpuri founded the Singapore-based DSG Consumer Partners, which backs fledgling FMCG companies in south-east Asia and, in the main, in India.
DSG Consumer Partners' portfolio of investments includes companies Shahdadpuri says have either grown to create categories in India or eat into the market share of larger, established competitors. The roster features Sula Wines – an investment Shahdadpuri made before setting up DSG Consumer Partners – Greek-style yogurt brand Epigamia and condiments supplier Veeba Food Services .
The companies in the DSG Consumer Partners stable outside India include Indonesia-based vitamin supplier You and Singapore-based salad-bar chain SaladStop. Its set of investments also spreads outside Asia, taking in, for example, UK-based baby-food business Piccolo.
But, Shahdadpuri tells just-food, in the main, DSG Consumer Partners' investments will continue to take place in India due to the prospects for the consumer-goods market in the country.
"India will always be the majority of what I do," he tells just-food. "It's very rare you see one country with a billion people – even if you discount it down to 100m people as your core market – that is such a huge opportunity, especially where there's no category. You can get a disproportionate market share very quickly."
The changes that have been seen in North America and Europe over the last decade in how and why consumers buy food and in what they eat is being replicated in India, Shahdadpuri says. But the investor argues the larger companies in the country, be they domestically- or overseas-owned, are not reacting quickly enough, presenting opportunities for start-ups to capitalise – and for DSG Consumer Partners, which focuses on backing firms in the initial stages of doing business, to invest.
"Epigamia is still small but we dominate the flavoured yogurt category. Veeba is the fastest-growing sauce and condiments brand in India," Shahdadpuri says. "Ours is a very basic strategy. We will see a large number of new brands emerging in India. These brands will be across consumer categories."
The thrust of DSG Consumer Partners' investing has, so far, been in food and beverage and will continue to be so, Shahdadpuri explains. "If you walk around supermarkets in Bombay, like I did two hours ago, you are just seeing so many categories that should be there but aren't there – yet we know will be taken," he insists.
However, Shahdadpuri argues entrepreneurs have been slow to embrace the opportunities he sees opening up in India's food and beverage market, attracted instead to the tech arena. He believes that means, at present, there are products that should be available in India that aren't. However, there are signs, the investor suggests, that is changing as the growth of brands like Veeba and Epigamia encourages graduates to look more closely at the industry.
"If you just take category by category, I wish I had ten entrepreneurs"
"My challenge has been I see a huge opportunity – but I don't see enough entrepreneurs," he says. "All the entrepreneurs want to start an e-commerce or marketplace business because the 30 other funds, plus SoftBank , only want to back e-commerce. No-one wants to back a local brand. No-one wants to back a company that needs to buy fruit and vegetables, clean them, process them, pack them, chill them, distribute them – it's hard work, right? We have seen a couple of entrepreneurs coming up but, given the opportunity in Indian CPG, why is there no Indian baby food brand? It is absolutely ridiculous. Why are there no Indian pet-food brands? Why are all our pet foods imported? Why is there no high-quality baby-care brand?
"If you just take category by category, I wish I had ten entrepreneurs. But, as Veeba becomes successful, as Epigamia becomes successful, as Sula has become very successful, the founders and CEOs have become role models."
The pronounced changes in consumer demand for food in many western countries have been built on a number of common trends, including: the growing interest in the links between diet and health; the clamour for more convenient products; mistrust in big business; and the rise of the digital sphere, which has meant, one, shopping can be ordered online and, two, the barriers to entry for entrepreneurs interested in the industry have been lowered.
There are nuances in India, Shahdadpuri explains – he points to the "huge heritage" of ayurveda, as an example – but he believes India was seeing very similar changes among the 300m of the country's 1bn population said to be part of the global middle class. "We want the same products we see on Instagram . We want the same products we see on TV. Information is passing at supersonic speed. They are attuned to these products abroad and they just want to have the same products available," he says.
However, the investor underlines the more specific part of the market in which DSG Consumer Partners is looking to make investments. "I am not even targeting the 300m in India," he explains. "My strategy is to target the top ten or fifteen million. They live in five cities. They live in certain neighbourhoods in those five cities.
"When we launched Epigamia, we launched it as a premium to what was the most expensive yogurt at that point, which was Nestlé. All the Indian products were at about GBP0.20 (US$0.26), GBP0.25 and Nestlé was at about GBP0.40. We came in at GBP0.60.
"Our view was when you're launching a new product you want to start as the most expensive brand because our initial target segment is always going to be the top 1% or 2% in the city, who are well-travelled. They associate price with quality. We go in and build our brand based on being the best in the category. It tends to be a very small part of the overall category but where the margins are much better. The bottom of the pyramid – the three, four, five hundred million people – is very hard to service. It needs to be long-life. The Nestlés and Unilevers have done a fantastic job over the last 20 years, they control the supply chain, so I don't even play there.
"My view is let's own the category for premium. Every year, 2m new Indians are becoming wealthy enough to afford high-quality products. Let's go in with a ten-year view. Let's create a category and, if you create a category and do it well, your name will be synonymous with that category."
Nestlé and Unilever are among the largest of the overseas FMCG companies to be doing business in India, with the country's consumer-goods market also home to some sizeable domestic players, such as Britannia Industries and ITC.
However, Shahdadpuri says there has been little innovation from the largest consumer-goods businesses, presenting opportunities for entrepreneurs, even if, he underlines, there are still categories well known in the west that are absent in India.
just-food spoke to Shahdadpuri the day after the managing director of Nestlé's Indian arm, Suresh Narayanan, told the country's The Economic Times newspaper how the Maggi maker had "considerably cranked up our pace of innovation and renovation" to accelerate the company's sales growth.
Shahdadpuri, asked if he had started to see the largest FMCG players in India, start to react to the emergence of successful start-ups by launching more products and making acquisitions, says: "They are making the right noise. We've seen some of the local big companies acquire [but] more in the personal-care space; I haven't seen that many acquisitions yet in the food and beverage space. Having said that, most of my food and beverage companies have been at the receiving end of serious offers from both local and global MNCs in different categories."
In January, Epigamia, which was launched 18 months ago and soon saw Nestlé roll out a Greek-style yogurt, accepted investment from Danone Manifesto Ventures, the investment arm of French food giant Danone.
Shahdadpuri says Danone had also launched a product to compete with Epigamia but ultimately decided to quit India's dairy market completely at the start of 2018. The Activia maker has characterised the investment in Epigamia as "an exciting 'lab' for Danone". Shahdadpuri is unaware of Danone's plans. "They see something they like enough. They've come and invested. Who knows what they want to do? They are now at least ten Greek yogurt brands but all of them combined are not even a third of our market share. I don't know why. I'm biased. We do a great job."
DSG Consumer Partners is on its second fund. Since its formation, the firm has made more than 40 investments, three-quarters of which have been in India. Shahdadpuri wants to continue its focus on India. As more start-ups emerge, is DSG Consumer Partners seeing more competition for investments?
"No, what's worked in my favour is we were the first ever fund focused on India with the name 'consumer' in it. Today there are two other funds that look like me. One is Fireside and there's another fund called Sixth Sense. There are only three of us dedicated to doing consumer-only deals. No-one else is out there," Shahdadpuri says.