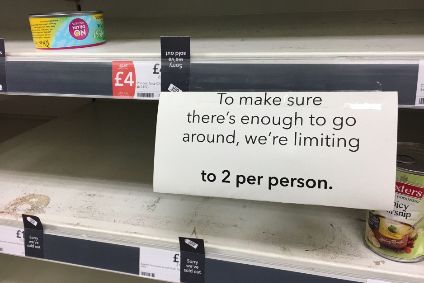 We asked a number of UK and Irish SMEs working in the food sector tell us about the impact coronavirus has had on their day-to-day business lives. Here is what they told us.
Grenade
Sports nutrition company Grenade, based in Solihull in the English Midlands, makes healthy snack bars, drinks, powders and shakes.
CEO and co-founder Alan Barratt said: "It has been manic here getting 70 people set up to work remotely and we have been working overtime to get product to stores. We are quite 'fortunate' – if that's the correct term – as we have very sought-after, healthy, long-life food products so currently demand is up.
"Exports are impacted but only because we are experiencing a one-week delay in getting containers, mostly resolved now I think, and the weaker pound will no doubt spike orders.
"Ingredients and supply routes all good, again we have a food product so its prioritised over clothing and non-essential goods etc.
"We are having to be more flexible than ever, especially now kids are off school but we have always been very agile at Grenade anyway so are set up to cope with this far better than many who are a lot more corporate or rigid in how they work."
Alan Barratt, founder and CEO of Grenade
Bio-tiful Dairy
Bio-tiful Dairy chief executive Natasha Bowes set up the London-based, kefir-cultured business in 2013 and has since launched into quark, and most recently kefir soft cheeses.
"One can talk about the situation right now and assess the probabilities of things developing in a particular direction going forward, but nobody has any level of certainty as it stands.
"As far as the impact today is concerned, with food obviously being the priority within the UK and globally, and healthy food, and in particular healthy food that drives natural immunity being so important, we have seen very strong demand for our products.
"For the last four weeks, we've had record-breaking weeks in terms of sales. We have fulfilled our customer orders to the tune of over 99%.
"Hopefully, we will benefit from the hard lessons that we're going through now"
"I would imagine if it lasts for another month all the food industry will get through it. If it lasts two months then we will creak at the seams a little bit but we'll get through it. If it goes significantly beyond three months there's going to be a big question in applications to a lot of businesses.
"We have not made any drastic changes and certainly are not planning [any] in the foreseeable future. All of our production is within the UK, the vast majority of the ingredients come from the UK, and the majority of packaging comes from the UK. We're working through contingency plans.
"Production, logistics and distribution are all reliant on human factors. So that is the number one priority in terms of protection and the number one risk by the same token.
"I think we're all in the same boat. Stay level-headed and positive. The length of the time of this impact is of course going to matter. But it's all about how constructive and effective and practical we are in dealing with the situation.
"Hopefully, we will benefit from the hard lessons that we're going through now. And then to think laterally, to think efficiently, to act practically, are probably going to positively contribute to how we look in the medium to long term."
Natasha Bowes (right), MD and founder of Bio-tiful Dairy
Mr Crumb
Ireland-based premium stuffing and frozen sandwich maker Mr Crumb supplies supermarkets in the UK and Ireland and has recently launched into the foodservice channel.
Co-founder Jason Coyle said: "I'm in self-isolation. The Irish government has strict criteria for people who have come back from the UK as I have just done.
"In business terms, we received communications telling us that cafes in retail businesses now have to shut down. We just launched in foodservice in January and now that has fallen off a cliff.
"UK retailer supply chains are stretched at the moment; so many are cutting all non-essential foods. There is limited space on the trucks. They don't have extra capacity yet.
"We haven't cut back on manufacturing production yet but we have split our teams in two so 30% of workers are being paid but are at home. We've had no cases yet [of coronavirus] but we are keeping those people in reserve just in case.
"We have strict segregation rules here anyway as Ireland is way ahead of the UK. We have strict rules about sanitising, people not taking breaks together, only a few managers being in at any one time etc.
"Customers have put all new business initiatives on hold and everything has gone quiet in the last week anyway in terms of sales calls and emails.
"As a business we could easily re-tool and supply frozen consumer retail products such as pizzas and burritos to UK supermarkets but because the retailers are firefighting, buyers may not have the ability to list them at present. We could ramp up production by 50% but no one in the supermarkets can focus on this stuff at the moment.
"One thing I will say is that Ireland has huge food capacity. The supermarkets are full here while there is still panic buying in the UK and some shelves are empty.
"Irish companies could literally pump food in [to the UK] if they could get it into the supermarkets but the supermarkets are in firefighting mode."
"Irish companies could literally pump food in [to the UK] if they could get it into the supermarkets but the supermarkets are in firefighting mode."
Mr Crumb co-founder Jason Coyle
Oppo Brothers
Oppo Brothers manufactures low-calorie ice cream and just secured a listing in Tesco to add to Sainsbury's and Waitrose. The London-based firm also recently entered the dairy-free category. One of the founding brothers, Harry Thuillier, tells just-food the business is having the best month for sales since last June as coronavirus impacts the out-of-home segment to the benefit of retailers.
"That was budgeted for due to our launch in Tesco earlier this month and we launched in Spar in Austria and Tegut in Germany but sales have exceeded the budget.
"We're getting far more increased orders from the continent – Albert Heijn and Delhaize are well above their forecast, and the UK is slightly above as well.
"We've had a few problems with our raw materials but as of now these have been managed. If demand continues, and if there's a lockdown in terms of getting food across borders, whether that's raw materials or packaging or finished goods, I think there'll be a challenge in getting it from the depot onto the shop floor and into freezers.
"Supermarkets, they are absolute heroes, but they are going to prioritise the toilet rolls and the pasta and that sort of thing. And, therefore, it may be that freezers are kind of left empty and not really stocked as fast as they could be.
"We haven't taken on anyone else and we certainly haven't released anyone. We're at capacity but we're managing it.
"We are doing some free deliveries to a number of care homes up and down the country, adding them to our Sainsbury's or Tesco orders for online deliveries.
"If admin teams on the retail side are struggling then it may to take longer to get paid for our stock. So we have to be careful with that challenge too.
"We usually have a few weeks cover on our raw materials but we've increased that as a contingency and obviously that has an impact on our cash."
Harry Thuillier (left), MD & co-founder of Oppo Brothers