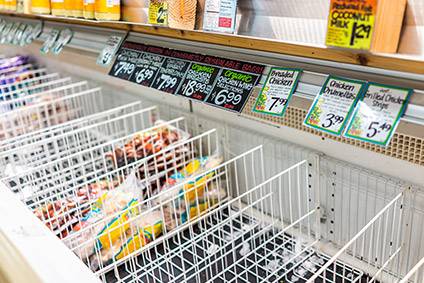 We asked a number of US packaged food companies for their input on how the coronavirus pandemic is affecting day-to-day business operations.
Kraft Heinz
Mitch Arends, head of US manufacturing at the ketchup and mac-and-cheese maker, outlines how one of the biggest players in the US food industry has reacted – and what he hopes to learn from the crisis.
"As soon as we saw the virus start to spread – we obviously are a global company, so we had the opportunity to see what happened in other markets – we started preparing in the event we would see [higher] demand and it came in as we all thought.
"Thirty-seven of the 39 plants are quite busy. Two of them are ramping down a little bit to minimum volume as the foodservice industry as a whole in the US – cafeterias, restaurants, other places like that – have seen big decreases.
"At the majority of our plants – making products from Kraft mac and cheese to Heinz ketchup to Capri Sun to Philadelphia cream cheese to Planters to Ore-Ida potatoes, the list goes on and on – we went into overtime and into six and seven days a week to adjust. I would say overall all of our products have have had an increase [in sales] and specific products, like mac and cheese as an example, have seen an extraordinary spike as well.
"Our normal sanitation protocols, ranging from when you enter a factory, the PPE wear, to washing your hands, is natural for our employees. It's part of everyday keeping food safe. It's natural that you're having social distancing in our automated factories outside of the common areas. In our cafeterias and break rooms, we are ensuring everything is properly laid out to abide by social distancing.
"Our logistics team have equally stepped up and done an incredible job of ensuring that we're getting everything shipped. Obviously, there's always little things that happen but, overarching, the success of the logistics and distribution team deserves equal praise in my mind.
"I think we'll all learn from this, right. One thing we've done at Kraft Heinz is communicate really well and really quickly across our company. I don't think you can overly communicate, especially when there's important information to be passed along and in maintaining those communication lines.
"The second piece I hope we continue is, right now, in our company, there's such a tremendous amount of pride in what we do. Obviously with healthcare workers and those people that are truly on the front lines of this – we're not compared to them by any stretch of imagination – but food is a necessity and the fact we are very proud to make these high-quality products that people can trust. It's a huge sense of pride for the organisation."
Mitch Arends, head of US manufacturing at Kraft Heinz
Caulipower
Gail Becker, the founder of US frozen-food firm Caulipower, on how sales have increased despite issues with distribution – and how the industry is doing "a phenomenal job".
"It's really a privileged position, in these times, to have our business move forward the way it is. We're working around the clock to make sure that we have product on-shelf.
"As a manufacturer, we haven't skipped a beat and we've increased production. None of our ingredients are sourced from places where you can't get them now, nor is our packaging, and that really is a great position.
"We have seen significant sales increases across all of our products. I think in these times people are looking for comfort food – and if they can find comfort food that's better for you, while we're all stuck at home, that's a win.
"The challenges have mostly been around distribution. A lot of the distributors are overwhelmed. There's not enough truckers and the transportation that is there is being prioritised with things like toilet paper and sanitiser. Demand for food has never been higher and yet it's tougher to get it there. That's what distributors and retailers are trying to figure out right now.
"Particularly in the first couple of weeks, people would go in and clear the shelves and [retailers] just wouldn't be able to replenish it fast enough. In those cases, I was getting pictures of shelves empty where a product is supposed to be from all over the country because they just couldn't stock that stuff.
"It's like Thanksgiving every day. Normally the stores have six months to prepare for Thanksgiving. Now, they had six minutes"
"It's starting to get better as the stores, distribution and transportation are hiring more people. I think some distributors are still cutting some of the orders for the retailers because they just can't deliver it fast enough. It's like Thanksgiving every day. Normally the stores have six months to prepare for Thanksgiving. Now, they had six minutes. It took everybody by surprise but I have to say, given the task at hand, I think the industry has done a phenomenal job trying to keep food on shelves and give people what comforts them.
"We [also] are in foodservice. We're in about 5,000 restaurants across the country. For some of our products in foodservice, we've obviously felt it but the one area of foodservice that actually has not been hit hard is pizza delivery. We're really doubly blessed in that way.
"Our workforce is 50-plus. We have a number of people dedicated to the daily running of the business but we also have people who are committed to ensuring that we continue to innovate. We had announced a new product the week of Expo West that sort of got caught in the crosshairs of all this. It's a perfect example of how we've had to shift in order to make sure that we can get our new product in the hands of retailers and consumers. If you think about it, when you're a food company, how do you get people to sample your food when there's no experience?
"It certainly will be in some stores. Other stores had to delay the reset. It will still be in those stores but maybe a little bit later. It's shifting in real time. We'll also have it available for sale on Amazon, which is great. So, you know, we got a few lemons, but we made lemonade."
Caulipower founder Gail Becker
Miyoko's Kitchen
Miyoko Schinner founded the plant-based dairy business in California in 2014, producing cheeses and butter for the retail channel, but it has had to delay its foodservice launch because of Covid-19.
"We're fortunate to be in operation, unlike a lot of businesses. Our sales have spiked, somewhere between 30% and 50% of what we were forecasting but we don't know how it's going to be affected in the long term. We've definitely pivoted our marketing strategy.
"We are locking in long-term contracts for everything [raw materials]. We feel it's important to diversify our supply chain in case there's something globally that makes a raw material unavailable.
"We had developed products just for foodservice, and then the pandemic hit"
"This was going to be our big year to launch into foodservice. We had developed products just for that, and then the pandemic hit. So we've readjusted our foodservice sales plan. We still have a couple of contracts that are going to start later in the year. We were going to start hiring more people for foodservice but we're not going to do that right now.
"We are making changes [to targets] because we were anticipating foodservice to be a successful initiative, but we're not sure how that's going to be. We are on target and we're a little ahead of target in some ways.
"We see this as an opportunity for mankind globally. Where are these zoonotic diseases coming from and how can we create a more sustainable healthy future for all? I think people are beginning to realise this is a zoonotic disease that started in the live animal market.
"Let's go back to the Spanish flu that started on a Kansas chicken farm. How about H1N1, swine flu, bird flu. Most of these pandemics have their origin in man's exploitation of animals as a commodity, putting them in unnatural circumstances they wouldn't be in otherwise. This is an opportunity for us to wake up and realise the impact of our food system on global health."
Miyoko's Kitchen founder Miyoko Schinner
Ocean's Halo
Robert Mock, the co-founder of New Frontier Foods, the company behind Asian-cuisine brand Ocean's Halo, on how his SME has met growing demand and looking ahead to a "new normal".
"The factories are all open. We have three total, one of which is a joint venture. We did have some temporary shutdowns in our factories. When they came back online, they came back with a skeleton or reduced crew to try to maintain social distancing guidelines. They haven't been at full capacity since but they've been operating daily under pretty normal circumstances.
"Luckily, we increased our safety stock, starting maybe in December and through January. It was a total coincidence but it was kind of the day-to-day regular problems that a young company runs into that made us do it.
"Last fall, we did a lot of new distribution launches with new retailers, including last summer with Tesco in the UK. We found out pretty quickly that we hadn't built up enough inventory, so we were constantly trying to play catch up. When we finally caught up last late last fall, we decided as a company, let's use some of us dollars to not let this happen again. We've been in business for six years and we've definitely found ourselves at times when we've been out of stock. Even in normal times, it's really frustrating for the retailers. We did have some working capital, and so we spent it on building inventory in the fourth quarter. Then, as we saw what was happening unfold, we just tried to keep producing as much as possible.
"We've had to reconfigure some of our assembly lines, spread them out in the factory a little bit further apart, but nothing that's been major. Because we have less people in the factories, we've been able to do slightly less capacity. We're not doing double shifts anymore. We're doing one shift and even that shift has fewer people, so it ends up being we're probably doing 70-80% of what we could do in a normal environment.
"We've been really focused on making sure all of our existing clients are in stock unless someone is asking. We're not really proactively making sales pitches; we haven't at least since this all started.
"One of the largest supermarkets in the country where we really don't sell much of anything called us up because they saw that we were in stock, and asked if they could set up new items as a temporary measure. We have a lot of basic items. Soups and broth and noodles, noodle bowls and snacks are all under high demand and they're pretty basic staples, especially because they're all shelf-stable. We built a mixed truckload. We had 26 pallets in there, put some broth, some noodles, some noodle bowls, sauces and some snacks based on what we have seen in our demand and offered it as a full truckload to deliver to the warehouse directly.
"Our bricks-and-mortar [sales] are up, like, three or fourfold. It's really spiked, which is normal because it's a panic buy – but I think there's definitely going to be a new normal. I think it might be a little bit more like an underlying shift. The longer that people stay at home and cook, maybe the more sticky it might be when we do get through this.
"Another thing that's happening is e-commerce. Obviously people who don't, or can't, go into the grocery store, are turning to online. We fulfil our e-commerce on our own. We've probably seen our online business go up about 20 times in the last month. It's a small business. It's not something to get too excited about, but it's pretty great. We've been able to keep up. Again, it's probably just related to the amount of stock that we've built up last year and the fact that a lot of our products are shelf-stable and have often times a year's shelf life, so you can have that extra stock without worrying too much not being able to sell it.
"I don't know how fast people will go back to their normal routine of eating out, three or four times a week. They may do it, you know, once or twice instead."
New Frontier Foods co-founder Robert Mock