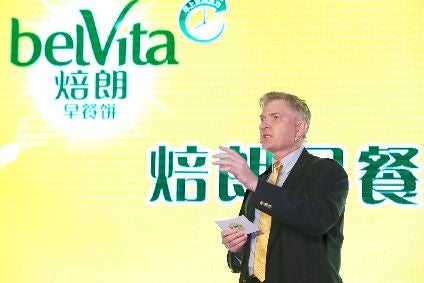 Mondelez International's top-line performance in China has been patchy since the US snacks giant was established four years ago. Biscuits has been Mondelez's main business in China and challenges in the category meant, for example, the Oreo maker saw its sales in the country fall in 2014. A recovery from Mondelez's biscuit arm in China, plus growth from its chewing gum stable, helped the company's sales grow in 2015 – but sales fell in the first six months of this year. Speaking to just-food after announcing a significant push into China's chocolate market, Stephen Maher, the president of Mondelez's business in the country, discusses how he sees the prospects for the company in the market.
2015 was a year of "solid growth" in China, Mondelez International chairman and CEO Irene Rosenfeld told analysts in February when the US snacks behemoth announced its results for the year.
However, by July, Rosenfeld was reporting a weaker sales performance for Mondelez in China, with sales down at a "low single-digit" rate. Rosenfeld pointing to a slowdown in China's biscuit category and the impact of Mondelez lapping the launch of its chewing gum brand Trident in 2015. Nevertheless, with the world's consumer goods majors adjusting to a Chinese economy not growing as fast as it once was and with much of the investment case for Mondelez based on its operations in emerging markets, the company's performance in China is being watched closely.
This summer, Mondelez made chocolate the third major plank of its business in China with the launch of European brand Milka in the country. Speaking to just-food with Milka hitting shelves across China, Stephen Maher, the president of Mondelez's business in the country, insists the company is upbeat about its prospects locally.
"We're quite bullish on China. The market is going through a slowdown. The good news is we are performing better than our competitors, and certainly better than our peer group, in terms of net revenue growth. We're feeling like we're in a good place," Maher says.
Mondelez appointed Maher to lead its business in China two years ago. Born in Australia, Maher has spent over 25 years working in China, first for Procter & Gamble, then Colgate-Palmolive and then on to Carlsberg, the European brewer. He has seen the Chinese economy develop from a "centrally-planned economy, which meant you could have any colour of soap as long as you wanted white" to one of the engines of the global economy, with a still-growing, urban middle-class adopting Western consumer habits and one that is ever demanding new products.
"They've got so much choice now and the pipeline of new products coming out constantly is a steady stream. It has to be in China because they like new news," Maher says. "In China, you launch a new brand, they're willing to give you a chance – so long as there's confidence [and] there's a reason to buy – but they're willing to give you a chance. The retailers need to feed the beast so they enable you to get on-shelf."
But with economic growth in China slowing in recent years, what has been the impact on consumer confidence? Maher says China's consumers are still in the market for "premium" products. "It's quite ironic actually. They're actually buying more expensive products but [those sold in] smaller packaging," he says. "They're moving to more premium products. Again, this is why we believe Milka's positioning is spot on in this market because it's going to be difficult for our competitors, who are known as mainstream, to try and catch us."
However, while in China's chocolate sector Mondelez's main competition will come from international rivals like Mars Inc., Hershey and Ferrero, in biscuits, the company has, to some extent, been squeezed by the growing popularity of homegrown products and by more imports eating into the market. Maher says around 30% of a biscuit fixture in a Walmart store in China is taken up by imported brands, leaving Mondelez's flagship brand, Oreo, which has been present in the country since 1996, "kind of stuck". In response, Maher says, Mondelez has brought in an imported line like Belvita breakfast biscuits and, in the next few months, the company is working on packaging across its range to try to counter competition from domestic rivals.
"We've looked at our product, packaging and price points and we've got a much better mapping of how consumers buy," Maher says. "The way to signal to Chinese consumers that you have a better quality product is to really deliver with a packaging concept that wins for Chinese consumers. Within a year, our product range is going to look far superior to what it looked like even when we had the heydays of growing at 25, 30%. How we want to capture the Chinese consumer believing the Chinese mass produced products are just as good [as overseas brands] is to make sure our packaging is very competitive."
Mondelez has also been working on expanding its distribution to a wider number of retail outlets. "Over a year and a half ago, we started making changes to our business model in China. We started to move away from the modern trade, more into the traditional trade, what I call the proximity stores. The convenience stores, the mini-supermarkets, the small stores. We've expanded our coverage by an incremental 250,000 outlets in the last 12 months," Maher says. "It gives us a much broader footprint and it gives us the ability to be more available than we ever were before."
The US company's work at building its retail footprint is also, as with other markets internationally, taking in China's e-commerce channel. The online sphere is a central plank of Mondelez's international corporate strategy. Last September, Mondelez announced plans to increase its e-commerce sales tenfold to US$1bn by 2020. China is central to Mondelez hitting that target and but Maher emphasises how important the channel is to the company's operations in the country.
"We're really aggressively moving in e-commerce space, in our ability to work with customers, our ability to market directly to consumers and our ability to bring products online that differentiate against bricks-and-mortar [stores]," Maher says. "A year and a half ago, our journey really got underway where we started with Oreo to get aggressive online. In the biscuit category, we have about 25% market share offline. Online, we have almost a fifth of that. One of the biggest efforts we've put in is to learn how to win online, how to market, how to target consumers, how to build the right online platforms and how to build the partnerships with e-tailers. We have almost 3.5% of our business going online, versus less than a percent just over two years ago."
Maher outlines Mondelez's target for its online sales in China for 2020 in the wake of the launch of Milka. "In the categories we compete in, just over 10% of the category is bought online. In chocolates, somewhere between 20 and 25% is bought online. Gum and candy is very small; they're impulse items. If you take our big categories, looking at where our business will be by 2020 in terms of total revenue size, I would be disappointed if less than 20% of our business is being sold through e-commerce."
It appears an ambitious target but, given the rapid growth of China's e-commerce market, it is perhaps understandable Mondelez has set a target of also growing its share of the channel speedily. Maher is coy about how Mondelez believes it can reach the goal but gives a flavour of the company's strategy.
"I can't go into too much detail but I can give you some building blocks," he says. "Priority number one is you have to have iconic brands. You have to have brands that are well supported because consumers go online and they don't browse down the aisles of stores like they do in bricks and mortar. Number two is we have to make sure that we are building the relationship with the winning customers. In China, there are hundreds and thousands of e-commerce sites. We have to be very selective about which ones we're going to go after." He cites JD.com, Alibaba and Suning, adding: "We build a relationship, not at buyer level, so I go in and I meet with the top guys. We build a relationship right upfront there. The logic of all that is not only so you're working with the winning customers, but the more time I'm spending with them, the less time they can spend with any of my competitors."
The third building block Maher presents is marketing to the online shopper. "The third thing you have to do is you have to build an expertise in learning how to market to online shoppers, which is very different to bricks and mortar. Those activation tools and that usually, because it's new, we have to work very closely with agencies. You have to choose the right agency that knows how to work with them."
While domestic and international food manufacturers operating in China will no doubt be enthused by the rise of the online channel in the country and the growth that is forecast to come from that part of the market, there will be furrowed brows in many a boardroom when looking at another metric that appears to be expanding in China – waistlines. According to data compiled by management consultants A.T. Kearney last year, around 13% of China's population is said to be obese and that is forecast to grow to 30% by 2025. As a consequence, there is growing interest among more Chinese consumers about following a healthier diet, even as the country's economy grows wealthier, which leads to the usual often competing trends for more convenient and indulgent foods.
Maher agrees there is a rising awareness among Chinese consumers about the link between diet and health, which he says has been boosted by social media and by the increased international travel enjoyed by a growing proportion of the country's population.
He points to the launch of Belvita in China last year and the fact Mondelez's lower-calorie Oreo Thins were developed and first launched in the market in 2014 as examples of the way the company is making efforts to meet demand for healthier snacks. "China is becoming a more health-and-wellness-focused country," Maher says. "In certain segments, we're moving very aggressively."
Mondelez's performance in China since the formation of the company may have been something of a mixed bag but the business and its senior management remain upbeat about its prospects in the country and its ability to adapt to the growing trends that look set to shape the market's food sector in the coming years.