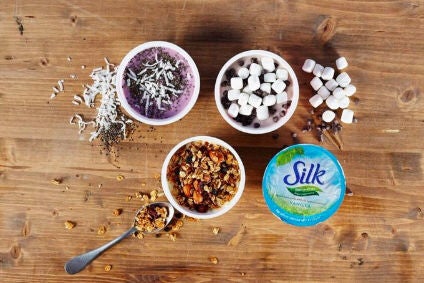 US natural and organic food group WhiteWave Foods – now part of Danone – believes its sustainability programmes and its mission to "change the way the world eats for the better" is a key point of difference to its rivals. Last month, at the Natural Products Expo West trade show in the US, with the sale to Danone on the horizon, Katy Askew spoke to WhiteWave sustainability chief Deanna Bratter to find out about the US company's sustainability strategies.
"Our company mission is funded on changing the way the world eats for the better. That's a pretty big bold mission."
Speaking to just-food in mid-March at the Natural Products Expo West exhibition in California, Deanna Bratter, the WhiteWave Foods director of sustainability, insists "sustainability is central to what we do" at the Silk and Alpro owner.
However, WhiteWave is now part of a larger entity, with its business having been combined with Danone's US arm to form a new division the French giant has called DanoneWave.
At Expo West, sitting down with just-food with the completion of Danone's takeover of WhiteWave on the horizon and weeks before the sale was confirmed, Bratter told just-food she was confident the combined business would still have a focus on sustainability as a core business tenet. "We remain committed to this. The missions of the two companies are complementary and we are really excited about what we can do together," she says. "They stated that they have the goal to make the new business a certified benefit corporation. That gives us a great indication that their mission is going to stay strong, as is ours."
The new DanoneWave is the "largest US Public Benefit Corp", WhiteWave Foods tweeted last week as the takeover of the business was finalised. "As the largest public benefit corporation in the US, #DanoneWave is redefining the world, and reimagining what a food company is," Danone's new subsidiary said. Further details have yet to be announced but are expected.
At Expo West, Bratter, made WhiteWave's sustainability director in November 2006, outlined three prongs to WhiteWave's approach to sustainability. WhiteWave, she says, focuses on sourcing sustainably, providing consumers with sustainable product choices and trying to get its employees to engage on sustainability issues.
Bratter outlined two recent initiatives WhiteWave has undertaken on sourcing. The company is working with its almond suppliers and non-profit organisation The Xerces Society to introduce pollinator-friendly agricultural techniques to US almond groves.
"We are partnering directly with our almond suppliers and partnering with The Xerces Society, which is a non profit. That is a model we use quite a bit: finding a non-profit who is a really deep expert in the work, then ourselves as a company and our brands, and then bringing together suppliers and customers," Bratter says.
Another key commodity WhiteWave has looked to convert to sustainable sources is cocoa. "We just achieved 100% sustainable cocoa for our entire portfolio, so any products at WhiteWave like our Horizon chocolate milk or our Silk dark chocolate almond milk are all sustainable cocoa. We have certified through a third party," Bratter says.
WhiteWave believes third-party verification is important because it provides an industry-wide standard in which the company and consumers can have faith. For this reason, WhiteWave ascribes to the Non-GMO verification scheme and uses the logo on its products that are free from genetically modified materials.
"It takes effort to ensure our suppliers have all the documentation they need and that they are coming from non-GMO sources," Bratter explains. "When it comes to non-GMO labelling, we have taken the approach to go with non-GMO verified to ensure that we have on-pack clear labels."
The company's palm oil supplies are certified by the Roundtable on Sustainable Palm Oil. One of the biggest challenges in palm oil is supply from sources that are certified sustainable is struggling to keep up with demand. Bratter views this 'pull' factor in a positive light. "The more demand there is, the more suppliers you bring on-board and it cultivates the system. We were one of the first companies in the US to go certified sustainable palm oil. When we first started there was not segregated supply even available to the US. And now there is. By more demand, we are creating more sustainable [supply] and hopefully helping farmers, helping support their livelihoods."
WhiteWave intends to keep putting pressure on the supply chain to shift to ever more sustainable palm oil production. "We signed on for the RSPO Next criteria. It is the next generation, goes beyond the base criteria and says things like we will not develop on peatlands. We have a public commitment to that and we partner with suppliers to make sure we are driving them forward and holding them accountable."
RSPO Next: What has been the reaction to the new palm oil standards? – just-food analysis from February 2016
Bratter adds: "Really our approach to ingredients sourcing is we look for risk and we look for opportunity. We want to make sure that from a social impact side of things and the environmental impact side of things we are doing the best we can."
WhiteWave believes it can have a positive impact on the environment and people's health through the types of products it offers – a characteristic of the combined business Danone has sought to emphasise in recent weeks. Bratter terms it "illuminating better options".
"That is about bringing choices to consumers, everything from natural and organic to plant-based, better-for-you, low-calorie. A variety of products that we want to bring to consumers. It is also about better options in things like sustainable packaging, recyclable packaging and non-GMO options."
Bratter says plant-based products are a "huge piece" of the puzzle. "We have done a full like-cycle assessment on our Silk and So Delicious, all of our plant-based varieties: soy, almond, coconut and cashew. We found the plant-based beverages use three times fewer greenhouse gas emissions per half-gallon to a half-gallon of dairy milk. And the same on water conservation. It is about 900 fewer gallons on average from one-half gallon of plant based versus one half gallon of dairy milk."
WhiteWave's portfolio does also include dairy-based products under brands like Horizon Organic, while of course the creation of DanoneWave brings with it a wider range of dairy products. "We definitely are looking at all of these issues as holistically as possible," Bratter says, referring to the WhiteWave portfolio. "We also really believe that organic and organic agriculture is critical to sustainable agriculture," Bratter says.
WhiteWave has a dairy supply base of over 700 "family farmers" and the company encourages them to adopt more environmentally friendly practices, including "composting and reducing their emissions with cover crops and rotational grazing", Bratter says. "Things that really build the soil to sequester carbon and help offset the impact of the dairy."
She continues: "One of the things we have found is organic farming, you are really trying to build up soil with organic matter. The richer the soil, the more carbon you can sequester. The more rotational grazing you do, so the pasture roots stay intact, the more the pasture can take in carbon. Then investing different types of trees and things – one of the things you need to do with organic agriculture is create buffers from the farms near you so we found poplar trees are really great at cleaning the air and sequestering carbon."
WhiteWave has an initiative in place to support increased the adoption of organic farming methods by US dairy farmers, Bratter says. "Horizon is actually at the forefront of this. We have a transition programme where we pay a premium to farmers and help them transition to organic. Even while they are transitioning, where their milk is not able to be sold or labelled organic we are actually supporting them so that they can transition to organic. We have over 100 farmers in transition at any given time. We have great programmes that really support farmers because the more farmers that get into organic the better environmental impact we can have."
Bratter, meanwhile, says WhiteWave's desire to give consumers "better choices" means sustainability is part of the company's product innovation. "Sustainability is actually part of our R&D department in terms of framework. It gives us a unique opportunity to be part of design for sustainability. I work really closely with packaging engineers and product developers. As soon as we are starting ideas from innovation up, we are thinking about sustainability from sourcing of ingredients to low sugar or sugar alternatives all the way through to the packaging itself and seeing what types of innovation we can bring there in terms of sustainability."
Sugar has become an increasingly hot issue for US consumers, with high levels of sugar consumption in packaged food and drinks being linked to the mounting obesity crisis. Bratter says sugar reduction is on WhiteWave's agenda. "We don't have a formal commitment to cut sugar but we definitely know that the industry is moving and consumers are really aware of sugar intake right now. There is new FDA labelling guidelines coming in around sugar. It is definitely something we are focused on."
WhiteWave's third sustainability pillar centres on "empowering" its employees. "We believe that our employees are our greatest asset. If we truly want to change the way the world eats for the better, it is our employees who are going to make that happen. Everyone from our operators at our plants, who are paying attention to energy efficiency and water conservation, to our marketing employees who have the opportunity to really connect our consumers and connect our customers with our better message," Bratter says.
Engaging with its employees on sustainability issues is "really important" to WhiteWave from both a recruitment and talent-retention standpoint, Bratter continues. The group runs a number of programmes that aim to "educate and inspire" its workforce. "I think our biggest programme with employees we call 'values in action'. It is a system where we provide education, volunteer opportunities and, I call it activism, of getting our employees involved in what is important to them. It is great that WhiteWave is super passionate about environment and social sustainability but I might be an employee with a different heart for something else. We want to inspire you and empower you to do that because when you are bringing your best self to work you are doing your best work."