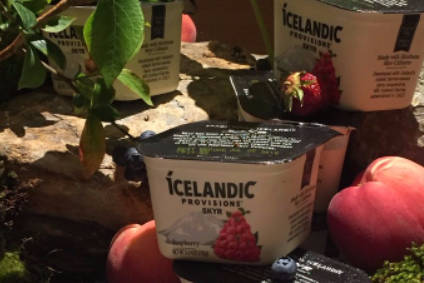 Icelandic Provisions is a company formed by investors from the US and Iceland to bring traditional skyr yoghurt to the US. Icelandic Provisions chairman Einar Sigurðsson believes that skyr has the potential to be the next growth area in US yoghurt, in much the same was that Greek yoghurt brought explosive growth to the category in the 2000s. Sigurdsson speaks to just-food about what he believes skyr brings to the category.
Dairy group Icelandic Provisions was formed for the purpose of launching skyr yoghurt in the US market, chairman Einar Sigurðsson reveals. The business was co-founded by Mjólkursamsalan (MS) Dairies, Iceland's largest farmer-owned dairy cooperative, after Sigurðsson – then CEO of MS – was approached by Jon Flint, Terry McGuire and Gregg Rubin of Polaris Founders Capital.
"Icelandic Provisions was founded to bring authentic Icelandic dairy products to North America and is funded by investors in Iceland and the US," Sigurdsson explains. "Over the past 20 years, Terry and Jon fell in love with Iceland…its dramatic landscapes, unique culture, and incredible food. And, in particular, they fell in love with skyr, for its taste, creamy consistency, mouth feel, and high level of protein. Although MS exported skyr to the US, it was only available in limited quantities and in just a few stores only in the Northeast. The two Polaris partners ate a lot of skyr…for breakfast, lunch, and for post workout protein…and they were frustrated that they couldn't buy it everywhere they travelled in the US."
Apparently, to McGuire and Flint, the answer to this dilemma was simple: expand the availability of skyr in the US. They "used their Icelandic connections" to meet Sigurdsson, the CEO of MS at the time. "MS has been producing authentic skyr and Icelandic dairy products since 1927, building on recipes and dairy cultures handed down by its farmers and their families for the last 400 years. MS also wanted expanded distribution in the US and a partnership was born," Sigurðsson recalls.
He continues: "The PFC team joined MS and other Icelandic investors to bring skyr and, eventually, a broader range of traditional Icelandic dairy products to the US and, in the process, introduce Americans to the wonders of Iceland."
Currently, Icelandic Provisions sources its skyr products from MS Dairies, however, Sigurðsson says, the company ultimately plans to establish production in the US. "Our partnership with [MS Dairies] allows us to use unique heirloom skyr cultures that have been treasured and preserved in Iceland for hundreds of years. The product is currently made in Iceland but we will eventually move production to the US to reduce our carbon footprint."
The company launched skyr products in the US in January of this year. Icelandic Provisions initially rolled out five flavours: plain, vanilla, strawberry with lingonberry, blueberry with bilberry and peach with cloudberry. The company is expanding its line up with the addition of two new flavours – coconut and raspberry – available from this month. Each 1.5 ounce cup is available for a suggested retail price of US$1.79-US$1.99.
Icelandic Provisions has already secured some significant distribution gains, Sigurðsson notes. "Icelandic Provisions is currently available in the North Atlantic, Northeast, and Mid-Atlantic regions within approximately 900 doors of strategic retail partners in the United States," the Icelandic executive reveals. The company has secured listings with retail partners including Whole Foods, Wegmans, Super Target, Shaws and ShopRite. And Icelandic Provisions "plans to expand across the US during the second half of 2016", Sigurðsson continues.
Sigurðsson believes skyr is particularly well-placed to succeed in the US yoghurt category. "There is a noticeable demand for products that provide high levels of protein and mindful of sugar levels. Our skyr is unique in the marketplace because of our proprietary heirloom skyr cultures that give it an amazing taste without needing to add the near teaspoon of sugar that most Greek yoghurts add to make their product taste better. Research shows that consumers are becoming more and more aware that they don't need to compromise on taste for nutritional reasons."
Skyr plays to some key consumer concerns, with its comparatively low sugar content and its high protein levels, Sigurðsson stresses. The yoghurt contains 1.5% fat and 14-17 grams of protein per cup. Sigurðsson also notes it is "naturally lower in sugar" – with 33% less sugar per serving (5.7 grams), versus all SKUs from the top five manufacturers of flavoured Greek yoghurt, excluding SKUs with non-caloric sweeteners.
"Each cup contains four times the amount of milk as a cup of yoghurt… We plan to highlight the superior nutritional benefits of Icelandic skyr compared to other dairy products or competitors such as Greek yoghurt brands. Icelandic Provisions is mindful in sugar and remains virtually fat-free [with 0.3g of fat in a cup], but is thicker, creamier and higher in protein than yoghurt."
Icelandic Provisions also intends to stress the authenticity of its recipes. "Our brand is authentic in that it builds upon Icelandic skyr's rich and adventurous history as a signature Nordic food, which dates back to the ninth century when Vikings brought skyr to sustain them on their journeys and during the long winters," Sigurðsson concludes.
The Icelandic executive is confident that skyr, a popular dairy product in his homeland, will prove to have strong appeal to North America's increasingly health-conscious consumers.