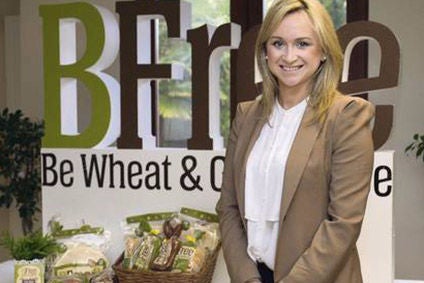 Ireland-based free-from foods maker BFree Foods, set up five years ago, is growing rapidly and expects that to continue this year, with plans to double its turnover in 2016. Demand for free-from products is rising but the sector, however, is becoming intensely competitive. Hannah Abdulla talks to BFree Foods general manager Alex Murphy to find out how the company plans to continue to expand.
BITESIZE STATISTICS
Name:
BFree
Brands:
BFree
Products:
Pitta breads, wraps, rolls, fajita kits, loaves, bagels
Markets:
Australia, US, UK, Ireland, Norway, Sweden
Founded:
2011
just-food: Since BFree Foods was launched in 2011, how has the company evolved?
Alex Murphy: When we started the brand was developed to cater to coeliacs. After this we got really stuck into consumer research and wanted to expand to consumers that were intolerant to wheat. But when we went on-shelf it was with dairy and egg in our products and we were getting feedback that 30% of people that had a gluten intolerance also had an intolerance to dairy. We removed dairy, replacing the whey protein with other sources such as pea and fibre from apples. As we grow, we see the number of non-sufferers now buying into this market rising. Those concerned with weight loss, health, fitness and so on. We knew we had to cater for the large, trending and emerging consumers. Last year we took out egg from our products. Now BFree is the only brand in the US and the UK that is free of all the top allergens, which opens us up to being suitable for vegetarians and vegans.
j-f: You mentioned the growing appeal of free-from foods among "non-sufferers". Who then would you say, today, is the primary consumer of your products?
Murphy: We think it's roughly 50-50. Fifty per cent are sufferers that buy it every week because they have to. The other 50% are those concerned with health. Typically in gluten free, manufacturers add in more oil, fat and sugar to make up the taste, flavour and structure. We've gone about it a different way. There used to be some breads [in the market] containing up to 14% fat. People eating them frequently could see they were gaining weight. So while we were focused on taking out the allergens from our products, we knew didn't want to go down the sweet/fat route with this brand. Our brand is exceptionally nutritious for you, high-fibre, low-fat – we add things like quinoa, chia, peas, apples and potatoes instead of traditional commodity flavours
j-f: Consumers are becoming increasingly aware of the practice in the free-from industry to replace allergens with poor-nutritional ingredients. Do you think this is damaging the sector?
Murphy: Years ago when we began this journey, before we made any recipe of our own, we brought in about 200 breads from around the world. Back then 90% of the bakery items were gas-packed. Some of them could last up to a year, having been pumped with preservatives, sugar, fat. That has changed an awful lot. A lot of the manufacturers are bringing out really high-quality stuff now. In terms of freshness and ingredients, consumers are more savvy. Sugar is a big deal; we get asked if we add sugar. and what kind of sugars we work with. The perception is real. Consumers are looking at this differently; they know gluten-free doesn't actually mean healthy. So the bad reputation it [free-from] had – manufacturers are having to react to it.
j-f: Your export business makes up almost 80% of your revenues. In which markets are you present?
Murphy: We're in Sweden and Norway. Two years ago we launched in Australia where we have a presence in about 950 Woolworths Ltd stores. They're branching out their distribution with additional lines. And we are in the US, the UK and Ireland.
j-f: Any plans to expand further afield?
Murphy: We are still a young brand, a young company. We strategically said 'let's just stop for the moment'. We're not looking for new markets. We have a real challenge to create sustainable sales for the markets we are in and increase brand awareness. The UK and US are certainly our focus markets for now and growing our brand in these two places over the next few years is fundamental.
j-f: BFree Foods has a target for its international markets to account for 90% of its revenues by 2020. How do you intend to meet that goal?
Murphy: The UK is our biggest market and we are focused on securing additional distribution. Morrisons also came on board recently and we've got the Co-op and Waitrose coming on in May. The brand is becoming a real leader in the UK. A Mintel report just came out that shows BFree, nearly after two years of trading, is in the top ten brands in the UK free-from sector. That shows the growth.
I can't tell you how quickly it is taking off for us right now in the US. We began research into the market about two, two-and-a-half years ago. It's a maze; its distribution systems are so tricky and the route to markets are very complex. Last August we launched into Ralphs on the west coast – owned by Kroger. That is 220 stores. And in the first quarter of 2016 we launched into Meijer. Between Meijer and Jewel-Osco, they represent 90% of the midwest area. The US is not as formalised in terms of listing windows. BFree is running at such a pace that the retailers see this is something very different. The quality is second-to-none versus what's out there already and the nutritional value of BFree is outstanding versus the competition. That's what is winning new listings for us. So I don't see 2000 stores by 2020 actually, I see 2000 stores by the end of next year without a shadow of a doubt.
j-f: The UK and the US, as well as Scandinavia and Australia, how have fairly developed free-from markets. How do you navigate what are increasingly mature markets?
Murphy: This is a cliche answer, but this is a demand situation. New consumers are coming into this category whereas before it was only coeliacs. For example, the weight-loss market was never part of free-from because products were so high in fat. Now, BFree is the only gluten-free brand Slimming World recommends because we got ahead of that challenge. Our wraps for example are the lowest calorie wraps on the market. It's sort of matching mainstream with free-from as there is now a new consumer shopping the aisle. The bays are stretching out; I'm not sure how much more the sufferers are buying but the mainstream consumers are coming into the category.
j-f: With the way free-from is growing, will it enter the mainstream aisles of the supermarket?
Murphy: It's already happening. M&S are doing it with their "made without wheat" range and in the US, we feature in the free-from freezer but also in the mainstream bakery aisles. So that time is now, it's happening as we speak.
j-f: And is that an important development for your growth as a company?
Murphy: Absolutely. For us the people who are shopping free-from know exactly where they are going but for those not necessarily seeking it out they might not shop that aisle ever.
j-f: What is your take on more of the larger, international packaged food companies entering the free-from category?
Murphy: It surely is a challenge. The amount of competitors that have entered in the last few years is incredible and technology is changing all the time. To keep ourselves relevant, our only focus is on free-from. For a lot of companies, it might be a side focus but this is our only mission. For us to really stay instrumental within this, new product development is is key. We like to think we have a real innovative spark with products like seed kits that add value to lines and make things convenient. And what we try and do is match what is in the mainstream. We launched a pitta bread this year but we won't go in thinking of it from a gluten-free point of view, we go in thinking how can we make this as normal as possible? So we make the pitta bread in a real stone-fire oven for example like a traditional pitta would be baked. For us, staying relevant through NPD, innovation and offering it out to as many consumers that shop this category is fundamental.
j-f: You mentioned BFree Foods' sole focus area is free-from. Is that important in setting you apart from competitors at a time where millennial consumers in particular are looking for brands they trust?
Murphy: I think it's a healthy balance. When the mainstream brands come in it does help raise awareness of the category for sure since awareness goes up and technology moves along. But for us, yes, we've built a trust with our consumers and they are very loyal. We bring them along on a journey with us. So this being our sole focus, I do believe consumers really trust the brand.