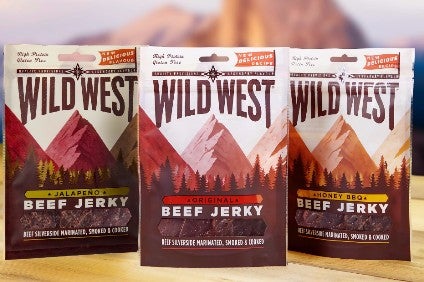 UK-based Meatsnacks Group has built a business with a leadership position in the country's growing jerky and biltong categories – but is looking to flex its muscles with new products and further geographic expansion. Dean Best met Meatsnacks Group managing director James Newitt at the Anuga trade show to find out more.
"I've been in this business for 15 years and I couldn't be more excited."
Executives are often enthusiastic about the prospects of their company or of the category in which they operate but, sometimes, in truth, that optimism can be misplaced.
However, it is easy to understand why James Newitt, the managing director of UK-based Meatsnacks Group, is upbeat about the prospects for the jerky maker and the wider market.
Sales of meat snacks, products serving growing demand for convenience, snacking and protein, are growing solidly in parts of Europe, with the UK, the Benelux markets and Germany among the markets to watch.
Analysts at Ireland-based Research and Markets in May predicted sales of meat snacks in Europe could reach US$4.59bn by 2025. "The demand for meat snacks in Europe is expected to increase rapidly as the market is still in its nascent stage," they wrote.
Meatsnacks Group, based in Milton Keynes, north of London, markets brands including Wild West jerky and Cruga biltong. In the UK and Ireland, the company manufactures and distributes jerky products under the Men's Health brand in partnership with the US-based consumer magazine of the same name. It also makes jerky products under private-label contracts for retailers such as Marks and Spencer in the UK and Lidl in Europe. Outside the UK, Meatsnacks Group exports to more than 25 countries.
Meatsnacks Group in its present form was created just two years ago when The Jerky Group merged with biltong supplier Cruga. The two companies had been working together, with The Jerky Group distributing Cruga's products and its own jerky lines being packed for retail by the biltong manufacturer.
The combined business has three manufacturing facilities and generates annual sales, Newitt says, of "between GBP13m (US$17.1m) and GBP15m", although, as a privately-owned SME, the company is not obliged to disclose more specific numbers. It is, Newitt claims, seeing year-on-year "double-digit" growth.
"It's been double-digit the last three years," he tells just-food. Asked if Meatsnacks Group sees that rate of growth continuing, Newitt adds: "Absolutely. We're very excited about the space."
Newitt is speaking to just-food at the Anuga trade expo in the German city of Cologne, one of the major events on the industry calendar this year.
Among the products Meatsnacks Group is showcasing at Anuga is salmon jerky, an area in which the company is looking to make inroads. Last year, Meatsnacks Group moved into a facility in Grantown-on-Spey, a town in the Scottish Highlands where it is to make its salmon jerky lines. The plan, Newitt says, is to manufacture own-label and branded salmon jerky. The company is looking to market salmon jerky under two brands – the existing Wild West and a brand it will market at home and abroad, Speyside.
"On Wild West Salmon Jerky, we're talking to a lot of UK grocers. Marks and Spencer will be launching under their own name of salmon jerky, naturally. Speyside is really the brand that we're really pushing as an export brand," Newitt says. "[There has been] a lot of interest in that from the Far East and America, which is very exciting. Saying that, Speyside actually works really well through the point of view of delis and the likes of Harrods, Whole Foods; [there's] a big opportunity for Speyside in that world."
Meatsnacks Group is touting the health credentials of salmon jerky, pointing to the protein and omega-3 content in the product, as well as the relatively low amount of calories.
"One of the biggest opportunities for us is bringing in salmon, which is really, really healthy. It's even more healthy than beef jerky, it's the omega three element of it," Newitt says. "I'm really excited about where salmon's going to take us in the next few years. The response to that is fantastic and I think that salmon will take us to a different level."
If the market forecasters are right, meat snacks like beef jerky are set to continue their rapid growth in Europe. However, a countervailing trend is the rising interest among meat-eaters in reducing their consumption of meat. Could that hamper the growth the meat-snacks market in Europe is forecast to see?
Newitt brushes off that prospect, though he suggests, in countries like the UK (when compared to the US where the jerky market is more mature) there is still the issue of getting consumers to actually try the product.
"In America, it's a huge category and people get beef jerky. In the UK, most people try it. They may be a bit resistant, but when they try it they say 'Actually, that's really nice.' It's almost like getting them over the initial aversion of trying the product and then they actually become really big fans of it."
Meatsnacks Group has built a business that is the largest meat-snacks player in the UK by market share. However, the growth of the category in the country and in neighbouring markets means rivals continue to invest. Earlier this month, Australia-based New World Foods announced its latest plans for expansion in the UK.
Newitt is sanguine about the competition and points to Meatsnacks Group's recent moves to invest in production and to change the recipes and packaging of its products. "They are good guys, they've got good brands, and together there's room for all of us. The opportunity when I look at the market value here, we've got such a long way to go," he says. "We're heavily investing in our business too. We've got three manufacturing facilities now, we're putting more cooking facilities in and we're expanding our drying platform for drying more biltong."
Further geographical expansion is part of Meatsnacks Group's plans for growth. Europe accounts for 20% of Meatsnacks Group's turnover and the company is looking to add to its business on the Continent. It has, for example, just launched the Men's Health jerky in Germany. "We've got some really good listings in Europe now, with some multiple retailers," Newitt says, reflecting Meatsnacks Group's overall business there. "We're excited about it. I think the biggest scope for us is to grow our European business. For us, it's about growing relationships with key retailers and finding the right distributors."
Newitt does have his eye on the greatest prize – by market size – in jerky: the US. The rate of growth in the category may not match that seen in smaller European markets but, according to Nielsen data released this summer by industry body The National Cattlemen's Beef Association, beef jerky sales grew by almost 7% in 2016, a very solid rate of expansion when compared to other established snack categories like savoury potato-based snacks.
Meatsnacks Group does not have a presence in the US but Newitt suggests an entry could come, if not by the end of this year, then in 2018.
"There's a challenge in taking beef to the US still but that will change in time. I think at the moment taking our salmon is an opportunity for us into North America. I think we're actually producing a better salmon product than they do. Salmon jerky is available in the US but the comments back from the US have been really favourable to the quality of product we're producing using Scottish salmon."
The US was the location of perhaps the most notable M&A deal in meat snacks in recent years, when, in 2015, confectionery giant Hershey added local jerky supplier Krave to the Reese's chocolate and Ice Breakers mints in its portfolio.
Has Meatsnacks Group received enquiries from would-be buyers? "Every week. We're in a great position, everybody likes what we're doing here. It's a nice space," Newitt adds. However, the company has no interest, at present, in selling up.
"Not at the moment, no," Newitt insists. "We just want to crack on. We're in a great, great place to grow the brand and to look forward."