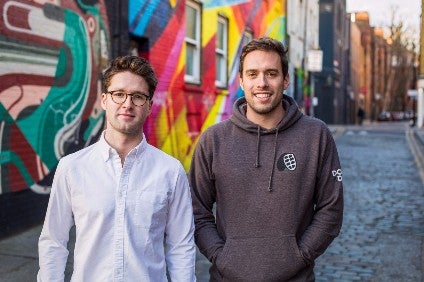 UK-based chocolate business Doisy & Dam recently announced it had gained B Corporation status. Ben Cooper spoke with co-founders, Ed Smith and Rich Wilkinson about the importance this young company places on sustainable growth.
New companies seek to mark themselves out with ambitious commercial aims but today, as sustainability becomes increasingly important to consumers and businesses alike, a company may set out equally bold aspirations regarding the manner in which it intends to achieve greatness.
This may speak to a founder's personal values and ideals but, with an eye on successful brands such as Ben & Jerry's ice cream and Innocent smoothies, placing the company's ethos at the heart of its positioning appears to have compelling business advantages.
One food company following just such a path is London-based premium chocolate brand Doisy & Dam, which last month announced it had become the 128th company in the UK to obtain B Corporation certification.
B Corps are enterprises certified by the US-based non-profit B Lab as meeting "rigorous standards of social and environmental performance, accountability and transparency". The programme now extends to 50 countries, comprising more than 2,100 companies. For SMEs particularly, the sustainability credentials and networking opportunities B Corp status offers are increasingly significant.
Doisy & Dam began looking into B Corp accreditation around eighteen months ago following discussions with other companies that were either working on or had achieved B Corp status, Ed Smith, one of the company's co-founders, explains. "We started looking into it and we realised from a personal perspective it matched up almost identically with our ethos." Smith says the public and transparent basis for B Corp accreditation make it "more powerful than self-imposed corporate social responsibility". The company has published its B Corp Impact Report on its website, and plans to include its B Corp accreditation on-pack.
Placing sustainability considerations high on the agenda from the start offers multiple benefits, Smith continues. "It's fulfilling for us, it's good from the business-to-business perspective, it's good for the business to consumer perspective and it's good from an internal team perspective. I think consumers are becoming more and more aware of sustainability credentials. I don't think people are aware of B Corporation yet but I think they certainly will be, as a gold standard of sustainability accreditation. It's in our own long-term commercial interests to be sustainable, forgetting the fact that it's something we care about and something we want to do."
The Doisy & Dam product proposition is high-end, organic Colombian chocolate, marketed in flavour combinations incorporating 'superfood' ingredients, such as goji berries, baobab fruit and Himalayan pink salt.
In the current climate, with rising obesity seldom out of the news, marketing a chocolate brand with any kind of healthy eating claim may sound unwise, though in its literature the company goes no further than to suggest its chocolate represents a "healthy indulgence".
No Doisy & Dam bar will contain more than eight ingredients, and will include a minimum of 8% superfoods, the company claims, while a high cocoa content means less sugar and fat. "Our focus really is providing a product that by virtue of its quality and the lack of unnecessary ingredients is better for you than what it sits next to on the shelf," says co-founder Rich Wilkinson.
The range includes, for instance, a Lemon, Poppy Seed & Baobab white chocolate; a Quinoa, Smoked Tea and Vanilla milk chocolate; and a Goji & Orange dark chocolate.
A certain cachet as an "alternative" product, with the emphasis on superfoods in particular, and a high prioritisation of sustainability ideals could be seen as mutually supportive in terms of consumer positioning. In particular, the exotic ingredients suggest thought and consideration in selecting and sourcing ingredients.
Indeed, it is in supply chain management where the company's exacting approach to sustainability is most in evidence. Wilkinson says the company's "number one priority" is to secure direct trade with single-origin Colombian cocoa producers in the future. "That's what we're going for so that we can literally trace every single bean to where it's been made and who it's been made by." It aims to buy all its cocoa directly from source by 2018, and has also committed to owning its own plantation in Colombia by 2020.
A notable step towards those aspirations will be marked in September when Doisy & Dam will launch a new flavour made from cocoa sourced for the first time from a single designated location in Colombia.
While exacting in managing its own supply chain, the company is extremely lean and currently contracts out production of the chocolate itself. At this stage in its development, contracting out production would be expected. However, while clearly keen to maintain a high level of transparency in its business, Doisy & Dam is not permitted to name its contract manufacturer, something its founders appear to find a little frustrating.
"I would love it to be much more transparent as an industry but for some reason particularly in confectionery they are so secretive about knowing who's got who as customers," Wilkinson says, again stressing the degree of control the company nevertheless retains over both sourcing and production. "They make the chocolate to our recipes, using ingredients that we've sourced and the packaging that we've sourced and provided them with. We buy the ingredients and everything that goes into it."
Three and half years since its launch, Doisy & Dam is growing rapidly. On the back of listings with retailers such as Sainsbury's, Selfridge's, Ocado, healthfood chain Holland & Barrett and Whole Foods Market, the company will commercialise some 50 tons of chocolate (around 1m bars) this year. Revenues are forecast to grow from GBP700,000 (US$911,000) this year to GBP1.2m in 2018 and GBP2.5m in 2019, with volumes increasing threefold from 50 tons to 150 tons.
In addition to retail listings, Smith says online also offers considerable growth opportunities. "There are huge opportunities online and I think that's going to be a big focus for us over the next year," Smith says. In addition, he says communication through the website provides valuable market data and consumer feedback.
A number of times Wilkinson alludes to the challenges the exacting approach to sourcing, such as opting for organic production, has created for the company but he also emphasises the market opportunity this approach has created. "New brands can't just copy what people are doing and expect to be successful," he says. "We've been able to be fast, creative and present something that didn't exist before. So, we were able to put something on the shelf that met the sustainability credentials that we wanted it to, tasted really good and had a point of difference, and sustainability is part of the point of difference."
Doisy & Dam is by no means the first start-up in the food sector to wear its sustainability on its sleeve and appears to provide further evidence of the benefits of doing so.
That is not to say the company is simply making the right noises. As its B Corp status now attests, this is about doing the right things. During the last ten years or so, many larger and more established companies in the food sector have sought to reprioritise their businesses with a greater emphasis on sustainability. However successful these efforts may be, claims that sustainability is "in our DNA" can ring a little hollow if a company has clearly set about adapting established modes of practice to pay more heed to sustainability concerns.
Thankfully, Doisy & Dam's two founders, who have been friends since childhood, studiously avoid this rather overused and devalued expression. Nevertheless, it might be pointed out on their behalf that for a sustainable ethos to be truly part of a company's DNA it has to be there at its birth.