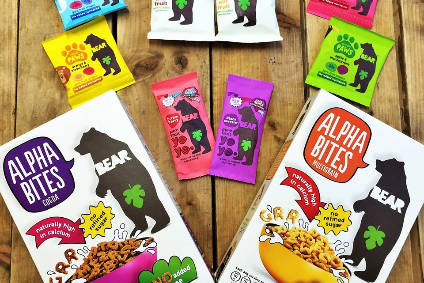 Urban Fresh Foods, the privately-owned UK firm behind the children's-focused snack brand Bear, said last summer it was looking at ways to expand internationally and suggested it could accept investment. Just before Christmas, the company, set up in 2007, announced it had agreed to a takeover bid from Belgium's Lotus Bakeries. Dean Best speaks to Urban Fresh Foods partner Giles Brook about what the deal means for the business.
Four months after Urban Fresh Foods revealed it was in "exploratory" talks with companies in a bid to expand outside the UK, a week before Christmas a full takeover of the business was announced.
Lotus Bakeries, the Belgium-based biscuit and waffle maker, snapped up Urban Fresh Foods, a privately-owned company set up in 2007 and owner of snack brands Bear and Urban Fruit.
For Lotus Bakeries, the deal was the second the company made in the UK in 2015, following its move to buy 67% of Natural Balance Foods, the business behind snack bar brands Nakd and Trek.
Giles Brook, who joined Urban Fresh Foods in 2009 as a partner and an investor in the business, says the company attracted "a load of bidders".
"We had massive multi-nationals interested, the global players, as well as very strong European and UK players," he tells just-food.
Brook says there was initial interest "from a not surprising" double-digit number of suitors but, from a second round that comprised a single-digit group of bidders, Urban Fresh Foods moved forward with Lotus Bakeries.
The deal was struck for a reported GBP70m (US$102.6m), although just-food understands there were higher offers on the table. Brook declines to comment on the value of any of the rival bids, instead emphasising why Urban Fresh Foods' shareholders, which also include husband-and-wife founders Andrew and Hayley Gait-Golding, shook hands with Lotus.
"They were our lead choice," Brook says. "It was more about who's going allow us to continue to run Bear as it is today. If somebody tries to take us into a mother ship it's not going to work for us."
An oft-cited challenge in the wake of any takeover is integrating the new business into the buyer's structure. The problems can be greater when a large group buys a smaller entity, there being a danger of stymying the attributes that was driving growth at the up-and-coming business.
Brook suggests such considerations were on the minds of Urban Fresh Foods when it was weighing up the offers on the table. Lotus Bakeries, however, is a much larger business but Brook says the way Urban Fresh Foods will be run under its new owner stands the UK firm in good stead.
"Lotus is a family business, and it's run in a not dis-similar way to ours. We said 'Look, do you know what? That's the only way we can continue to be successful.' Ultimately, they're the only partner that can really allow us to run the business as we do today, because that is going to be critical to the business being successful going forward."
Lotus Bakeries' ownership presents Urban Fresh Foods opportunities to grow at home and abroad, says Brook, who will, alongside his other business interests, remain a strategic advisor to the company's new owner.
In the UK, Urban Fresh Foods has already carved out a strong position in the market for children's snacks. According to data from IRI, sales of Bear Nibbles reached GBP17.9m in the 52 weeks to 7 November, up from GBP13.5m a year earlier.
"We've now become the number one kid's fruit snack brand on a fifty-two week and a twelve-week basis," Brook says. "To give you an idea, our share is now in excess of 30% of fruit snacking."
However, he adds: "Our household penetration is less than five percent. We have a business that has been working well, has been cash generative. When you go into a business like this we actually think that we can significantly accelerate the UK business by channelling some of those profits back in to the UK to accelerate it even further.
"I think if you stay independent, taking those sort of decisions to invest so much back into the UK can be higher risk, because you haven't got any backing to rest yourselves against. Right now, we can really look at opening better in the UK to accelerate the growth, and if it means depressing profits for a couple of years then that's not a problem."
Brook insists Urban Fresh Foods will be run independently from Lotus Bakeries' other new interest in the country, although he says there could be opportunities to share contacts with Natural Balance Foods.
However, he says Urban Fresh Foods could look to tap into Lotus Bakeries' presence in other categories to potentially lead to the Bear owner entering new categories in the UK. "It might lead to us having some great innovations. We might be able to accelerate offering a new category, which then could really continue to grow our UK stronghold. Is there possibility for us to go into other adjacent categories which are really exciting that Lotus operate in? There is, but we haven't even got to that stage because all we've been focusing on is our own three-year plan."
Internationally, Urban Fresh Foods has made some inroads in market outside the UK, with recent moves into Ireland, Sweden, the Netherlands and the UAE. The company's international ambitions was central to the company considering investment. In Urban Fresh Foods' existing markets outside the UK, the company will continue to use its existing distributors. However, Brook says Urban Fresh Foods expects to use Lotus Bakeries' presence to open new markets and benefit from a range of products that will also include Nakd and Trek.
"Let's take for example America, we're not in America at all yet. We're going to have somebody in the UK who's going to lead the US launch, but they'll be working in conjunction with the Lotus team who are going to be representing us in America," he says. "When you look at America, it probably makes more sense that there will be somebody who will not just talk about Bear and Urban Fruit, but will be talking about Bear, Urban Fruit, Nakd and Trek. And that is a really strong proposition so international markets."
Brook concedes other companies that were interested in Urban Fresh Foods had a stronger presence in the US but again insists none trumped Lotus Bakeries. "There were global players, some of which were very strong in the US. The best partner for us when we took everything into consideration was Lotus," he says.
Urban Fresh Foods had already had talks with US retailers and, with Lotus Bakeries' backing, would like to take its brands into the country this year. "It'll either be 2016 or 2017. We'd like to go into 2016. We've got some pretty big national and regional players who already we'll be speaking to. So I think it'll just be about getting through the process and just making sure we've got the right launch plan. We'll be launching in a very selective area, i.e. one state or something like that. We will build it out properly. We're not just about to launch nationwide."
Whether the US or not, Urban Fresh Foods will add to its international markets this year, Brook adds, although he declines to comment on where consumers could next find brands like Bear.