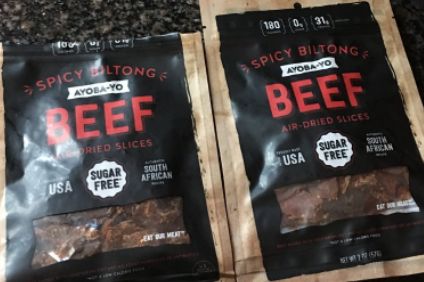 A family of South Africans who moved to the US missed their beloved biltong meat snack so much that they started producing it for family and friends. It is now a full-time business called Ayoba-Yo – a term used to express excitement or amazement – which is attempting to compete with American favourite jerky and working with Kraft Heinz on its development. Andy Coyne talks to company co-owner Wian van Blommestein about its prospects.
Name: Ayoba-Yo
Location: Washington DC, US
Products: Beef biltong, droewors and boerewors
Founded: 2015 (as a full-time business)
just-food: Tell me about the family moving to the US from South Africa. What was the main reason for relocating?
Wian van Blommestein: We came over to visit in 1998 and after that my parents applied for the Green Card lottery every year. It eventually came up and we moved to the US in 2001. It was an amazing opportunity for them and for us as well. I was 13 when we moved to the Washington D.C. area.
just-food: Obviously you'd grown up in South Africa with biltong which you couldn't easily get in the US. How did you get on with the local product jerky?
van Blommestein: When we moved here we missed the culture of South African meat which is very important to South Africans. To people in the US I describe it as being like coffee is to them: available everywhere. In South Africa every butcher will have their own biltong recipe.
just-food: You decided to make the familiar products from home for yourselves. Did you know how to make them or was it a steep learning curve?
van Blommestein: We had a family recipe. Soon after we moved we started making it every Saturday in the kitchen at home. There's a relatively large South African community in Washington and our South African friends enjoyed it but then so did our American friends. We realised we were on to something with a high protein snack which contained no sugar.
just-food: What was the journey from making biltong and droewors products for your own consumption to turning it into a business?
van Blommestein: We took the product into Whole Foods Market locally and they really liked it and started to sell it. I had worked in accounting but in November 2015 I gave up my job to go full time on the business.
just-food: How did it fare in the early days. Did you have to get investment for premises, equipment etc?
van Blommestein: It was still a relatively small upwards curve. Nobody really knew what biltong was. There was a lot of education behind what we do and what we sell and there still is. But when people tried it they thought it was amazing. And we managed to get it into the local shops where South Africans shopped. We also went online to promote it as it fitted in with health trends and is perfect with diets such as Paleo. We have not had any outside investment. The business so far has been self-funded and money then goes back into the business.
just-food: Have you had to link up with other businesses to help you in areas like marketing, packaging and distribution?
van Blommestein: The day-to-day stuff is done from home. My brother Emile joined the business full time at the start of the year but even before that everyone helped out, doing demos in grocery stores etc. We spread a lot of the responsibility because there was so much to do. But we use a USDA facility to make the biltong for us. We can't make it in our kitchen and sell it in major grocery stores. Ultimately we want to bring the production back in-house. We recently signed with a distributor in the north east and most of the marketing is done in-house but in terms of other stuff we have relied heavily on our network of friends as we didn't have outside funding and they will usually do it in exchange for produce.
just-food: Biltong must seem like quite an exotic food in the US, How did you find your initial retail customers and get the word out about the product?
van Blommestein: The jerky industry is very big right now but retailers know the category is saturated. What we have going for us is that we are an improvement on beef jerky and we have better claims. As soon as we are on their shelves we can drive new traffic to them.
just-food: Until recently you have been marketing the products around the Washington area but have secured some listings with retailers such as Kings Food Market and Balducci's Food Lover's Market, to take them further afield into the US north east. How did these deals come about?
van Blommestein: Mostly through food trade shows. We try and put our products in front of as many customers and retailers as we can.
just-food: Given the love in the US of jerky, the growth of protein products and the fact your products are free from gluten, soy, MSG and nitrates, you would seem to tick a lot of boxes in terms of food trends. How big do you think the business can get?
van Blommestein: Astronomical. It is truly an improvement on beef jerky and consumers are looking for alternatives to American staples. We have signed with another distributor – Rain Forest Distribution – which will take us into the mid-Atlantic area and take our Whole Foods reach up from 24 stores to 54. We have also signed up with Thrive Market, which is like a Whole Foods for the internet but its also a bit like Costco because it has a membership scheme.
just-food: You've been chosen for the inaugural Kraft Heinz incubator. What are you hoping to get out of it?
Kraft Heinz has a vast amount of knowledge of the food industry and we are trying to absorb as much of that knowledge as fast as we can
van Blommestein: Kraft Heinz has a vast amount of knowledge of the food industry and we are trying to absorb as much of that knowledge as fast as we can. It's in Chicago and my brother and I are alternating between here and there to take full advantage of the opportunity for the long term. It means longer hours but it's worth it.
just-food: I understand Kraft Heinz has an option to take a stake in the business?
van Blommestein: Yes there is an option for that in the future.
just-food: Would you welcome such a move?
van Blommestein: Absolutely. They are a very valuable partner.
just-food: Aside from the new distribution deals you've mentioned what does the immediate future hold for Ayoba-Yo?
van Blommestein: We are working on new flavours and heading to a trade show in New York.
just-food: Is international expansion on the agenda?
van Blommestein: It's something we talk about and we would love to do it in the future but for the time being we are concentrating on the US and the east coast in particular. We are building the business city by city.
just-food. Can you give us an idea of your sales numbers?
van Blommestein: Sales grew by 140% from last year to this year and we are expecting that figure to treble in 2019.