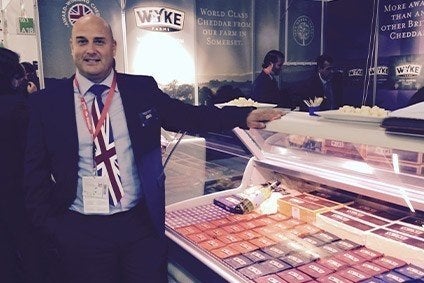 UK cheddar maker Wyke Farms hopes to quadruple the size of its international business over the next four years. For a premium company with some significant long-term ambitions, growing overseas is an increasingly important strategy as Wyke grapples with a highly price-sensitive UK market. Katy Askew speaks to Wyke MD Richard Clothier.
Wyke Farms MD Richard Clothier enthuses about cheddar his company makes. The family-owned business, located just a few miles from the village of Cheddar in Somerset, has been making cheese to the same recipes for 150 years. For Clothier, Wyke's cheddar is about as authentic as you can get.
But for an independent dairy operator, the UK market is a tough environment to operate in. "The UK market is an increasingly hostile place to do business. The retailers are all competing with each other [on price]. There are some really big dairy businesses trying to flex their muscles and expand, dominating the whole of the UK retail sector. Businesses like Arla ," Clothier tells just-food.
In some UK retailers, Clothier says, as much as 90% of cheddar sold is sold on promotion. "If you are a premium brand from Somerset, with a load of values and tradition, you don't want to be fighting out toe-to-toe on price because at the end of the day our product should do more than that. The UK market is too obsessed with promotion. Its too obsessed with category and category strength. And no one is focusing enough on what the shoppers want… In the UK it is all about category muscle and brinkmanship, which is not conducive to a good retail sector."
The UK retail scene has largely been shaped by the supermarket response to the growing discount sector in recent years, with the likes of Aldi and LIDL growing apace in the market at the expense of the likes of Tesco , Asda, Sainsbury's and Morrisons . The big four have slashed prices in a bid to win back consumers. However, Clothier believes the discounter model is about more than price and the ranging of the discounters leaves space for premium brands like Wyke to grow.
"Our brand is doing quite well in Lidl," he reveals. "The discounters, if you look at the demographics of their shoppers, there are quite a lot of A-Bs. There are people there that are on a journey. They are on a trip and if they see something they like they will buy it. There is space, there is always space, for quality and products that are relevant to shoppers. In some ways the discounters maybe get that more than some of the multiple retailers at the moment."
UK sales currently account for around 70% of Wyke's sales volumes. But as the company looks to expand, it is looking beyond the UK to fuel growth. "International sales are growing really quickly. We are probably up about 100% on last year… We have set ourselves a target of quadrupling our exports within the next four years. We have a lot to do but we are really optimistic that we can do that," Clothier reveals.
An important part of Wyke's strategy to grow internationally has been the launch of a range designed specifically for export markets. Wyke hopes the export line, which was unveiled at the Anuga trade show in Cologne last month, will act as a "springboard" to further support international expansion.
"We wanted to relaunch because originally we felt that we were selling the same UK range in export and we felt that the UK range and export range needed to be different in some ways. We really wanted to show our point of origin and our point of difference in exports. We decided to have a defined range specifically for export. The export product is a different size, slightly smaller than the UK product, it has the Union flag, the English rosette, the green energy logo. They are all things that people really buy into."
Currently, the company's largest overseas market is France but Wyke sells product into 160 countries globally.
Wyke is targeting growth across a range of international markets, Clothier continues. "We are targeting the Far East, Asian markets. We are really pushing into the US now. South America, North America and the Asian and Indian markets." He suggests that while a lot of attention might be focused on the large markets in North America and Asia, there are some "real surprise packages" further afield.
"There are some big powerhouse companies in South America, Brazil, Mexico, Columbia. They are all used to dairy products and are eating more dairy products. There is going to be volume. Everyone is talking about Asia and the US but there are some real surprise packages outside of there. I am really excited about the Indian market. They are just starting to eat more dairy products. We have orders in there and they really like it. Massive population, massive increase in wealth and spending."
Wyke also sees potential in areas like Africa, where it currently sells into 16 countries on the continent. "It is these pockets of affluence where they are looking for western type goods and a premium offering," Clothier notes. "We'll go anywhere."
The managing director attributes Wyke's international appeal to the company's herritage and the quality products it produces. "Wherever you trade in the world, people want products that are natural unadulterated and primarily really good quality. That is what they are looking for in these areas. They don't want commodity type products the want something that is really special from a special region. They want only the very best."
Winning large multinational customers is, however, about more than the product itself. Wyke is also able to cater to the needs of customers like Carrefour , Costco or Wal-Mart-owned Sam's Club because it can deliver significant volumes of cheese, Clothier explains.
"We have got the scale to go into those big markets. If they order container loads we are not going to run out of product. It's a critical thing. We have to be fit for the future. We have a good balance from the point of view of export. We might not be big in the UK. We are a decent sized independent business that is small enough to be traditional and artisan. But we are still big enough to do business with Costco, Sam's Club or Shoprite in South Africa."
Having the production capacity to support rapid international growth and make Wyke "fit for the future" is vital. Currently the company is operating at about 25% spare capacity across its production sites, but if Wyke's international expansion continues apace it will need to invest further in capacity, Clothier predicts. "If we hit our volumes on export within four years we'll be getting up to [capacity] limits. We will be looking to invest in our manufacturing. We are not scared of investing in the business, it is part of what we do. But it is nice to be in that position."
Because Wyke is family-owned it is managed with an eye to the long-term and is "not not afraid to invest in the future", Clothier claims. "For us, we have been making cheese for 150 years. It is not about next year, it is about maybe ten years time, which is different to how a plc would view it."
Where does Clothier see Wyke in ten years? "I would see Wyke as a strong international brand and one of the biggest brands in the UK – but a premium brand. A multinational brand trading in all the regions of the world with scale and repeat purchase and loyalty. That is a realistic target I think."
It could well also be a brand where international sales outweigh domestic sales, Clothier continues. "We are rapidly getting to the point where our international customers are as big as our UK customers. The target next year is to get a situation where we really get those international guys to reach their potential. I could quite easily see a situation where in four-to-five years, one of those Asian or US supermarkets could be our biggest customer."