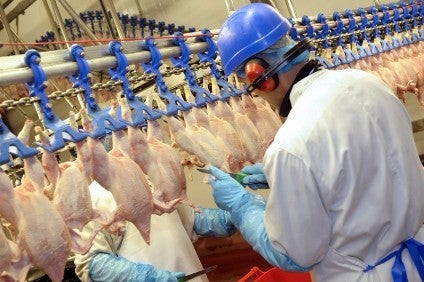 The UK's 2 Sisters Food Group is increasing output at its chicken processing site at Flixton in Suffolk, just weeks after another plant in the West Midlands reopened following a food safety investigation.
The UK's second-biggest food company has completed an upgrade of the site and installed new technology as part of a nationwide "multi-million pound investment programme" in its poultry operations. The expansion will create 100 jobs.
"The upgrade at Flixton will enable us to grow business and provide new career opportunities for people in the region," Allison Smith, the general manager at the factory, said in a statement yesterday (30 November).
"This is great news for the site and acknowledges the loyalty and capability of our fantastic colleagues that continue to go the extra mile each and every day to supply our customers with great quality, safe chicken."
2 Sisters restarted production at the West Bromwich plant on 6 November after it was temporarily closed in September following an investigation that revealed poor hygiene standards. The undercover probe by The Guardian newspaper and ITV News had pointed to alleged tampering of slaughter dates on fresh chickens and the return of dropped birds to the production line.
The probe saw owner Ranjit Singh Boparan answer to a UK parliamentary enquiry, where he promised to undertake measures to improve surveillance and inspections.