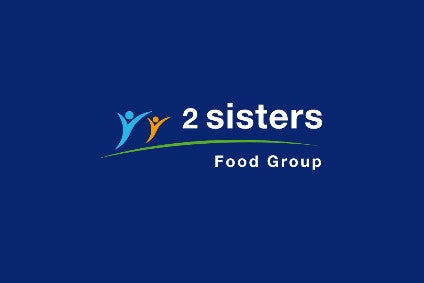 2 Sisters Food Group is to merge two of its poultry units under new plans set out by recently-installed CEO Ronald Kers, who took the reins at the UK manufacturer at the start of the month.
Kers, the former chief executive of Germany-based dairy group Unternehmensgruppe Theo Müller CEO, argued "there is so much opportunity for the business" and has devised a "framework for success" for 2 Sisters, at the centre of which is the combination of its UK poultry and "added-value" divisions.
2 Sisters' added-value division is a part of the business that focuses on products involving chicken beyond standard poultry products – for example, marinades and ready meals.
"A merged poultry operation will help deliver end-to-end solutions from farm to fork and also for us be more aligned across fresh and added-value poultry, something our customers are increasingly asking for," Kers said.
The new 2 Sisters chief executive also wants to "accelerate" the "turnaround" of 2 Sisters' poultry operations and emphasised the opportunity he saw for the group in the poultry sector.
"2 Sisters can capitalise on global trends that can take us to the next level. Poultry is a growth market so fundamentally attractive. Consumers are also increasingly looking for healthy, convenient and affordable food, and both our poultry and our non-poultry businesses deliver this," Kers said.
"The rise of 'retailer own brands' is another big opportunity. These are becoming the biggest brand in the world and if we can use our scale and expertise, we can stay ahead of our competitors and succeed in the longer term."
2 Sisters' latest plans follow a number of recent business disposals and market talk of further offloads. In July, the company sold its red-meat assets to Ireland's Kepak Group and has also divested its Goodfella's and San Marco pizza brands. Meanwhile, The Sunday Times has previously reported that the Holland's Pies and Donegal Catch operations are maybe being lined up for sale.
Kers replaced 2 Sisters' owner and chief executive Ranjit Singh Boparan, who moved on to the role of president of the parent company Boparan Holdings amid a commitment to cut debt. And after 2 Sisters found itself embroiled in a hygiene scandal revolving around one of its poultry processing plants last year, the firm has struggled to revitalise earnings.
Kers, meanwhile, announced two senior appointments. Technical director Chris Gilbert-Wood has decided to retire next year and will be replaced by Greencore technical director Helen Sisson.
2 Sisters commercial director Frank Robinson is to leave the business in November. He will be succeeded by Dan Howell, who joins from Muller, where he was most recently commercial and strategy director for the dairy group's Muller Milk & Ingredients arm.
Kers added: "Clearly we are undergoing a period of rapid change and I do know that sometimes the pace of change can be unsettling. However, we need a laser-like focus on doing things differently, and with discipline, we can achieve our goals to turnaround our core business, set it up for future profitable growth and strengthen our balance sheet."