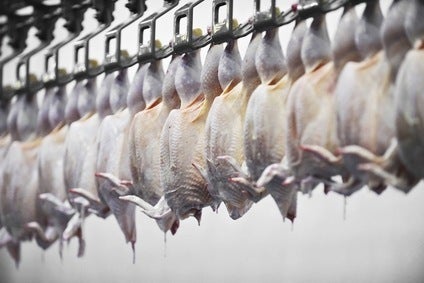 2 Sisters Food Group, the UK food arm of Boparan Holdings, has announced plans to remove antibiotics defined by the World Health Organization as the "highest priority" and "critically important" to human health from poultry production.
Over the past two years, 2 Sisters said it has eliminated the use of three of the antibiotic classes identified by the WHO as critically important to human medicine – the third and fourth generation cephalosporins or fluroquinolones. Today's (30 April) announcement also excludes the antibiotic class macrolides from all of its broiler production.
Antibiotic use will be substituted with "other interventions" including the use of vaccinations and changes to animal husbandry and biosecurity techniques, Michelle Waterman, 2 Sisters' agriculture director, explained.
The company said the move will help preserve the effectiveness of antibiotics used to treat people, combating the risk the use of antibiotic usage in agricultural production contributes to the development of antibiotic-resistant bacteria.
In addition, the company is setting up to trial farms that will test on-farm techniques and health management practises that will contribute to the reduced reliance on antibiotics in agricultural production.
Ranjit Singh, CEO of 2 Sisters Food Group, said: "We are committed to ensure that we use all medicines, including antibiotics, in a responsible manner across the farms that supply us, and lead the industry in delivering a strategy which protects both animal and human interests, now and in the future."
Growing concern over the use of human antibiotics in poultry production has prompted similar recent announcements from the likes of Tyson Foods and Pilgrim's Pride in the US.