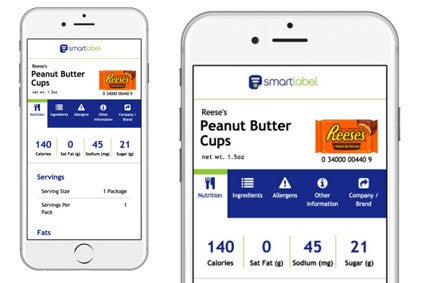 More than 30 US food companies including the likes of ConAgra Foods, Smucker, Kellogg and General Mills have signed up to SmartLabel technology, committing to being more transparent about the ingredients that go into their products.
The programme, created by manufacturers and retailers, allows consumers instant access to additional details about products by scanning a barcode or doing an online search to reach a landing page with information on ingredients and other attributes of a range of food, beverage, pet care, household and personal care products.
"People want more information and are asking more questions about products they buy, use and consume, and SmartLabel puts detailed information right at their fingertips," said Pamela G. Bailey, president and CEO of the Grocery Manufacturers Association. "SmartLabel is a modern technology that will change how people shop and will help them get answers to questions they have on the products they purchase when they want that information."
Hershey piloted the programme earlier this year. Since then, 30 other food and beverage companies have signed up to use SmartLabel including PepsiCo, Nestle and Flowers Foods.
Overall, companies are projecting that, by the end of 2017, they will disclose via SmartLabel whether 20,000 food products do, may or do not contain GMO ingredients.
"People's relationship with food has changed dramatically and consumers now want to know more about their food, such as where it came from and what went into making it," said J.P. Bilbrey, chairman, president and CEO of Hershey. "SmartLabel creates a way for consumers to get unprecedented access to information about what is in their food. This is what real food transparency is about."
Keeys Kruythoff, president of Unilever North America, added: "SmartLabel is an important tool for brands to provide more product information, helping build trust with consumers who are increasingly mobile and online."