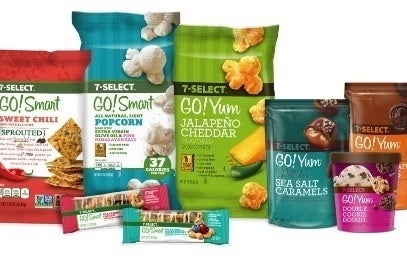 7-Eleven is adding two premium lines – 7-SelectGO!Yum and 7-SelectGO!Smart – to its private label 7-Select brand in the US.
The company said the launches reflect consumer demand for "variety" in both indulgent and better-for-you products, bringing "on trend" flavours and "premium ingredients".
"We set out to surpass customer expectations with products exclusively available at 7-Eleven stores. We are confident that we are exceeding the quality standards of leading national brands with our 7-Select brand," said Sean Thompson, 7-Eleven senior director of private brands. "7-Select GO!Yum introduces an indulgent assortment of savory and sweet snacks, with a level of quality more likely found at a specialty store than in a convenience store. Each product is made with premium ingredients curated for imaginative taste combinations and an out-of-the-ordinary sensory experience."
The lines span snacking and treat categories and include products such as popcorn, tortilla chips, yoghurt bars and ice cream.
7-Select GO!Smart products are "designed with nutritional balance as a priority", with many items gluten-free, GMO-free and use organic sweeteners.
"Customers have told us that they find it difficult to find good food while on-the-go that can help them find the best nutritional balance," said Laura Gordon, vice president brand innovation. "Their needs change by day, sometimes by hour, and we are committed to bringing them a range of great tasting options that will leave them fully satisfied while on the go. 7-Eleven continues to innovate in the better-for-you arena including snacking and meal options leveraging customer feedback."
Today, the 7-Select private brand product lineup includes approximately 350 items cutting across all categories. Another 100 are expected to roll out before the end of the year.