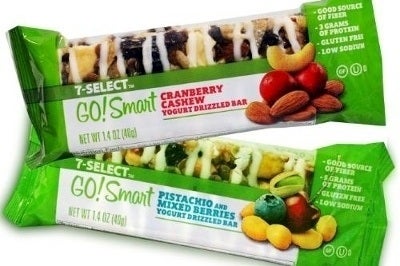 US convenience retailer 7-Eleven has expanded its private label range with the launch of a line of "better-for-you" snack products, 7-Select GO!Smart.
The line is made up of two varieties of fruit and nut bars – cranberry, cashew and pistachio and mixed berries. The bars contain less than 200 calories, are gluten-free, low-sodium and contain a "simpler, all-natural" ingredients list including organic sweeteners.
"We started from scratch," said Sean Thompson, 7-Eleven senior director for private brand. "In discussions and development for more than a year, the two varieties of GO!Smart bars are made in small batches from recipes created especially for 7-Eleven. Besides those listed in the bar's name, ingredients include whole grain, crisp brown rice, flax seed, raisins, roasted peanuts, sunflower oil, sea salt, a yogurt-flavored coating and natural flavours."
They will be available at participating 7-Eleven franchises throughout the US with an SRP of US$1.79.