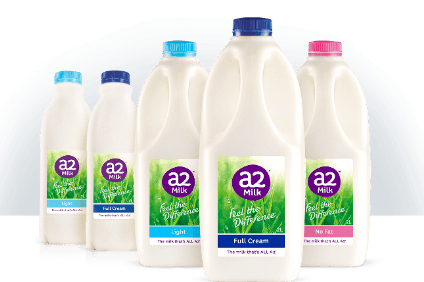 New Zealand-based dairy and infant-formula producer A2 Milk Co. has experienced a sales boost as result of Covid-19-linked pantry-loading.
In a trading update with the Australian Securities Exchange this morning (22 April), A2 Milk said that since it issued full-year results on 27 February, the company has "continued to experience strong revenue growth across all key regions, particularly in respect of infant-nutrition products sold in China and Australia".
It added: "We are now able to confirm that our revenue for the three months to 31 March 2020 was above expectations. This primarily reflected the impact of changes in consumer purchase behaviour arising from the Covid-19 situation and included an increase in pantry-stocking of our products particularly via online and reseller channels."
But A2 Milk admitted it is difficult to determine when that shopping environment might change.
"We are unable to estimate the timing and extent to which pantry-stocking may unwind," it said.
"Given the Covid-19 situation, the outlook for both revenue and earnings remains uncertain. Furthermore, significant uncertainty remains around the potential impact on supply chains and consumer demand in our core markets and the resulting financial impact on our performance for the balance of the financial year."
But the company predicted on-going revenue growth across its key regions for the rest of this year and the full-year EBITDA margin to be above that advised in February.
In February, when it released its results for FY2019, A2 predicted an EBITDA margin for this year of 29-30%. Now it expects that figure to be 31-32%.
"This is primarily a result of higher revenue, and hence gross margin, from higher margin nutritional products, in part due to consumer pantry-stocking in 3Q-20 compared to expectations," it said.