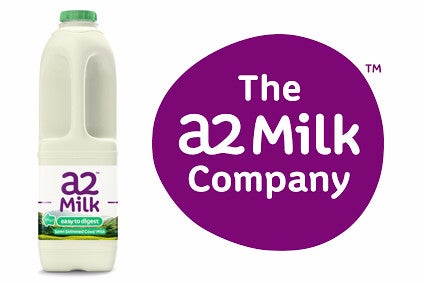 A2 Milk Co. has cut its annual revenue and profit margin forecasts as the New Zealand-based dairy company continues to face pressure in the Chinese infant-formula market.
Revenues are now expected in the region of NZD1.2bn (US$875.7m) to NZD1.25bn, down from a revised estimate in February of NZD1.4bn, A2 Milk said in a trading update today (10 May). Last November, the company had envisaged a print of NZD1.8-NZD1.9bn.
The cut to revenues in February was instigated because of pressure on sales in China through the daigou channel, where traders outside that country buy products for customers to be shipped back to the market, and also its cross-border e-commerce (CBEC) business.
A2 Milk said in its stock-exchange filing today that the "trading dynamics in the China infant-nutrition market have been and continue to be challenging".
It continued: "While A2 Milk's 3Q-21 trading was broadly in line with plan, it is clear that the actions taken to address challenges in the daigou/reseller and CBEC channels will not result in sufficient improvement on 3Q-21 in pricing, sales and inventory levels to meet our previous guidance based on April sales being well below plan."
Those actions revolved around reducing inventory levels, which the company said "will take some time to rebalance" following a management review that concluded "the level of channel inventory is higher than had been anticipated".
The rebalancing will continue in the fourth quarter and possibly into the first quarter of its new financial year.
A2 Milk, which joins other food companies such as Nestle, Danone and Reckitt Benckiser in flagging challenges in the China infant-formula market, added: "The company recognises that the China market and channel structure is changing rapidly and has therefore commenced a comprehensive process to review its growth strategy and executional plans to respond to this new environment. In addition, the board is actively considering capital-management initiatives."
Inventory rebalancing will result in a stock provision of around NZD80-90m, adding to the NZD23m in the first half, A2 Milk added.
The company has also lowered its EBITDA margin outlook to 11% to 12%, from the revised forecast of 24-26% made in February. Back in November, it had envisaged a rate of 31% for fiscal 2021.
A2 Milk added: "The company recognises that the China infant-nutrition market structure is changing rapidly. While the premiumisation trend is continuing, market growth is being impacted by a more pronounced decline in birth rates. It is also clear that the daigou/reseller channel has been cyclically impacted by Covid-19, regulatory and other structural factors."
Giving some numbers today for the third quarter, A2 Milk said sales of its English label infant-nutrition products in Australia and New Zealand amounted to NZD99.5m, a decline of 11% over the previous quarter, and sales through the CBEC channel dropped 57% to NZD22.1m.
Compared to the third quarter of 2020, sales decreased 56% and 77%, respectively, with A2 Milk noting the declines over both periods "reflect the extraordinary uplift in sales last year as the initial effects of the pandemic were beginning to be felt".
A2 Milk posted third-quarter sales of NZD98m for its Chinese label infant-nutrition products, representing 5% growth over the year-earlier quarter but an 18% decline versus the second quarter.