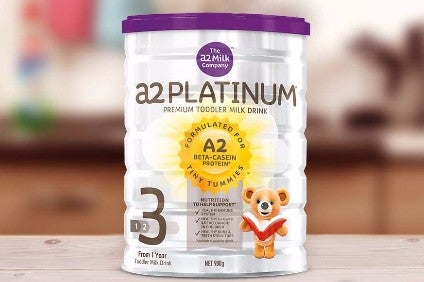 New Zealand's A2 Milk Co. has extended a supply agreement with China State Farm Holding Shanghai Co. for its infant nutrition products for a further three years.
CSFA Shanghai has been the exclusive import agent into China for A2 Milk since 2013 and also the provider of local market regulation consulting and product traceability quality control.
The agreement will now run for another three years from 6 December, the Wellington-listed firm said in a statement today (14 August).
A2 Milk is a leading supplier of infant-formula powder made from the A2 protein and has a strong presence in China. The company's products are sourced from cows that only produce the A2-protein variant, while regular cow's milk only contains the A1-type protein, which is said to cause discomfort for some consumers such as indigestion.
At an official signing ceremony, A2 Milk's chief executive Jayne Hrdlicka said: "This important relationship with the very well respected China State Farm Holding Shanghai has been growing for several years and we continue to value their very strong support of our China business with their deep local knowledge, capability and relationships within the China market."
Zhao Qing Yong, the general manager of CSFA Shanghai, said: "China State Farm is delighted and honoured to continue our relationship and partnership with a company that has achieved such unique success in the China market, as together we bring the very high-quality infant nutrition to Chinese consumers. This renewal signals the strength of our long-term partnership and we look forward to the future with great excitement."