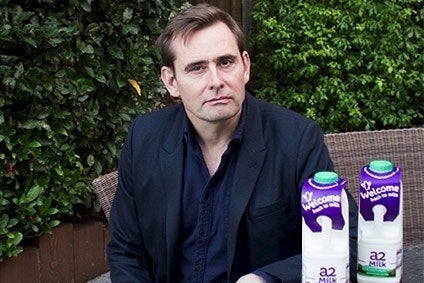 A2 Milk Co., the New Zealand-based dairy group, is planning to enter the UK infant formula market.
Scott Wotherspoon, the CEO of A2 Milk's operations in the UK, told just-food a launch is on the horizon.
"We're definitely going to do infant formula in the UK. It is likely to be towards the middle of next year," Wotherspoon said.
A2 Milk sells infant formula under its Platinum brand in New Zealand, Australia and China. Wotherspoon said the formula's success in Australia meant "we now see ourselves as often the number two in the category, which from a standing start is amazing".
The company will launch infant formula in the UK under the Platinum brand. "I think there is an opportunity [in the UK] for a differentiated and premium infant formula brand for children that have issues with digestion," Wotherspoon insisted. "We've seen a lot of interest from mothers for A2 and that doesn't just mean at [age] one-plus. It's before that stage as well. This fulfills that opportunity. That is exactly the same as Australia. In Australia, 28% of pregnant mothers drink A2 milk, which is an amazing statistic and they've understood the benefits of A2 for themselves so when they come to have their child they then recognise the benefits for the child.
"If you're using this whilst you're pregnant then you're not anticipating digestive issues for your child. [In that case], they may just be using it for the general health benefits. Others will have issues with digestion for their children and will try this. We've been recommended in Australia, we've had healthcare practitioner marketing for a long time, you have pediatricians recommending the product, midwives recommending the product, people try and their children get on with it. We talk to the HCPs and explain the product, the science and the benefits. They explain that to their patients if they think its relevant for their patient."
Wotherspoon said A2 Milk had had "one or two very early discussions" with retailers over possible listings.
The company, which sells fresh milk in the UK, two weeks ago entered the country's UHT category. A2 Milk has secured listings for the UHT milk with Ocado, with Wotherspoon saying the business has had "interest from two of the other majors which we hope to happen in the new year".
"UHT as a percentage of total milk [sales in the UK] is less than 10% but within that speciality would be 30-40%. Although it's not big business and mainstream UHT is not growing, actually within speciality it's a very significant part of the category and it's growing at the same speed as fresh [speciality], at up to 20%.That makes it interesting for us."
Speaking to just-food late last year, Wotherspoon said A2 Milk was looking to revitalise its business in the UK through a repositioning of the brand and trying to make the brand's image clearer.
Wotherspoon said on Friday (25 September) A2 Milk's UK business remains loss-making but was now profitable "at a gross margin level", with sales growing faster.
"Sales are going in the right direction and we're broadly pleased with the response both from consumers and in particular from retailers. We've had additional distribution from pretty much every retailer and we've survived Project Reset at Tesco, which is always good. I'm very pleased with the way it's gone. Of course, I'd always like it to go faster but things are going in the right direction. Now we're sustainably profitable at a gross margin level, which in milk at the moment there's not too many people saying that."
A2 Milk is aiming to see its UK unit in the black next year, Wotherspoon added.
The former Unilever executive, meanwhile took on responsibilities for A2 Milk's business in China at the start of the month. "We had someone based out of Australia but we've added this to my responsibilities at this stage," Wotherspoon said. "We wanted to make sure we could drive this as hard as possible. It's a big opportunity for the company. Infant formula is the main opportunity for us there at this stage and we want to do whatever we can to push it and get ourselves established there."
Wotherspoon said it was hard to calculate the size of the infant formula sector in China but said there was "no question we are having an impact on the China market".
A2 Milk is selling its Platinum formula through China's e-commerce channel and stores designated as mother-and-baby outlets in the country. "The mix of online plus mother-and-baby gives you significant access to the market. Obviously the modern trade is now very significant in China but that isn't the channel we are currently in," he said.
Larger rivals including Mead Johnson are investing more resources into e-commerce and mother-and-baby stores to try to increase sales. Asked if A2 Milk's sales strategy gave it an edge over bigger competitors, Wotherspoon said: "When you come to a market new and fresh, you haven't got a long history there and you are looking for what is the best channel, often you're seeing channels that are very new, which actually cause other competitors bigger issues because they've got to change what they've currently got."
A2 Milk also sells fresh milk in China – a category Wotherspoon is "niche" – and the company has started to sell whole milk powder in the country. "That's an existing category in China already and … is a real opportunity. Although pricing in the market of both UHT and whole milk powder are flat at best, actually our speciality area within that is growing very significantly."
In recent weeks, there has been takeover speculation surrounding A2 Milk. The company turned down joint interest from Australian group – and A2 Milk shareholder – Freedom Foods Group and US dairy giant Dean Foods.
However, while rebuffing the interest in July, A2 Milk also said it had received "other confidential enquiries indicating potential interest in the company" and was evaluating the interest. It has since made no further statement on those enquiries.
Wotherspoon said: "We've still had not moved anything on in that area. There is no news in that area."