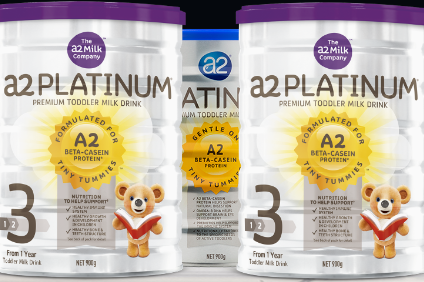 The a2 Milk Company has reported a near-trebling in its annual profits as the New Zealand-based dairy and infant formula business enjoyed bumper sales.
A2 Milk's net profit after tax for the 12 months to the end of June was NZD90.6m (US$65.4m), compared to NZD30.4m a year earlier. The business' EBIT more than doubled from NZD51.8m to NZD138.5m.
The owner of A2 Platinum infant formula saw its revenue jump 56% to NZD549m, with sales from its combined Australia/New Zealand division and its China arm both up sharply.
Managing director Geoffrey Babidge said: "It is particularly pleasing that we have been able to respond progressively to the supply challenges arising from growth in demand for A2 Platinum infant formula over the year which exceeded our previous expectations.
"The company's continued growth reflects increasing consumer acceptance of the A2 brand and the benefits of dairy-based products free from the A1 beta casein protein type."
A2 Milk's combined Australia/New Zealand unit saw its revenues rise 48% to NZD439.6m. The division's EBITDA grew NZD155.3m. Fresh milk sales rose 5%; the company's local infant formula sales jumped 78%.
In China, A2 Milk generated annual revenue of NZD88.9m – compared to NZD38.2m a year earlier – and EBITDA of NZD32.7m, versus NZD9.8m in its 2015/2016 financial year. The company pointed to its "flexible multi-channel strategy" for its infant formula business in China, as it seeks to build its presence in physical retail and e-commerce.
A2 Milk said its fledgling business in the UK also made its first annual operating profit amid "strong growth" of its A2 fresh milk.
In the US, a market an even earlier stage for the business than the UK, the company said it had built its presence in California, in the south-east of the country through a deal with retailer Publix and had secured increased distribution at Whole Foods Market. A2 Milk is targeting local monthly EBITDA in its 2019/2020 financial year.
Looking ahead, the company said it "expects continued growth in the 2018 financial year, in particular from infant formula and milk powder
products in Australia and China and improved momentum in the US and UK businesses".
It added: "The company is also moving to progress its strategy for growth in emerging markets, both as a natural evolution from established positions and in response to growing levels of enquiry. Consideration is being given to markets against a matrix of factors, including consumer dynamics, channel structure, and market access."