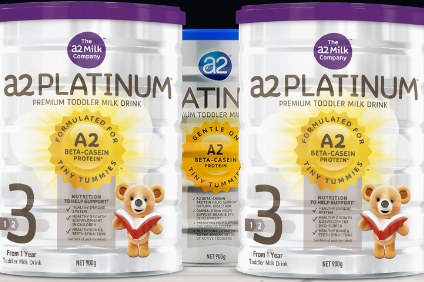 New Zealand-based dairy and infant formula business A2 Milk Co. today (15 February) reported a jump in first-half profits, with "outstanding results" from the company's domestic business, as well as its operations in Australia and China.
A2 Milk booked net profit after tax of NZD39.4m (US$28.3m) for the six months to the end of December, more than treble the NZD10.1m the company generated during the first half of its previous financial year. The company's first-half EBIT stood at NZD62.5m, compared to NZD17.4m a year ago. Revenue reached NZD256.1m, an 84% jump on a year earlier.
The group said part of its growth reflected "inventory shortages experienced during the prior corresponding period". Managing director Geoffrey Babidge said: "The half-year results show continued progress against the company's objective of building a global brand based on the health and digestive benefits of nutritional products containing only the A2 beta casein protein – free of the A1 protein. This has involved continuing to grow the established positions in fresh milk and infant formula in Australia while also investing in the key international growth initiatives in China, the United States and the United Kingdom."
Looking ahead, A2 Milk said its performance in January had been "consistent with plan". Turning to China, the company said it expects its infant formula sales during the second half of its financial year to be lower than the first six months "given the timing of major selling events in China is weighted towards the first half and as a result of our prudent approach to inventory management". However, A2 Milk said it expects its infant-formula sales in China to be higher than in the second half of its previous financial year.
Shares in A2 Milk, up over 20% so far in 2017, closed down 0.39% at NZD2.56.